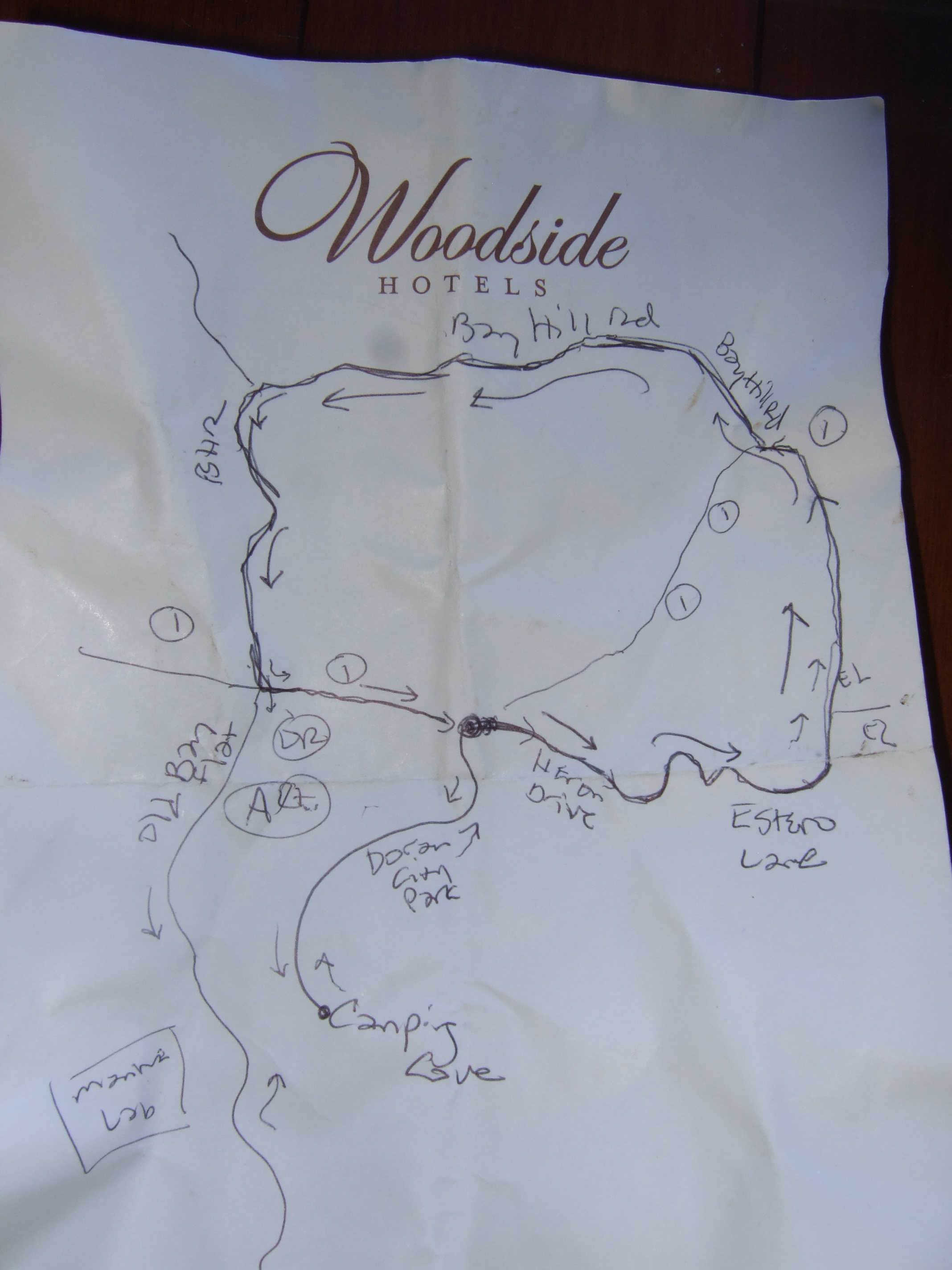 Week 3 is here!
Here is my schedule at a glance…and then a bit about what I've done so far! :-)
THE WEEK AHEAD

MONDAY – Off day.
TUESDAY – Swim 60' (total 1850) & Strength 40'
WEDNESDAY – Bike 60′ & Run 20′
THURSDAY – Strength 40' (Turkey Day: gobble, gobble!)
FRIDAY – Swim 60', Run 60' & Stretch 20'
SATURDAY – Bike (captains workout) Rolling hills for 35 miles.
SUNDAY – Swim 60', Run 60' & Stretch 20'
(the map at the left might LOOK like a Treasure Map minus the "X Marks the Spot," but it will be explained below!)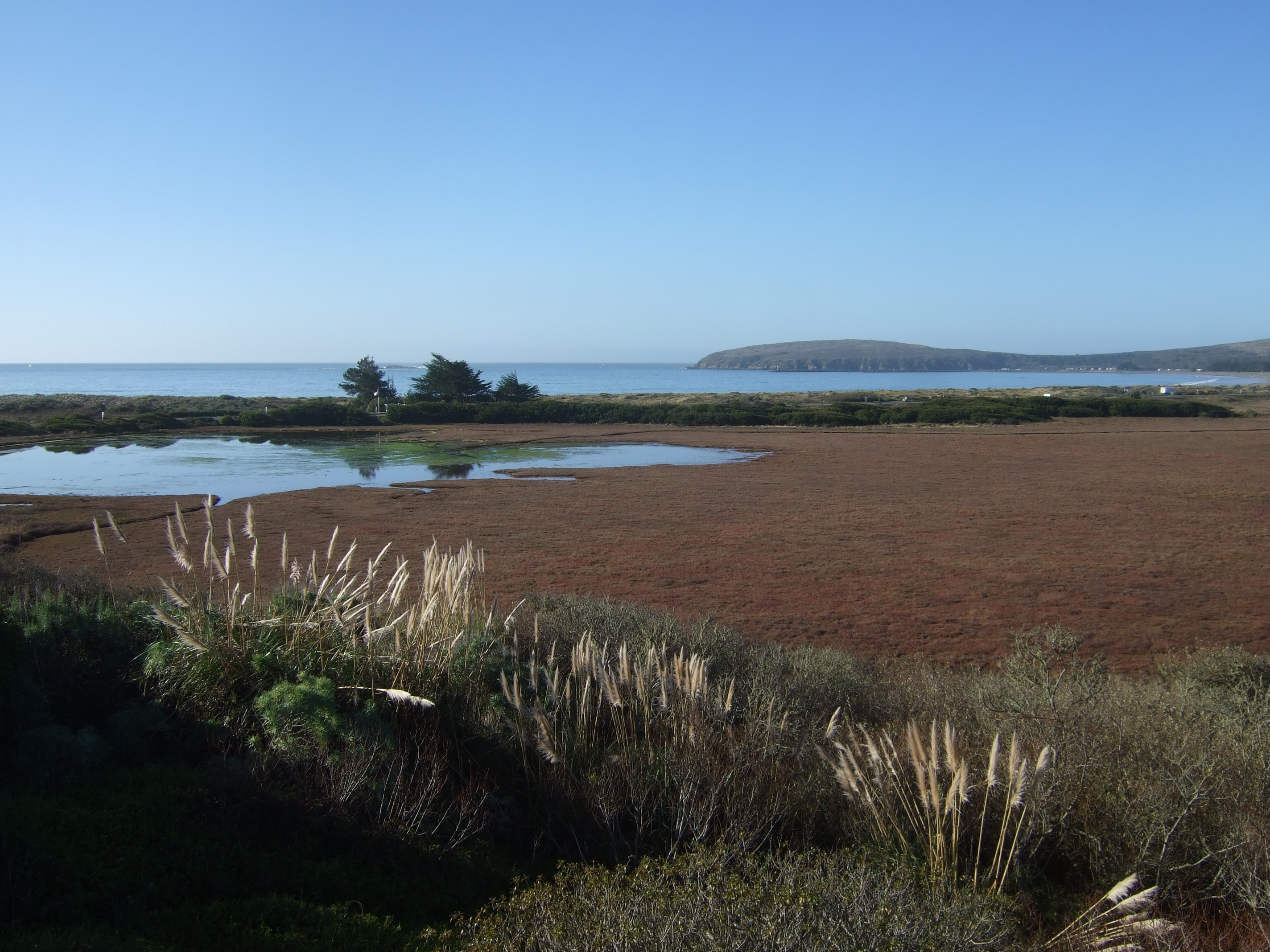 So, on Sunday, H decided that we needed to get away. We actually did the Run together, which was fun (did I blog about that? I think I did), and then headed off to Bodega Bay Lodge. It's about an hour's drive away. The photo to the right was from our deck, out over the marshes and to the ocean.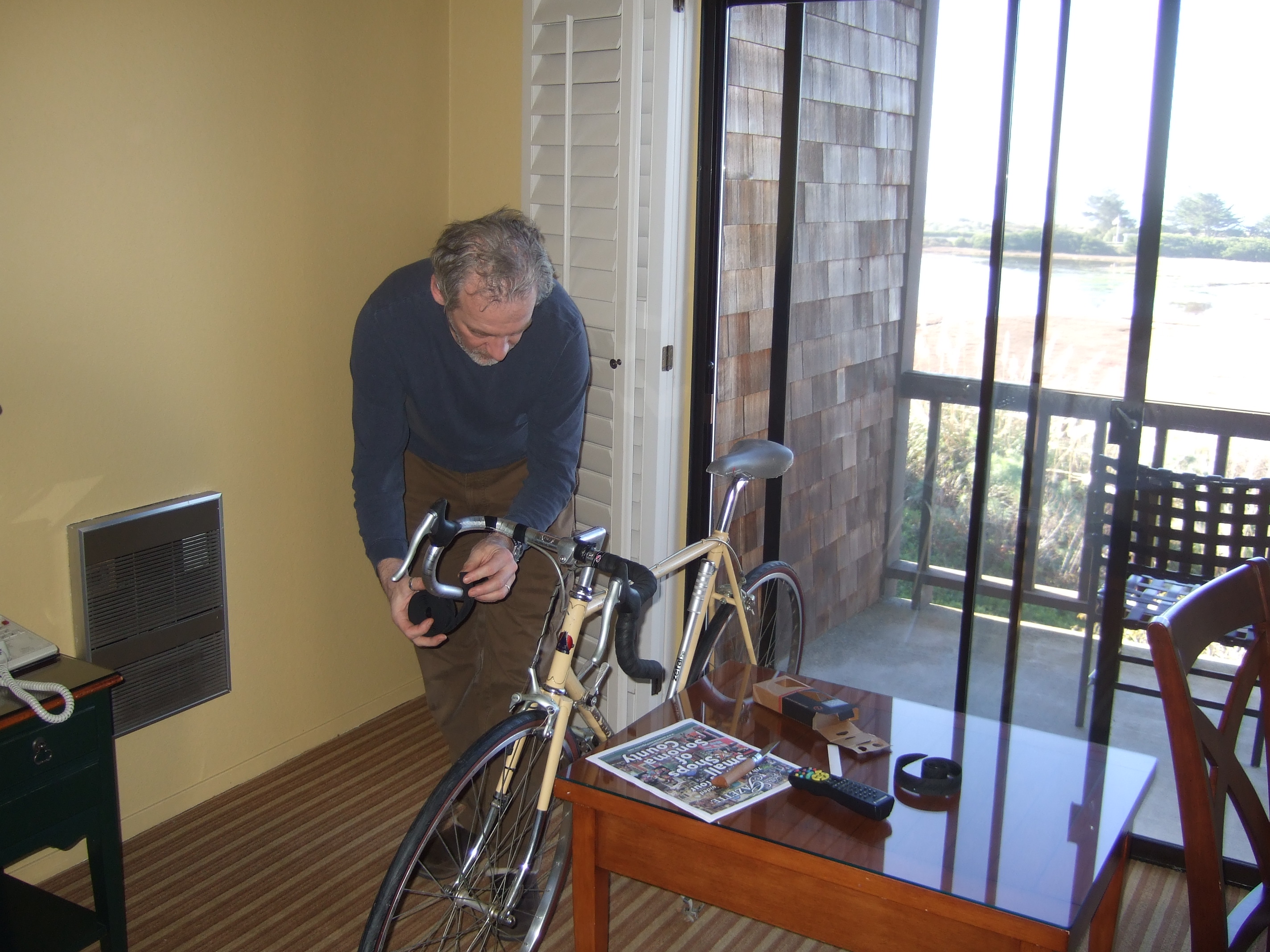 H wanted to bike, and so Monday became a bike day instead of a "rest" day. H had reconditioned his bike before we left – but didn't have any extra handlebar tape. We picked some up at Summit Bikes (where we were told of their Team in Training discount – yay!), and he taped up his handlebars before we headed out on our ride. So handy!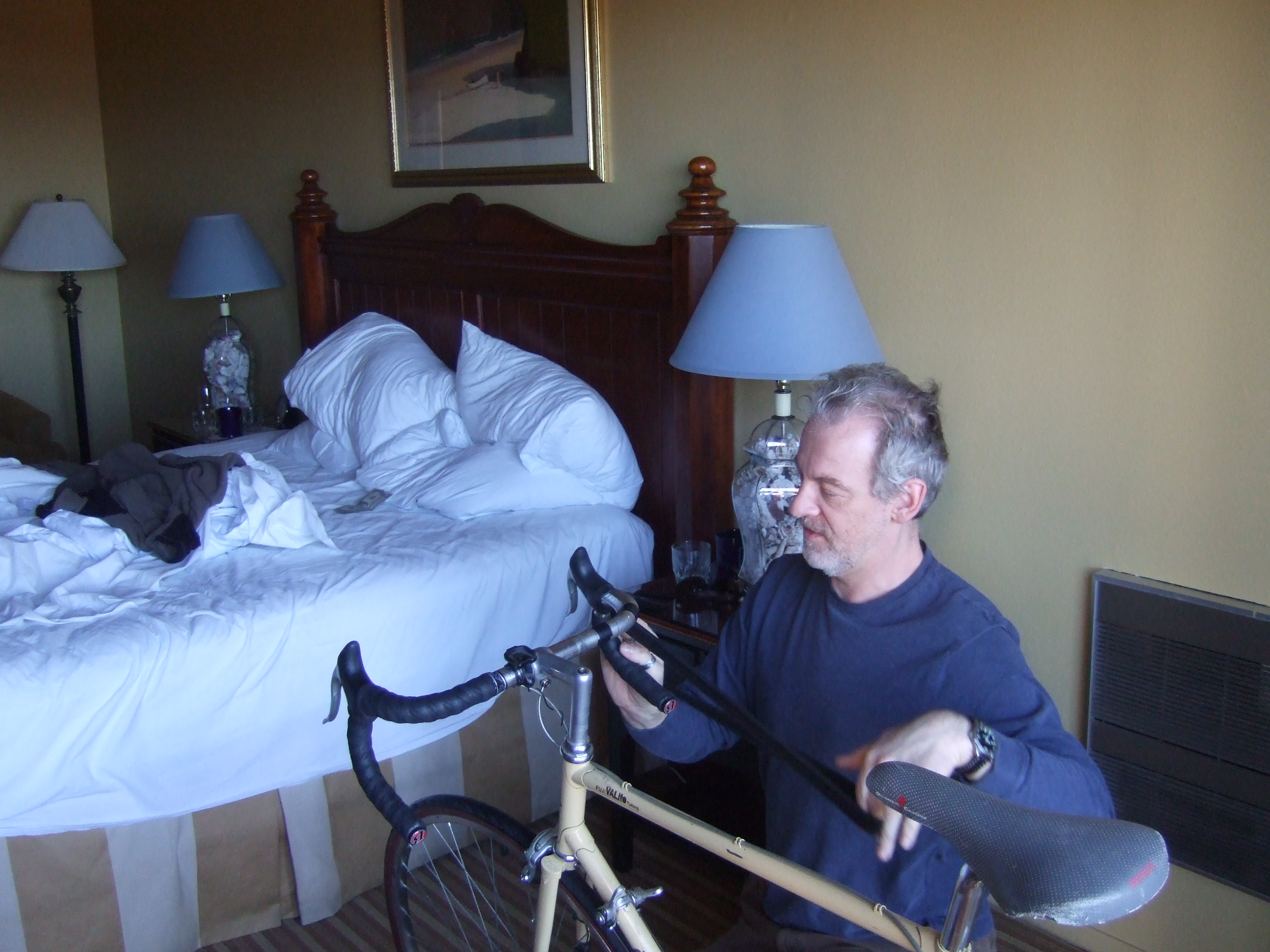 We biked for a little over 2 hours, 19 miles…and 4 walks up hills! There are a LOT of steep hills out on the coast. We also TOTALLY got lost. If you look at our "map" (top of the page), you will probably know WHY. We didn't have a bike map, so we drew one based on Google Maps. The problem was that it didn't list the little "connecting roads" that we needed to "get to" the main roads…well, we had fun anyway, though we definitely did NOT get where we thought we would! We did, however, get out to the Fisherman's Monument, ate some "award winning" clam chowder and fresh crab sandwiches, then came back to hot tub and of course champagne, some oranges, and chocolate!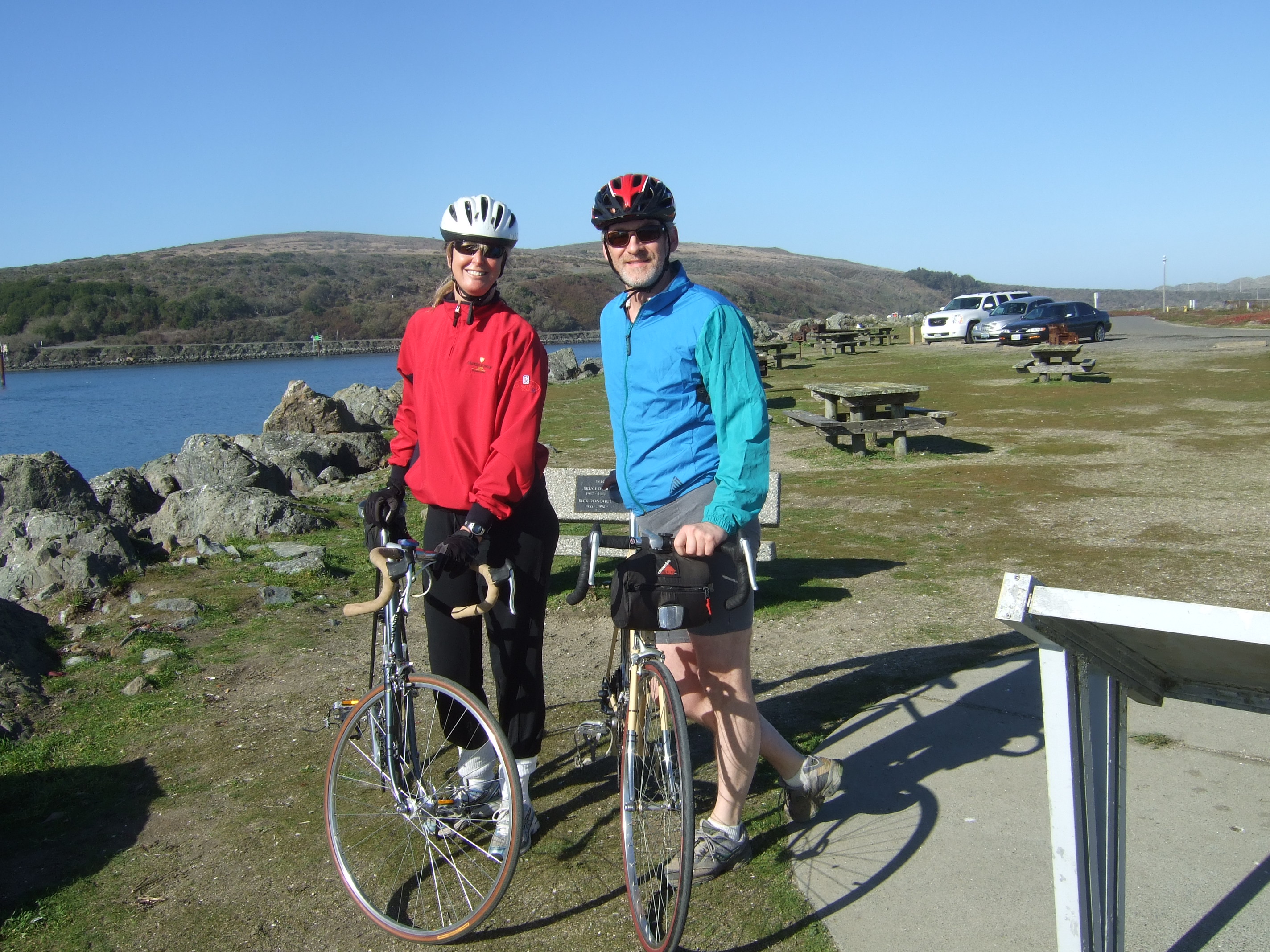 We took a walk out into the marshes on Tuesday before we left – probably about a mile – and then antique-ed our way home. That was fun as well. Iron Mel had texted me to find out if I was working out at the JCC, and so she joined us. H wasn't so happy that I "made him go to the gym again" (I think in particular because he forgot his headphones to plug into the machines!), but after, we went to see the movie 2012, so he was happy. (I think H's reaction to that movie, which I tweeted, about sums it up: "Saw 2012. It was a Disaster.")
Iron Mel had an interesting experience when we were getting ready to swim. We were talking about her being single in Marin, about finding the right sort of guy, etc., and she said however that she really KNEW that it was coming. She could feel it. Then she put on her cap and BANG! – it split in 1/2. Right through her old married name, which was written on the side. We both had a "goose bumps on the arms" moment – and took it as a good omen! I threw in the requisite "Mazel Tov!" of course!
We were out swimming under the stars again. I had a weird experience in the training (didn't do the Strength – didn't see it until I got home) – got fairly 'scared' in the water. Not sure if that's because I had seen some clips from Louisville, or because I was really thinking about it, or what. I remember the last triathlon I did was the Go Girl Tri. It was just a sprint distance, but somewhere fairly close to the end, I started spazzing out because the water was so murky. I actually remember I did fine in my first triathlon (Bahamas), and then in the subsequent ones, but then when I was at Chicago, I super spazzed out and actually had to swim "boat to boat." I think that this training is going to get us very prepared – but between the mental "drowning spazz" and the "fixing a flat spazz" I keep getting reminders of the mental stuff I don't like that pops up. I don't like being freaked out in the water. I think part of it also was that we were doing these drills that take you "up to" swimming at Level 5 – it was 5 x 200, starting with just 50 at L3 and 150 at L4, but it works its way up so that at the end, you do your last 200 at L5. I was tired, and pooped, and freaked. I guess that tired/pooped/freaked thing just happens, and I gotta just deal. I did at least have my Otterbox (smile).
PLAYLIST for the swim:
Pony, Far
#1 Crush, Garbage
REV 22:20, Puscifer
Billie Jean, Chris Cornell
The Party Song, Blink-182
I Wanna Be Sedated, The Ramones
Whatsername, Green Day
Real Wild Child, Iggy Pop
Crazy Bitch, Buckcherry
I Don't Care, Fall Out Boy
The World Is Not Enough, Garbage
Check Yes Juliet, We The Kings
I also received a $250 Donation from a friend. I am SO EXCITED. She is sponsoring my first Swim Mile. So maybe that's a little Push from the Universe after my awful tired/pooped/scared swim experience.
Finally, I received more songs to check out! Please send any you love to work out to – believe me, I can take all the motivation I can get! The new ones, courtesy of the gorgeous Leann McFalls, are:
Say Hey (I Love you) by Michael Franti
Supermassive Black Hole by Muse
This is how a heart breaks by Rob Thomas (my Favorite artist!!!)
Sex on Fire by Kings of Leon
I Know you want me (calle ocho) by pitbull
I might have Calle Ocho, gotta check. OK – one last photo – then it's time to get into the 302 emails I got in the 3 days on "vacation" (there is work in here somewhere, I know I saw it), then to pole class. And gotta do the bike/run tonight. Oh, and buy all those Thanksgiving groceries, clean the house, dot dot dot?