Today was the day!
The Amazing Race came to San Francisco to do in-person tryouts today. I read obsessively what I could about the intakes on various blogs, and peppered my cousin Christopher (who has tried out for Amazing Race 2x and Survivor 2x) with a ton of email questions. (As a side note, I also did a submission on video with my friend Jamie – we do the BeingJamesBond.com podcast together – but this was an in-person one.)
If you want to know what happens…
The problem with the blogs that I read is that they didn't go into a lot of detail. Being a Virgo, lawyer, Year of the Ox, I wanted to know the "nitty gritty." So that's what I'm going to cover here.
Get there early.
We decided not to camp overnight, but, as the "intake" was from 9:00 a.m.-2:00 p.m., we decided to arrive at 4:00 a.m. We were Team 37 – in other words, there were 36 teams in front of us, the bulk of whom had spent the night. I don't think it's a requirement to spend the night, but you really need to get there early. If they do another one in S.F. and you're driving, your best bet (for cheapest parking) is to drop your teammate off at the line at the store – which is just off Union Square on Post Street – then drive back to Stockton/Sutter garage. Parking was only about $10.00 from 4:00 a.m. to about 11:00 a.m. (which is when we got back to the garage).
If you want to stick around to the end, my cousin told me that they will give you the dates and places for Survivor and Big Brother auditions. I wasn't interested in either one, though Moddie was . . . but after our camera time, we didn't want to stick around for another four hours!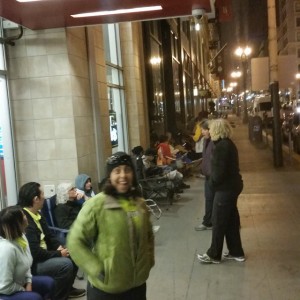 Bring chairs and a blanket.
I sort of imagined that this went without saying, but find someone who has a set of camping chairs, and borrow them. Bring a blanket, and wear a puffer jacket. It was warm once we emerged from the taping, but it's not warm when you're sitting around for hours, and certainly not if you have to sit on the cement. (There was a couple up at the front – who had camped over – they even had a kerosene heater!)
Know where bathrooms are!
This might make you laugh, but we're two nervous (I mean "excited"!) gals in our "mid-years" (um, that is if I live to over 100…) and so knowing this critical bit of information was very important to us! In the Marmot location, you can go up one block (up Kearny) and then left 3 blocks (Stockton/Sutter parking) and you will be at the Hyatt Hotel. Walk in, head left between the elevators, then go downstairs to the bathrooms. Don't ask, because they have people walk in off the street all the time and will try to dissuade you from using their bathrooms, but if you act like you know what you're doing, they won't stop you.
Also, the Starbucks at the corner of Stockton/Sutter (across from the garage) opens at around 4:30-5:00 a.m. After I had dropped Moddie off and parked the car, they were just getting ready to open when I walked past. This Starbucks opens at least an hour/hour and a half before any of the other Starbucks that are closer to Marmot. If you want coffee/Starbucks treats before about 6:00 a.m., go there, but they're pretty eagle-eyed about who uses their bathroom (as they should be, since they're right on Union Square). The Hyatt is directly across the street from them – as per the above, use the Hyatt for the bathroom. You can tag-team the bathroom breaks with your team mate, or, as you will be surrounded by a ton of super-nice people, they'll hold your spot too.
Make friends in line…
This might be the best people-watching on the planet. Here's hundreds of folks who theoretically are "just like you," as they are trying to get on The Amazing Race. Except, of course, for the guy with the unicorn horn. (Yes, really.) But seriously – get to know the folks you're sitting around. They'll watch your spot if both of you need to "go to the Hyatt" (how's that for a new euphemism?) at the same time – and it's really fun to find out what everyone's "schtick" is. The gals behind us were both named Julia, both were first generation Americans – one born in Russia, one in China, both came over at age 3 – they had been competitors in Academic Decathalon from rival high schools and then both wound up at Harvard together. In the student "intake" on their first day, China-Julia recognized Russia-Julia, and they became fast friends after China-Julia reminded Russia-Julia (who hadn't recognized China-Julia) that they had detested each other as rival Decathletes in high school! China-Julia is now an M.D./Ph.D. and Russia-Julia an economist – they are still big pals.
As for making friends…Remember – if you don't get on The Amazing Race – how great would it be to cheer on someone that you were sitting with at 4 in the morning, like #TeamJuliaAndJulia/#TeamNerdyGirls/#TeamAmericanDream ;-) ???
. . . and don't block the doors of the other merchants.
Make sure that you don't block the doors of the merchants next door to Marmot. Where we were in line, there was a bank that had a Peet's Coffee/cafe on their bottom level, so quite a large door "opening" (two swinging doors next to one another, glass panels to the left, center, and right). NOTE: This cafe does not open on weekends – you will have about 1,000 people come and try the door! Once Marmot actually opened up, the first thing they did was sweep through the line and "crowd you" forward or back to make passage for the doorways you were basically blocking. If you're against a wall when you first arrive – great. If not, just leave the space in the doorway, and put your chairs on the other side of it. No one is going to cut in front of you – greet the folks in line in front of you, and point to them that you'll be "on the other side of the door." Because our "doorway" was so large (not just a single merchant door), it was super hectic to try to clear this area. I'd say there were at least 8 teams, all of us in front of that bank/cafe front. So when the staff came out and made us "clear it," we had to push folks back and around the corner and make the people who had actually camped out (way in front of us – probably the first 10 teams) pick up their tents/bags/etc. so that we could squash out of the doorway. If you wind up in this situation – don't say I didn't warn you ;-)
Funny side note – if you're not right at the store door, you will have a lot of teams ask you which direction the "front of the line" is. We always gestured around the corner, though the guy in the team in front of us, after our tenth time doing this, pointed way up Kearny (perpendicular street) and said "It's way, way up there…blocks away." We all got a huge laugh out of that – not so much the team that was asking, of course ;-) #5amLaughs…
Practice, practice, practice.
Don't decide that you're going to "just wing it." It doesn't work. There are another 299 teams there, and each of you is vying for what one of the CBS folks told us was going to be 1-5 spots that would move on to the next interview, in L.A. That's where they do the physical/psychological stuff, background check, etc. So, your job is to get to L.A.
You need to practice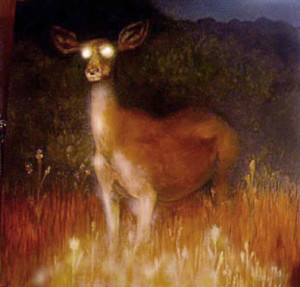 it enough so that it doesn't look scripted – you do need to look natural, which takes effort if you don't have a clue what you're going to say and you're staring like a doe in the headlights into a camera with a producer watching you.
In general, they want to know two things. What your story is, and "why you." Will you make it in the tough times? Show some drama? Persevere? That's the first part. When I was scripting, this, to me, was the "how will you keep the current audience engaged" portion of the talk. They also want to know that you actually watch The Amazing Race (some of the folks there had never seen it – !!), so if you can, throw a few references in.
The second thing that they're looking for is how you might bring them "new blood." What is going to be new and different about you, that will bring them publicity, advertising revenue, more viewers? How might you appeal to people that aren't already watching?
They're also all about the social media links, too. So do yourself a favor, and be sure that you give yourself a "hashtag." You're telling them immediately what your "thing" is. #MilitaryMoms ? #SweetScientists ? #RollerGirls ? You get the idea. This takes a bit longer than you might think, so take some time and prepare a good one.
You will get about a minute in front of the camera.
Since Moddie is more a "wingin' it" type (and she's had a very hectic schedule recently, with school, relationship stuff, finding a new job, etc.), I "scripted" out our "schpiel." The blogs I initially read said that you got three minutes (that is also what you get if you submit a video). So when we were actually practicing on the first day Moddie could make it (the Thursday before the Saturday intake), that's what we used as our timing.
Kat, the daughter of a friend of mine (with whom I do archery) has studied rhetoric, so once I got "out of my system" what I thought we should say, she helped me deconstruct it, then "build" it into a persuasive three minute script. She practiced it with me for days, added "memory hooks," and we rounded the rough edges. Then, when Moddie was able to join us a couple days before the intake day, we practiced and practiced and practiced in front of Kat, making sure that the words we were "giving her" fit in her mouth. Kat edited the script on the computer as we tweaked it, and told us what seemed to be working and what was too long or fell flat once the two of us were actually "delivering" the talk.
Once we got comfortable with the three minute talk….I started getting the emails from my cousin Christopher. He said it was "no more than about a minute or maybe a minute and a half." So we had to regroup, and cut 2/3s of it out! We then practiced just the "most important stuff," getting it down to a minute. This gave us the ability to be "ready" if it really was only one minute, but also the ability to "fill in" if it was more than a minute, with things from the three minute version.
Dress alike!
Moddie and I wore our Team In Training Ironteam jackets, jerseys, black running skirts, black running capris, and matching purple compression socks. We carried backpacks with Nalgene bottles on them. We were shocked at how many people were not dressed alike. This is like the "don't wing it" thing – as Roy Rogers said, "You only get one chance to make a first impression." Don't blow it.
Our "schtick" included the fact that we are dichotomous. I have a ton of degrees…Moddie is way more physical than I am…I'm over 6 feet, she's just 5 feet…she's "tan" I'm "working on my tan…" You get the picture. Since that was part of our "thing," I had my ever-suffering hair stylist Donna Beaumonte (best hair stylist ever!) make me super blonde and give me super straight hair on Friday. (My husband didn't recognize me – it was hilarious.) Moddie had her hair braided with "Afro-puffs" at the bottom of the braids. So while we were dressed exactly alike, we played up our differences as that was part of our story.
Stay focused. Be appreciative.
The producer that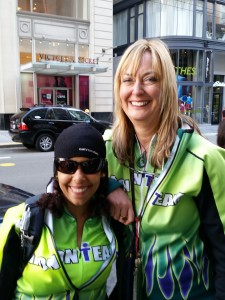 you're assigned to is going to make his/her decision in the first few seconds of your taping – they just use the actual video for backup. As it was described in another blog that I read (by a guy who made it onto The Amazing Race years ago, and after his five years of "non-disclosure" revealed what happened to him), each producer picks their top choices from the teams they see, then the videos are used to winnow it down to a handful. At each location, there are from 3 to 6 producer/camera "booths" – so you can do the math from there as to how many teams will be seen in an intake.
In some locations, there is an "assistant producer" that is with each producer, but in our case, there was just one "assistant producer/helper" at the door to the room where all the camera/producer couples were, and we were ushered in three teams at a time. Remember that these folks do this for a living, so be respectful (they are happy you're there, but not as over-the-top as you are)…but also of course be excited. Thank everyone that you see! You'll be one of the few!
It's Almost Show Time…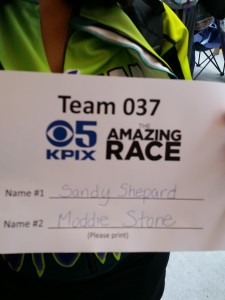 At about 8:00 a.m. (remember, doors opened at 9:00), Marmot staff went through the line and handed out 300 slips of paper. They say your place number, and then you print both your names on the sheet. They want your full name. Make best friends for life in line, and bring pens with you for the folks in your area that don't have pens. (They didn't have any that they handed out.) In our case, if you were around the corner in Maiden Lane, you got "provisional" or standby sheets, that were still numbered (301, 302, etc.) Once you had your sheet, you can get out of line and walk around, etc. As they said, "…this is like Southwest Airlines…" – once you have your number, you can do whatever you want, but be back by 8:45 a.m. to line up.
We bundled up our camping chairs, puffer jackets, blankets, etc. – basically everything except what we needed for our time in front of the camera – and took them back to the car, had some "Hyatt time" (that was funny – there were a TON of gals there, all for the tryouts), then went back in line.
Oh – and – be sure to print out the video waiver online, and bring it with you. There will be a one page video waiver linked to the page describing the actual intake (ours was on the webpage of our CBS affiliate, KPIX, as well as on the Marmot S.F. webpage). It is not the waiver and intake information on the Amazing Race website – that's for folks submitting videos for their submissions, not showing up in person. If you don't print  the waiver, they will hand out more when you're in line, but, again, no pens ;-)
The doors open…
They will line you up in "Southwest Airlines" style, against the gutter side of the sidewalk to keep the walkway clear. This is when the dry mouth starts ;-) From our position (Lucky #37), it was hard to figure out what was happening. So this is what happens.
They will usher you in a few teams at a time.
As you step in the door, there is a table where they have a clipboard (there, there's pens!) You will print both your names, one email, and one phone number, and hand in your waiver forms. In line, we were trying to figure out how they would know to contact us if they liked us – since the number that we'd received just had our printed names on it, and the waivers just had our signature. This is how they know how to contact you if they like you. Print clearly!
As I mentioned – be friendly! The person collecting the waiver is likely the first CBS person that you will see. The folks outside were Marmot staff. Another thing that you should certainly consider is "friending" your filming locale, your CBS affiliate, and Amazing Race on Facebook and knowing their Instagram and Twitter handles, plus the hashtag that they're using for the day. That way, when you take photos in line, etc. you can immediately post them and give them some love. ;-) Marmot was giving out bottles, car coffee "Go cups," coupons, little stuffed marmots (!), etc. but only if you answered the questions that they were posting on Twitter, on Twitter, using your Team number. Remember – they're doing this to get traffic into their store and online!
Now, you wait, but not for long.
After you turn in your waiver, there is a line from the waiver table towards the back of the store, where there is another table and a door down to the three camera set-ups. (That room wouldn't hold any more, so if you are reading this and heading to Marmot S.F., that's what you'll get!). They are going to take you three teams at a time. Just like lining up at Disneyland, you can't really tell until you are closer to the door that leads to the camera room who is going to be your "other two" teams. You can figure it out once they're about two sets of teams away from you – obviously – just count by three (or, six, if you are counting heads).
In Marmot S.F., you go through that back door, they take you downstairs, around a corner, into a hallway, and then there is an Associate Producer at the doorway, and you will see the teams that were in front of you in that room doing their "thing."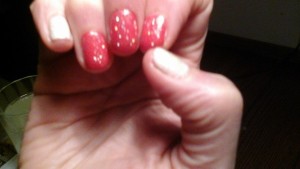 A little commercial break…
When we were in line, we really had fun with the folks in front of us (a married couple, met playing soccer, both work in hospitals) and the two sets of folks behind us (#TeamJuliaAndJulia and a guy team that we thought were a couple, but actually had been friends from high school). We got nervous together, practiced a bit together, etc. (That part was funny – at first you're all being secretive, then I – yeah, me and my big mouth – said loudly to Moddie: "Um, as if we're all going to steal each other's stories??" – which got a big laugh. After that, we sort of listened and helped those folks that were in our surrounding area – which was great.) Anyway – so as the 4 of us teams got toward the back of the store, Marmot turned on its sound system. It was super loud – we must have been standing under a speaker. The first song that belted out into the previously silent store was Billy Jean by Michael Jackson. We all started dancing and singing to it (at the top of our lungs), because it was so loud! It was a great "tension breaker," especially the high notes in the chorus. None of us had a particularly tuneful rendition! The Marmot and CBS staff around us were laughing hard at us. Right before the final "…Billy Jean was not my lover…" I shouted out "Now, in GERMAN!" and everyone down the line broke up. It was great to breathe and all of us in that area (and the folks smiling at us down the line and the staff) could feel the tension dissipate.
…down and around the corner!
As I said, once it was our turn, they took us into a hallway, down some stairs, into another hallway, and then we had to wait at an open door into the room where they were filming. We were the third team of our set of three, though they were actually shuttling people in basically one at a time, as the people in the room didn't all finish together. There were three camera set ups – one right in front of the door so you could see the team being interviewed, then two out of sight. The team that was at the camera at the door was a fireman pair. As we walked up, they "got the hook" – the producer said to them, as they were in the middle of telling their story, "That's time, gentlemen." They were a little shell-shocked. As teams had been coming out when we were waiting up in the store, I had buttonholed a number of them and asked how much time they got, and they all said "about a minute and a half, give or take." But after seeing the firemen "get the hook" as it were, I knew that I wanted to stay "conservative" on our timing.
The timing was somewhat up to me – as I mentioned, we had cut our "schpiel" into a 50 second bite, then we had about a half a minute from the best bits of the three minute "schpiel" we'd scripted that we inserted for another half minute or so, then we had a sign-off 10 seconds from the original 1 minute. We had been told by my cousin that you would get a 5-10 second "warning" if you were coming up against your time deadline, so I practiced that final "hook" and had a 5 second and 10 second version. We never got the warning, so we were within our time, which was great. Maybe we could have added one more "example" to our story, but I'm glad, frankly, that we didn't, because we both feel that we did a great job.
…we're ready when you are…
Our producer was a wonderful, perky, super nice gal. We were at one of the back two camera stations, which was great – it felt very cosy back there, and no one could "watch us" from the line.
While, in my cousin Christopher's case, they had to wait for the red light on the camera – and he cautioned that you need to wait for the cue to go, because if you don't, they aren't taping the beginning of your "schtick" – our producer said: "Camera's on, start when you like. I can ask you questions, or just do your thing."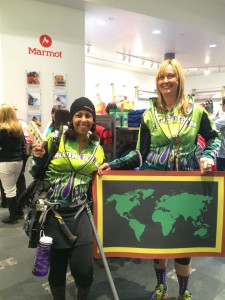 I'll put what we said and what we did, basically word for word, next. Because that was the thing that I didn't find in any other blogs, and I was super curious to know what other people did. In our case, I had purchased an Amazing Race "mat" from the CBS.com store, and that was a huge hit. My cousin Christopher had said that if you can get the producer to smile or laugh or look like she's engaged, you've won the battle. We unrolled the mat when we were in the "Southwest Airlines" line (I don't know why we were keeping it such a secret up to that point – as if someone could get one at 4 a.m. the day of…) and it got a visible "ripple response" in the waiting line. In fact, one of the Marmot guys took our photo with our number, the mat, etc. and they posted it on their Facebook page.
There is nowhere to put down "stuff."
I was super duper glad that we'd taken the time to get the camping chairs, blankets, etc. to the car and "suited up" there. Because it was "cramped quarters" in the filming room, with just the space that you were going to stand. If we had done what we were ready to do – bring in the camping chairs, put the blankets and puffer jackets into a folded-up Costco bag we had – I'm really not sure what we would have done with them. I suppose that we could have left them out in the hallway where you stand before you go into the camera room. Just know that when you're walking into that room (if you do the filming at Marmot), it's a tiny, tiny space – so if you do  have things that you don't need as "props," leave them in the hallway.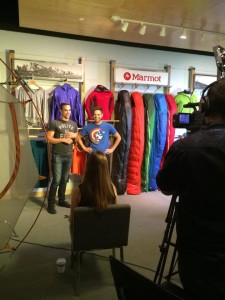 In our case, we were actually backed up against a rack of Marmot clothing (this area is obviously usually a store room). When we were finished and trying to gather our stuff up and get out, Moddie kept backing into and then hanging back up the clothes on the hangers. I quipped to the producer that we were "obviously just trying to get more camera time." She just shook her head with a big smile on her face (as Moddie knocked another outfit to the floor… LOL!)
Try to have 3D – not 2D – props.
Some people in line had posters with photos on them, things like that. I actually know from previous work in front of a TV camera (I was on TV a number of times for my book) that it is impossible to see things like this. If it's so important that you really honestly need it as part of your story, do up each photo BIG – like, bigger than 8-1/2 x 11. Make sure that you also have it glued down onto something sturdy, because if it's just on a sheet, it's going to flop around and look unprofessional. Also, make sure that they are matte finish – glossy will reflect light and you will not see them on camera. We were originally going to have photos as well – us each finishing the Ironman, etc. – but from blogs I read, it's discouraged. So try to make your props 3D.
Also – and hey, I'm not saying we will get picked, so why listen to me (heh heh) – but our producer was very engaged by the props we had. As an example, remember, we're dichotomous. So I took all 4 of my graduation tassels ("graduation scalps") and put them on a stout cord, with knots in between them, and hung them around my neck so that you could very distinctly see there were 4 tassels. Moddie wore a climbing harness over her TNT clothes with an ice ax, a bike helmet, a hammer and tape measure, and a few other things hanging off of it. So when, in our script, we said I was the "thinker" and she was "do-er," I could hold up my tassels and indicate that I have four college degrees, Moddie pointed to her belt, indicating that she had been up to other things while I was in school :-) It also helps you remember what you want to say. We had a similar "prop setup" for the fact that I've traveled the world, but with my husband doing the planning, but Moddie hasn't been out of the States – I held up my 5 passports fanned out, she held up her one passport and said "empty…" You get the picture.
Our script…
Sorry that this has weird fonts – I cut it out of Evernote and can't figure out how to make them uniform! :-(
WEARING Ironteam jackets, unzipped, over Ironteam bike jerseys, black running skirts, black capri pants, purple spotted socks, sneakers. Sandy has New Zealand Maori necklace (like Phil's) on, plus "necklace" of graduation tassels. Moddie has climbing belt with ax, hammer, bike helmet, etc. Carrying Tribags. Nalgene bottles with names of honorees hang off of Sandy's Tribag and Moddie's belt.
Sandy rolls out Amazing Race Map, hums a little of The Amazing Race Theme Song, S and M jump on it.
SANDY: We are Moddie Stone and Sandy Shepard! As Hashtag Team T-N-T, we'll plug you in to the Leukemia Society's Team In Training (Moddie turns around, showing LLS and TNT logo on the back of her shirt) – which has had over 600,000 participants, and 10s of 1,000s of cancer honorees like our personal ones on these bottles (Moddie indicates BOTTLES).
PLUS, we'll earmark $100,000 (Moddie throws down bundle of CASH) of the prize money for cancer research in YOUR name, which means you'll be featured in the Leukemia Society's annual report and President's address, and come to the attention of researchers, other donors, and board members!
Listen – If you don't know about Team In Training – it's A Thing! You could be running on a back road in Alabama (Moddie mimics running), and if you're in your jersey, someone is guaranteed to lean out of a truck and yell GO TEAM! Hashtag Team TNT will attract that same energy and attention!
MODDIE: We've overcome many obstacles, Speed Bumps and U-Turns together while going for money fundraising! We've done marathons, triathlons, and even an Ironman (Sandy shows back of jacket with pockets – 2.4 mile swim, 112 mile bike, marathon – then puts on shark hat and takes out shark "puppet.") We've swum in the frigid San Francisco Bay with the "wildlife." (Sandy hums a little of the Jaws theme). We have super different backgrounds though, which might work to our advantage, or, if we pick the wrong person to do the task, it might lead to that audience-pleasing drama!
NOTE: The part in pink is what we got to say because we had a minute and a half. The above part, and the part below in black, was what timed out for us at a minute.
SANDY – Though we look like the Sweet Scientists – just a bit older! – that's where the similarity ends. I'm the thinker (hold up graduation tassels), she's the doer (point to climbing belt with everything on it.) Married (indicate wedding ring)
MODDIE: single!
SANDY: (bring 5 passports out of bike jersey, fan out) I've traveled the world, but my husband does all the planning…
MODDIE: I haven't been out of the States – but I have a passport!…and I'm not afraid to do outrageous things (brandish razor, turn it on) – I shaved all my hair off for fundraising!
SANDY: Ohhhhh no…(look at producer) She was so not allowed…(look at Moddie) you were SO NOT supposed to bring that razor!
MODDIE (looking smug, brandishing razor)
SANDY: Girl, if you make me shave my head, I am so making you eat bugs!
MODDIE: Ohhhh no, you are the bug eater…
(NOTE: The producer was really laughing at this, so I went on – because she was laughing – with this next bit)
SANDY: (L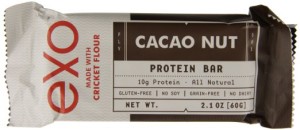 ooking at producer) OH, and speaking of bugs, as karmic retribution for what you make those teams eat, I brought you a Cricket Bar (hand over Exo bar from back jersey pocket) – Hashtag Nom Nom Nom!
(NOTE: Producer was surprised, and was really laughing. I jumped back on mat – this last part is the end of our minute part – like I mentioned, the pink was the "filler" because we got a bit more time).
SANDY: We're Hashtag Team T*N*T* – for Team In Training –and for a Dynamite – if Dichotomous – Duo…
(both cross fingers)
MODDIE: Non elimination round – ?!?
So that's our story.
I'll spruce it up some, add photos, and all that jazz in a bit. But I've had about a dozen folks wondering how it went, so I'll post this now and on Facebook, and jazz it up next week. We'd love to hear your Comments! :-)