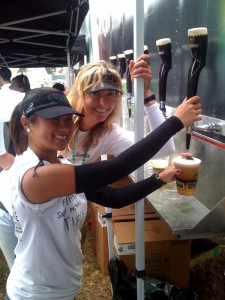 On Saturday, Maria (M-Dot) Afan and I worked Oysterfest for LLS. Basically, that means working from morning to night pouring Guinness-branded beers, with tips going to the Leukemia Society. It was a SUPER cold morning, so I visited my Favorite Shopping Palace (Sports Basement) to pick up some arm warmers before hitting Fort Mason. Maria put this photo on Facebook, and one of her friends asked if the "black and tans" were the drinks, or Maria in the arm warmers! Loved it.
My bartending skills were definitely put to the test as the day wore on. WOW there were a lot of people, for a cold and foggy day! It could be because there were headliner bands (such as Cake) playing. At one point I wound up "womanning" the taps myself – meaning I had about 5 pints going at once. SO iron! The frustrating bit is that the tips that are received all go into a big "pot" and are then "divvied out" – and MANY of the people pretty much either stood around or didn't even work (e.g., didn't put on the staff shirts, and just took off). Although the gal running the whole thing for LLS "cautioned" that if you "were caught" doing this that you would not get your portion, OF COURSE no one was really watching. This does not take away from the HUGE Thank Yous that are due to everyone who threw dinero into our Tip Boxes – you are making a difference and maybe your $$ will be what tramples blood cancers once and for all!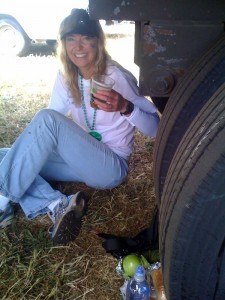 OK, I should get off my disgruntled soapbox…Well, one more thing. I think Maria said that last year, after working the same amount of time (over 8 hours) that she got $100 as her "cut." I am not sure what I was expecting, but I guess that I thought that there would be about 1/2 the volunteers (which would probably have been about the number of volunteers that actually worked, if our booth was any example of the other beer booths), and that we would get 5x $100. "Bitter, party of one…" OK I will shut up. Maria took some cute photos though so here they are (smile).
Our team did their 80-mile Vineman course ride on Saturday. I woke up on Sunday sore from all the standing on Saturday, and sore "mentally" for not having done the ride. Maria and I had received an email at the end of OysterFest (and, of course, the end of that 80-mile ride for our fellow "otter swimmers") that Coach Mike's excursion to Pacific Grove for an open water swim in Monterey and long run was cancelled due to Vineman Ride Exhaustion. I had a seriously Lazy Mental State going, and felt "weird" about being so sore from basically "pulling taps" all day (and not "really" exercising). However, I got myself together after Maria and I had a little "pep talk" with one another, and did an 8 mile Run, and then a 2000 yard Swim. The Run had been switched from an 8-miler to "do an hour and a 1/2, of which 45 minutes is at your Tempo pace," but it is a lot easier for me (since I don't have a Garmin) to pace out a set of miles in the car, and then go for that. (I can't figure out my "Tempo pace" otherwise, because I have no way of knowing how far I have gone in a set amount of minutes.) I ran out China Camp from the JCC (my pool) – the first 4 miles I did in 45:14, which IS about my Tempo pace from the V-DOT chart (my Tempo pace is 11:57). I took a "pit stop" and then came back the 4 miles, and did that in 47:44. My legs were definitely heavier on the way back. I was having fun though – listening to my "toonz" and actually singing which is always a BAD thing. Some guys going past me with their windows down and their muddy bikes up on racks from a ride (mountain biking was basically "born" at China Camp) passed me while I was singing and laughed and gave me a  "thumbs up." As in "You go girl, don't worry about what ANYONE thinks." (smile)
The run was one of those glorious ones that don't happen often for me – when I feel like my legs are sort of on "autopilot" and just carrying me forward. I had that a few times when I was training for the Big Sur Marathon – I feel strong, balanced, and like my legs are almost "robotically" moving the "top half" of me towards the destination. It's hard to put it to words, but I just love it. I don't even have to think about leaning forward, pacing, or the like – it just "happens" and I get to "go along for the ride." I was super happy. Yippee!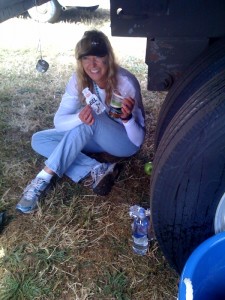 I got back to the JCC and transitioned into the pool, and did the 2000 yards. I decided to pretty much take it easy – just plug it out. My arms were really sore, and I realized it was actually probably from (wo)manning the taps the day before! I did the 2000 yards in 48:32 – so each of the three "sets" – the two 4-mile run "sets" and the 2000-yard swim "set" – was pretty much the same time (right around 45ish minutes).
Monday was supposed to be the 80-mile ride, with Maria and Coach Mike, but as rain was forecasted, Mike was kind enough to instead set us up with a Triple Brick. (For a definition of a "brick" follow Maria's link, above – she talks about it.)
Maria got to my house somewhere around 9:30 a.m., and we got our nutrition together, and our "timing." I wanted to be sure that we didn't have to go back up to the house (as we were doing the Spin down in the "workout studio" – a/k/a garage) except for me to take Jake (my dog) inside when we would go for the Run (he's gotten too old to come along at speed, poor darlin'), and to have "potty breaks." We were both a bit "math challenged" on the nutrition front, which was sort of funny. I thought I was the only one who couldn't "multiply by 2" in my head. (smile) Once we got it all sorted,
we plugged my iPod into the stereo system that H had rigged up down there, and started our "journey."
Here is the workout:
Pedal Mechanics Sustainable Power.
Clock Time:
0:00 Begin Easy Warmup
9:00 One Leg Drills begin RIGHT leg (easy gear)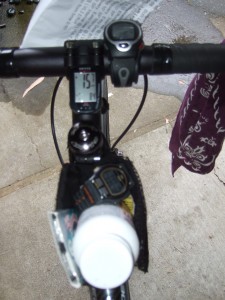 10:00 Both Legs (1'RI @ 90+ RPM)
11:00 Left Leg
12:00 Both
13:00 Right
14:00 Both
15:00 Left
16:00 Both
17:00 Right
18:00 Both
19:00 Left
20:00 5′ Recovery @80-85+ RPM
SUSTAINABLE POWER INTERVALS
(Lvl 6-8 Effort 90+ rpm)
3×10′ efforts w/5′ Recovery between each effort
25:00 First 10′ SP Interval @ Lvl 6-7
(zone 3- Tempo LT chart)
35:00 5′ Recovery, easy gear 85-90+ rpm
40:00 second 10′ SP interval @ Lvl 6-7
(zone 3 – Tempo)
50:00 5′ Recovery, easy gear 85-90+ rpm
55:00 Third 10′ SP Interval @ lvl 6-7
(zone 3- tempo)
1:05:00 10′ Run @ Level 3 effort
1:15:00 Repeat Spin from time 0:00 (3x total)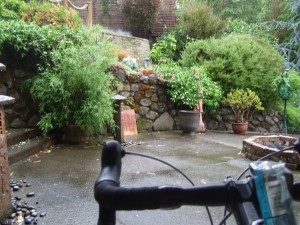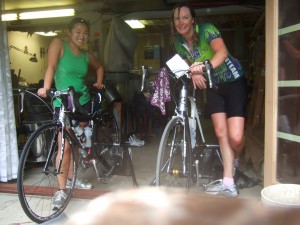 It was tough, but it was also fun. We got "Workout Tourettes" by the 3rd go-around on the Spin, but in general, we pretty much kept it together. (My bike computer registered that I covered 46.6 miles in the Spin for the session – well, Dist-1 is 46.6 and Dist-2 is 63, I have to believe I didn't zero it out. I worked HARD though, one way or another.)
When we went for the Run, it was raining, but not particularly cold or windy (except the 3rd time around, when I was videotaping Maria – you can hear the wind blowing in the microphone). Maria did manage to find out that her "waterproof" jacket was actually just a "windbreaker" – when she came back from the 2nd round totally soaked!
The road from my house is pretty hilly – as in, I can't actually make it up the hills myself on the bike. So though the runs were only "5 minutes out and 5 minutes back," it was definitely not a cakewalk. On the last run, when we were definitely in "loopy stage," we filmed ourselves – here you go: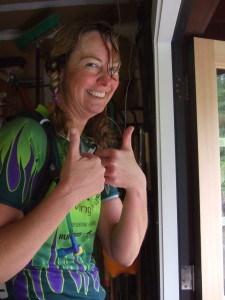 In all, quite the weekend! Today (Tuesday), writing this, I feel VERY fatigued but, masochistically, in a 'good way.' I feel (as Maria said in her blog) as if I really "earned the burn" during this workout. I think we kept each other going – and whether it was me shouting "ONE MORE MINUTE" or Maria shouting "KEEP IT AT 155," we ground it out (in a good way). Every now and again I would look at Maria and think of the lyrics to John Lennon's song Imagine, "You may think I'm crazy…But I'm not the only one…"
One of our many You Know You're Iron When learnings from Monday – You Know You're Iron When you are "steaming" – from the INSIDE and from the OUTSIDE! Also – as Maria noted on her blog – we staged all these photos (except the 2 videos of course) AFTER our workout – no sandbagging by these grrls!
Postscript: Just got the notification that Oysterfest raised $10,662.06 (or $400 more than last year) for LLS. Which is GREAT. That works out to $90 each. Oy. I gotta not be bitter about folks who did not work. I gotta. I gotta. I…maybe it's time for a beer (laugh).