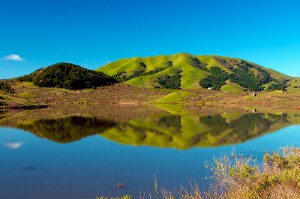 Sunday was the Bike Marker, after the Swim and Run Markers on Saturday. H came with me, and we met Mentor Margaret, Moddie The Tree Frog (smile), Bike Coach Les and Jennifer at Nicasio. It had been really super nice weather when we left the house (about 55 degrees), but as we wound our way over Lucas Valley Road to Nicasio, we hit a solid bank of fog and dispiritedly watched the car's outdoor thermometer plunge to 45. Brrrrr! OK, not as "brrrr" as you Dear Readers over on the Right Coast, but brrrr for us!
We got going, heading out towards Petaluma from Nicasio, then past Nicasio Reservoir towards Sir Francis Drake Blvd. which is where we turned around. Here is a map of the ride. We do the Marker from Sir Francis Drake Blvd., back along the way we came, for 5 miles.
I think that this route is probably fairly like the Louisville Ironman route is going to be. If you click on "Elevation," you can see that it SAYS that it's only between -1 and 1. However, on a couple parts of this route, I'm down in my granny gear and huffing and puffing. I'm not quite sure how it can "only" be a 1 percent grade (or however it is that this is calculated), and I'm sucking in a big way. It's frustrating to say the least. On the way out, in fact, H passed me – our Marin team is fast, and always has to wait for me to get to wherever we are going. I generally get there as they're having a little snack, turn the bike around, and then head back the other way right off (because I get a head start, since everyone passes me on the Marker part).
I did the Marker in 19:57, which Coach Mike says is 1 MPH faster than the last time, which is good. I was riding HARD (which is what I think we are supposed to do), and my heart rate is way up in the like 190 BPM range.
We got back to Nicasio and then turned right around and did a 20 minute brick run. I like to run alone, so I just strapped on my shoes (leaving on the tights and bike shorts) and off I went. H waited in the saloon that's there (there is no other way to call the establishment), and once we were all back, we had brunch. H and I split a glass of champagne and 1/2 dozen oysters, then had the biggest breakfast burrito I have ever seen (Moddie said, "Folks get PAID to prove they can eat that much food" – made me laugh!)
Back home, and H had me fertilize the garden, then clean up some. He was puttering around down in the new work/workout "studio." He set up my THX stereo and my 100 CD changer from when we lived apart – it had been boxed up for like 5 years. He really went through boxes and there is a whole pile of stuff for me to catalog, photograph, and get to Goodwill. I'm afraid to see what is in there – he's the neatnik, I'm sure the bulk of it is my stuff  that he's just decided is "time to go." (OK, OK, so since the "studio" was the former "garage" I admit, there are definitely boxes in there of stuff that I haven't looked at in years. But isn't that what garages are for?)
After I got the gardening stuff done, I sat and just looked at the hills for a while. It was nice to sit out in the sun! I finished the 2nd book in the series we are reading for our book club, "The Girl With The Dragon Tattoo" and the 2 books that come after. FANTASTIC books. The 3rd one isn't in the U.S. yet – I have it on order with Amazon.com. I am pretty sure that H would rather I was sorting and cleaning with him, but I decided to "take a day off."
Today (Monday) is an OFF day! Yay! And – better yet – we weren't woken up by the turkeys this morning . . . so it's starting out to be a bueno week!
YOU KNOW YOU'RE IRON WHEN…
..you find a bike skewer in your purse when you're in line at Costco, pull it out and think "Ah, so THAT'S where I put it"…
…you put Butt'r in your Britches in front of God and Country before a bike ride, thinking nothing of it…
…you go into Peet's to get a cup of coffee before going to work, and reach for your wallet in the middle of your back instead of in your jeans…
…you fix your IKEA or Target-bought furniture pieces requiring an Allen Wrench with your bike's multi tool…(courtesy of Jamie F.)
…your Friday night retail therapy becomes a shopping spree for the weekend training's fuel & nutrition and you close down the store… (courtesy of Maria A (M-Dot))
…your purse has Body Glide in it, and that's totally normal… (courtesy of Coach Helen)
…you don't understand the dirty looks you get as you peel off remnants of a GU Chomp from dollar bills before handing them to a store clerk… (courtesy of IronWu)
…when you can pack a normal day's worth of calories into a sports bottle… (courtesy of Iron Nick)
…you put on some chamois butter in a Port-A-Potty and 10 mins later you're digging in your bento box with the same hand to pull out some pretzels… (courtesy of Frank A.)
…you are so proud of yourself that when you blew out your snot, it made a nice splat on the ground instead of your leg. And you and your biking buddies stop to appreciate your feat… (courtesy of Coach Helen) – yeah gross but SO TRUE.