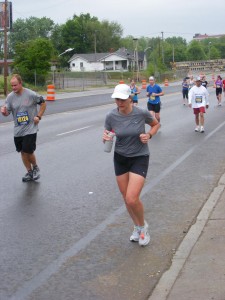 So, first, Missy's update from doing the Country Music Marathon. Missy is my "Tennessee Teammate" – she found me via my blog, and we have been "training together" ever since. The best part was that I asked my IronTeam members to send her good luck emails for her race, and a bunch did. It meant a lot to her!
The marathon was supposed to be serious thunderstorms, gusting winds, etc. Not so fun! It was her 4th marathon, though she really styles herself more as a cyclist. (Ironman Louisville will be her first Ironman.)
This was her quickie report via email on the day (full report, next post):
They diverted the race at 22 miles. Bummer! I was on track for a slightly sub 5:00. That would have been my fastest of the 4. Drats!!!! We had tornado warnings, rain and lightning. The volunteers stuck it out and remained on the course. Amazing!!!!! 30,000+ runners is a bunch of folks to have out in a storm. The police kept telling us to take cover but most just kept plugging along. Oddly enough, I'm satisfied with the experience. I would have liked to finish the full 26.2 but it was a good training day, a memorable experience and I learned a heap about my nutrition, my limits and my post run recovery. Can't really complain. Now if I had traveled a long way or it had been my first one I'd have been pretty disappointed.
Hope you've had a good training day with your swim!!!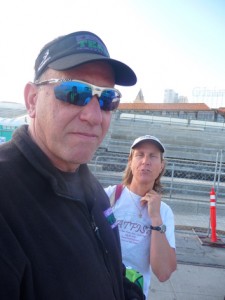 I am not sure I can imagine sticking it out in weather like that – with that many people, to boot! BIG kudos to the volunteers, police, etc. who helped out at the Country Music Marathon through all that. Whoot Whoot!
So now for the "California" update. This week, I did the Swim Marker, and also the Run Marker. I wrote about the Swim Marker – for the Run Marker, I planned out a 6.2 mile route from Mom's house, which was pretty funny. I had to do it in "pieces" on MapMyRide.com, because I don't have a Garmin – and as I was supposed to keep on the flats, that entailed a bunch of out-and-backs! So I ran from her house (in Tiburon, on the bike path at Del Mar) to Blackie's Pasture, from Blackie's to San Rafael Avenue, from San Rafael Avenue back to Mom's, from Mom's to the end of West Shore Road, then back to Mom's! It took me an hour and 12 minutes, which was good enough to up me one more VDOT. I'm slowly progressing – since the beginning, I am now 4 VDOT numbers "higher" which isn't great, but isn't bad, either. I think the best part is that I am really liking the running part, and except for a little tightness, I seem to have licked the shin splint problem (phew!). I was bothered by being "itchy" during the run – I have been nursing poison oak on my bum and calf, from a "pitstop" during last Sunday's ride – for the second time this year. Another "You Know You're Iron When" issue, I guess!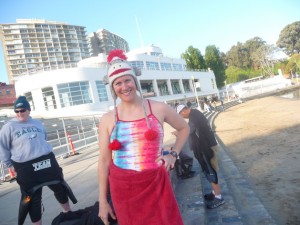 So, back to Saturday. At about 8:00 a.m., IronMel and I arrived at Aquatic Park and slowly got our buns down to the water – just as Sedonia and BK were coming out! Apparently BK had an LLS Board meeting and so had to be in early, so Sedonia agreed to swim with him. Sedonia and BK you are SO IRON!
Today, we swam around the perimeter of Aquatic Park, and were to do as many times as we could in an hour. (Last time we swam around the buoys in the middle, which are fairly close to shore.) I had unfortunately had a rough night without a lot of sleep, and so I decided I would do as much as I could, but I wasn't going to stress it.
The water was SOOOOO cold! I think it was colder than last time we swam in the Bay. It took me all the way from the shore to the first turn-around buoy to get my face in the water. Brrrr! Luckily though this time no trouble with my swim caps – Maria M-Dot reminded me to "pull them on tight" because of my experience last time. I was definitely NOT going to have a repeat performance!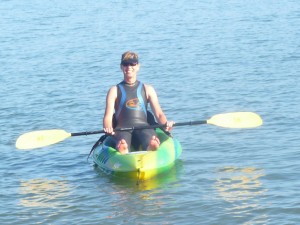 I did have some trouble with my goggles though (if it's not one thing, it's the other). I think – amazingly – that my goggles that have fit SO well all season are starting to "gap" a little because I have lost 22 pounds – and my "chubby cheeks" aren't closing the bottom any more! I had to fiddle with them a few times, and need to figure out if it was "just the day" or if (sadly) I have to find ANOTHER style of goggles. This "goggle thing" is getting a little ridiculous. I thought I had that one licked!
I also "graduated" to Coach Mike's slimmer wetsuit! He had to give me a "boost" into it (my "badunka" is still a little on the bootylicious side) but once "she" was in, the rest was fine. I was amazed because I looked at that suit and was pretty suspicious that there was NO way it would work. Surprise! Everyone took turns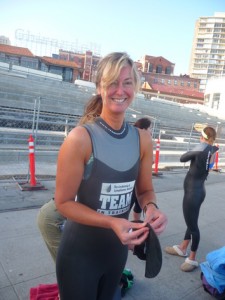 sticking their fingers into the hole in the small of my back – yes okay I got it, there is a hole… Stop that! It tickles! ;-) I also had gone to my friend's salon Peace, Love & Grilled Cheeses to let them practice their new spray-tan on me (totally natural, uses a combo from sugar beets/sugar that develops naturally) – so there were a lot of comments about how tan I was. I didn't even try to pass it off as real – though it sure LOOKS real and great! I love it. ;-)
Once I finally got my face in the water I was taking it easy, and was swimming with Patricia and Jen Jay. Then I saw Dana's red cap behind me, so I swam back, and decided to keep her company. When swimming the perimeter, it just seems to me it's safer to be at least in pairs. We had 2 kayaks in the water, but there are boats you are swimming behind, etc. I did have to smile that Dana was there in her full-sleeve wetsuit, insulated cap, mittens and booties – and I was in a no-sleeved wetsuit that came about mid-calf! We had a good time swimming together, practicing siting, and the rest. At one point when we were nearly done (about the 45-50 minute mark, when Maria had joined us in "braving the current" that was getting stronger) I was starting to get really cold, so I had to swim a little faster and would go out and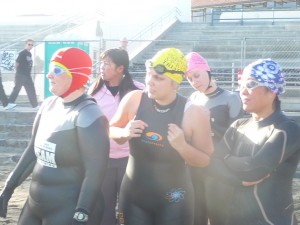 then back, keeping an eye out for her to be sure she was still OK, swim out, back, check, out, back… I felt a little like Jake (my border collie) and how he runs out and back and around and back, sort of "burning off steam" when we're at the beach. I am pretty sure, though, he's not trying to keep from freezing up! :-)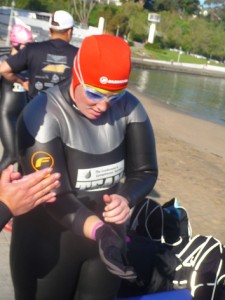 Once we got out, I had the standard bay sludge all over my face (why is it always only ME that gets this? Thanks Coach Helen for giving me the "wipe your face" sign!). I couldn't actually feel my hands and arms enough to wipe it off with a towel. I just took my (white!) sweatshirt and smudged it all over my face to clear the gunk. Icky. It took a while to be able to talk – getting out of the Bay feels a bit like novocaine. Your brain seems to be working fine, but it's hard to make the mouth form the right sounds.
We had a Stretch and Strength session on the grass, but I had been so cold I actually couldn't even get my shirt on. So I just zipped up my long hooded swim parka over my swimsuit and pulled on my sweats, and exercised in that. What a sight, as you can see from the pictures below. I also couldn't get my hands to hold a brush, so I had very SPECIAL hair. Oh lord. Now I remember why it is that I need to BRAID it, not just "pony-tail" it, when swimming is on the schedule! (Thank goodness the photos were taken when my hat was on – in all the "Downward Dogs" we were doing, it kept flopping off and showing my "bird's nest" coiffure!)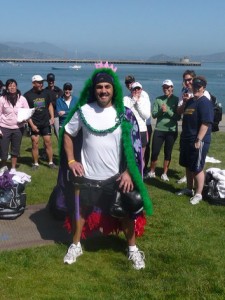 Susie (who is a fire fighter) had gotten the Spirit Cape last week. Her additions to it were spectacular, including a handcrafted green and purple lei, and an actual fire axe and belt! She explained that fire fighters paint their axes with their engine company name and number and color. So she had painted the axe in IronTeam purple, with "IronTeam" on one side, and "2010" on the other. It was THE BEST! Jim won the Spirit Cape, and no one could deserve it more. He is always such a great, sunny, "Atta Girl" teammate. (Jim's the one who paid our way through the toll gate the first Boot Camp weekend, if you remember reading about that. He, and BK, were also the cyclists that scared the heck out of me my first "team ride" around Paradise Drive, because I'd never actually met "real cyclists" before. They got to the route turnaround in Tiburon like 1/2 hour before I even showed up – and had ridden from San Francisco at the beginning, to boot!) Anyway – so here is the photo of Jim with the Spirit Cape – now decked out with the tiara from Tiffany, my boa on the bottom, all sorts of trinkets, the axe and belt – boxing gloves (not sure if Susie had added them or if BK added them when he got the cape the time before because I missed that one, at Wildflower Weekend)…This Spirit Cape is getting to be quite the work of art!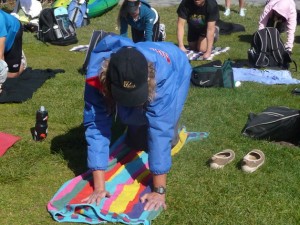 After the Stretch and Strength/Spirit Cape with the Team and a big "GO TEAM, IRONTEAM" circle that surprised all the folks who had gathered to watch our craziness (yeah, we do look a little insane, I gotta admit, especially to tourists on the waterfront!), Melissa and I were off to Sports Basement. I needed to get some new nutrition and a few things for Marin friends who love that I make the "trek" in frequently enough that they can give me their Sports Basement shopping lists! Mel scoped while I shopped – she was going to do the 5K Fun Run the next day for Brenda Donato (an IronTeam member who succumbed to cancer a year or two ago) – which included a 20% off Sports Basement spree. I had to be home to do "honey do" chores and then a bike ride with H instead, so "Shopping R Us".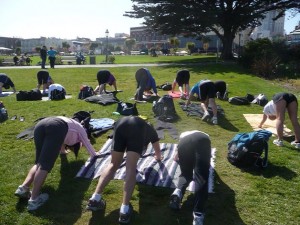 All in all, I felt super good during the swim, and even the strength (though I kept falling because I was slipping on the grass and couldn't really feel my feet). Mentor Margaret even mentioned how "far I had come." She always makes me feel like a rock star. She's the best. The interesting thing that I mentioned to Melissa as we were driving home was that Sue Bird, my hypnotherapist (who did 3 knockdown amazingly great hypnosis induction podcasts a while back – you can download them free HERE, click on "Download" and then wait a bit), had "worked on me" with respect to my Open Water swimming. I realized that while in the water. Basically, Sue does "energy work" as part of her hypnosis practice. Through this, she actually "reads" your energy, and helps "shift" it to more "productive" energy for whatever you are concerned about. I started seeing Sue back when I was in law school, because I had a paralyzing fear of speaking in public. We became fast friends (and in fact, she was the officiant at our wedding). Sue herself is an amazing swimmer, and I believe still holds some of Stanford's records from when she was there.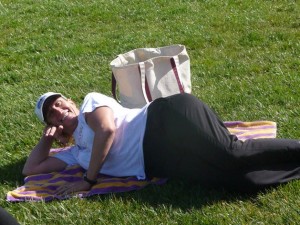 I had mentioned to her a while back that ever since I was a small kid (and saw someone die in the water in Ft. Lauderdale of a heart attack) – and especially after seeing the movie Jaws when pretty young too – I have had a fear of swimming in Open Water. Sure, I've done it – nearly all triathlons are in Open Water, and "back in the day" I was doing some form of a triathlon a number of times a year…but I have never, ever, gotten over the Fear Factor of it. She asked if I would like her to "work on it" for me and I thought – why not? (She does it from a distance, you don't even have to be there.)
Well, I had forgotten all about this, though the last time I was at Aquatic Park, I had felt pretty great, and really didn't think that much about The Dreaded Swim. (That was about a week after Sue and I had had our talk, which was precipitated by my having a rough time at our first Boot Camp in the lake, where Mentor Margaret had to swim and talk with me the whole way.) THIS time, I felt AMAZING. I am not kidding. I felt like an otter in the water. I was REALLY relaxed, having fun, etc., even when we were in the 'deep water' part of the Park, where the breakwater is open and lets out into the Bay. It was when I was doing the "border collie-esque" swimming forward and back, treading water, talking to Kristie in the kayak, teasing with Sedonia, etc. that I suddenly realized "Heeeeeey, WHO IS this OtterGirl?!" Of course, Sue lives down in Monterey – where otters are abundant, etc. Maybe she "sent me" some of their energy to "replace" mine…?
I actually texted her, just saying "Whatever you did, it worked." Wild. Completely and totally wild. The last time something like this happened to me was in Peru, where I was having issue after issue with my debilitating fear of heights. The shaman who had come to Willka Ti'ka (where we were staying) explained in Quechua (their native language) to our translator (who spoke Quechua, Spanish and English) that "all I had to do" was to "give up the fear" to Pachamama (the Earth Goddess) and "she would take care of it," but I really had to want it gone, and really had to do it in a specific ceremony. Well, long story short – I did, and she did. I wound up bounding up trails that would have set me into a hyperventilating swoon previously – and even now, I am more just "aware" of heights than really afraid of them. I think there's definitely "something to all that."
I ended the day by seeing my friend Faye, who is now General Manager at Martha Graham Dance Company. They were in Santa Rosa for one performance on their world tour. They are doing a Retrospective of Martha Graham's work, and I have to say, it was probably the best dance-related performance I have ever seen. They had some films of Martha Graham herself, did a couple of performances of where "dance had been" before she started doing HER stuff, had a "narrator" who explained a bit about what we would be seeing before the dancers came on…and then of course they performed some of her "greats" including Lamentations, Appalachian Spring, and the rest. H hadn't known that Copland's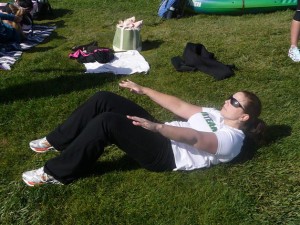 "Appalachian Spring" was written FOR Martha Graham and in accordance with her letters about what she "wanted" in a dance sequence, which the narrator talked about, even reading from her letters to Copland. Before the performance, Willi's Wine Bar squeezed Faye, H and me in for dinner, where of course we got a few of their fabulous flights of wine, and ate WAY too much of all the things that I don't make at home! (bone marrow, rabbit rillettes, foie gras, duck, curried crab pot de creme, chocolate chip bread pudding, cheese tray, dessert wines, etc.). So stem to stern, it was a wonderful day!
As I write this, H and I are preparing to do a bike ride, probably down to Sausalito and back. (After napping off the dinner/wine/late night until noon!) I didn't do the "Athlete's Choice hour and a half" workout on Friday (my "Athlete's Choice" was a snooze!), and so H and I are going to go do that. It's a gorgeous day, as it was yesterday.
 You Know You're Iron When:
*wetsuit hickies. Enough said.
*you have poison oak. There. Again.
*…you have had 2 breakfasts, a bay swim, snacks, strength training, a long shop at Sports Basement, lunch, & lots of laughs before some folks are getting rolling on a Saturday.
*…there just ain't NUTHIN sexier than your wild-mama bay salt wave crazy woman hair and salt encrusted bod. Oh yeah. Baby.
*…you have fun in the cold bay water rolling around like an otter, cheering on teammates, swimming back and forth, laughing, and the like – while your hands fold down into spastic Claws that you can barely move an hour later and you can't really talk because your lips don't move any more.
*…"Sports Basement" has become an entry on your monthly household budget. (Corollary from Rand: "You find that you're spending more on 'Sports Basement nutrition' than you are on 'real food' per week.")
*…your best accessory to an outfit is your smile – even if the outfit is a wetsuit! (Courtesy of Coach Sedonia)