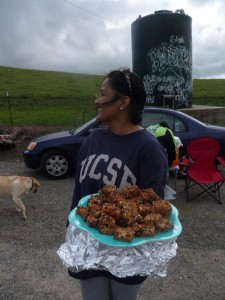 OK, these are DEFINITELY not "low cal," but these bars were a wonderful present from our IronTeamMate Chris' wife Meenu. Also not gluten-free, but who knows, you might be able to figure something out . . . or, as Coach Helen (who posted the recipe) said, "perhaps you should just stop reading now."
++++++++++++++
[email from Meenu]
i loved being out there and supporting the ironpeople :) of course, here's the recipe:
 Ingredients
 * 1/2 cup butter or margarine, melted
* 1 1/2 cups graham cracker crumbs
* 1 (14 ounce) can EAGLE BRAND® sweetened condensed milk
* 2 cups semisweet chocolate morsels [NOTE see changes, below]
* 1 1/3 cups flaked coconut
* 1 cup chopped nuts
 Directions
1. Heat oven to 350 degrees F (325 degrees for glass dish). Coat 13×9-inch baking pan with no-stick cooking spray.
2. Combine graham cracker crumbs and butter. Press into bottom of prepared pan. Bake crust only for 10 minutes.
3. Combine sweetened condensed milk, chocolate chips, coconut and nuts in a bowl. Spread evenly over crust. Press down firmly with a fork.
4. Bake for additional 15-20 minutes or until lightly browned. Cool. Cut into bars or diamonds. Store covered at room temperature.
Variations:
-Substitute 1 cup (6-ounces) butterscotch flavored chips for 1 cup semi-sweet chocolate chips and proceed as directed above (this is what I did)
-Magic Rainbow Cookie Bars: Substitute 2 cups plain candy-coated chocolate candies for semi-sweet chocolate chips.