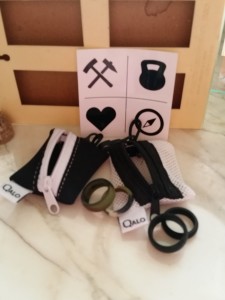 Whatza Qalo?
"Qalo" (pronounced KAY-low) stands for Quality, Athletics, Love, and Outdoors. Their brand is "Commitment is Contagious" – which I love.
These rings were born out of the frustration of all us married athletes who love being married, love being athletes, and are just a wee bit tired of coming home from a workout and saying "Oooooops, I left my ring on the shelf/in the car cupholder/in my golf bag."
I had this happen the other day. I had worked out at Crossfit that morning, and we had pullups. So I took my ring off, because no can keep on with pullups. I carefully put it in my gym bag, thinking I was a big smarty-pants. (I've left it oh-so-many times hanging on the  key hooks under the shelf at my box.)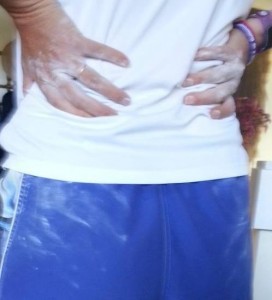 My husband and I went to the theatre that evening, and when he took my hand as the lights dimmed (hey, come on, it's cute after 20 years), he was startled, then stage-whispered in my ear "WHERE is your RING?"
Sigh.
In the gym bag.
In the parking structure.
Blocks away.
Harrumph.
Here's the deal with Qalo
 rings. They are made of 100% medical grade silicone. I have tried some of the rubber rings that are out there, but they made my finger itch. Not so these rings.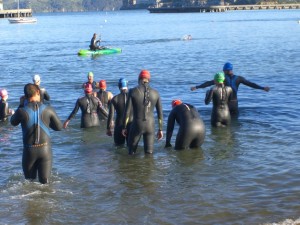 To tell you the truth, I'm actually lucky that I still have my wedding ring. As an S.F. Bay swimmer, I can't tell you how many times I have seen folks get out of the water, look at their hand, then look at their (newly bare) hand. That cold water can seriously shrink up a … finger. (Ha! Dirty mind, you.) When I have done guard swimming for LLS Teams in Training, the VERY final thing I do before everyone goes into the water is to gather up all the wedding rings.
How did I wind up getting these nifty Qalo rings? Why, I'll tell you. I negotiated a contract for one of my clients with Qalo
. And Qalo sent me some. Yes, you read that right. There are some nice lawyers out there, that try to make a deal work for all parties. And so the "other side" (Qalo
) sent me some rings. BEST EVER!
They have rings that are specific to breast cancer, Firepersons, Police, etc. For the fire/police, the rings have a "thin red line" or a "thin blue line" running around the ring. (Clever.)
The ones you see in the photo above are 2 in their "camo" flavor and 2 in their "black" flavor, a man's width and a woman's width on each. The single-color Qalo
rings have one of the 4 symbols you see in the back of the photo, inset into the ring. (The answer to your question is: The kettlebell, of course.)
They come in little zipper pouches with very strong clips on the back. That's what you can see it in the photo – the clip is what is coming up into the compass symbol. This way, you can put your "real" wedding ring into the pouch hooked securely on your gym or golf or tennis or chalk bag, put your Qalo
one on, and off you go. When you're done, switch back.
HERE is a ring sizing chart if you don't know your size. My measurement came smack between two sizes – that's why I got the women's rings in the "lower" size and then men's (thicker) rings in the "higher" size. The women's rings (being tighter) are perfect for swimming. I think even with "cold Bay finger-shrink" they'll stay on. (We'll see, right?) The men's, being a little looser, are perfect for Crossfit, biking, running, etc.
Feeling a little greedy right now ;-)
Anyway – if this is something that might be of interest – definitely check them out! You can get them on Amazon HERE
, or go to the Qalo website. What a great idea! Below is a video of the two guys who came up with the idea, which I think is pretty cute.