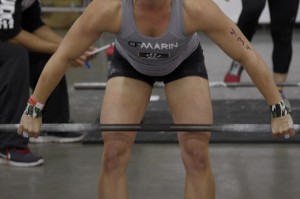 This is Sandy, The Cave mascot and inveterate Crossfit scaler. I thought I'd do a quick writeup about The Cave Grrrrls awesome showing in San Jose at Moxie Madness!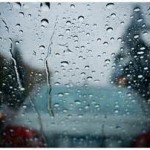 The drive down to San Jose was really "Event Zero" on Sunday. The rain deluged Marin, and was coming down so hard it was difficult to even see the "Botts' Dots" on the road. But after Oakland – poof! – all rain disappeared! San Jose was completely dry, and except for a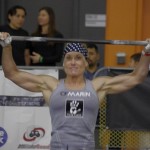 bit of "hide the Convention Center," everyone arrived safe and sound.
Ashley was up first in Event #1/Masters. It was an (A) (B) round, 20 minutes total time:
(A)-1 2 minute AMRAP – hang snatches 85# (rest a minute)
(A)-2 2 minute AMRAP – hang to shoulder 95# (rest a minute)
(A)-3 2 minute AMRAP hang shoulder to overhead 115# (rest a minute)
then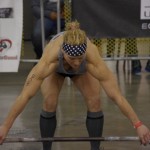 (B) 4 rounds for max reps: (1) 30sec Pullups, (2) 30sec box jumps, (3) 30sec KB snatches (30 sec rest in between)
Each part was scored separately, counting as 1/6th of the total WOD-1 score.
Ashley was warming up when I arrived, and Shari noted that the event used Men's Bars, which had them worried about grip. I compared my Man Hands to Shari and Ashley's – once again finding something that has bothered me in "real life" (big glutes, anyone?) to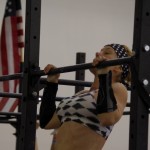 be a serious asset in CrossfitLand. Their hands spanned just shy of my middle knuckle. Wow. Go girls! Hang on!
It was interesting to watch the judges for the competition. Ashley had what to my untrained eye seemed to be the best of the bunch, as her first judge. He not only went through the moves with her when other athletes were a little slow getting into the arena, but seemed to be a friendly, coaching kinda guy.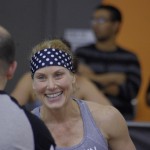 Ashley of course had come with notes, pound-to-kilo conversions, etc. typed out and ready. If I ever go into battle, I want General Read at my strategy table. There was only one nascent "judge arguing" moment when she was no-repped on the hang shoulder to overhead (from the ground, it had to have three clean pieces – hang – shoulder – overhead). As you can see from this photo, it all ended well. (And General Read even came off the floor saying, "I did NOT argue!")
In the 6 parts, she came in 3-3-2-2-1-1 and it was announced she was in 2nd at the end of WOD 1.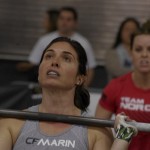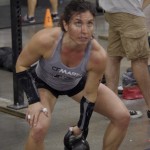 Shari was up next. In the "Open," (A) was the same, but instead of straight pullups, (B) was first chinups, then pull ups, then chest to bar, then bar muscle ups. Sister Shari's "praying to God" style did her well; the extra adrenaline of actually finally being on the floor had her in 7th after A-1. In the 6 parts, she came in 7-16-20-20-27-11.
She and Seraphina both wisely sat out the Muscle-Ups in the final part of (B) – Shari using the final portion of the WOD to power out the kettlebell snatches, Sera to box jump like the Duracell bunny.
Serafina's group was last. Her support committee (Mom and Sister) cheering her on, she came in 11-4-20-28-31-3, really smoking the hang to shoulder. Sera was a bit more interested in what was going on in other arenas during the (A) round (hey, it was an MMA/Crossfit/etc. competition – there was a lot going on!), and her Mom shouted herself hoarse with "Focus! Focus! Focus!" During the (B) round, when the competitors were closer to the audience, Sera didn't get that chance!
Event 2 was a 15 minute time cap on:
30 back squats (85# masters, 95# open)
50 bar facing burpees
25 front squats
40 bar facing burpees
20 overhead squats
30 bar facing burpees
General Read was once again a Crossfit machine in Heat 2; her burpee "twirl in the air" technique – and of course lift strategy – getting her into 1st place by a couple of points.
As an aside, the Teens were in Heat 1 – it was amazing watching one gal who was MAYBE 115 pounds soaking wet. (Teens was won by a gal from Ross Crossfit – yay Marin!)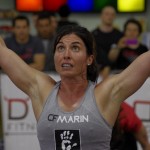 Sister Shari had a good showing, her burpee technique slow and steady. She had the one judge who seemed like he would rather be almost anywhere but there – frustrating to watch. The other judges were uniformly helpful, but at one point when Shari was no-repped for an OHS then had to chase the bar down and roll it back (the other judges – whether allowed or not – were all helping roll back or backstop the bars) I thought she might just let the bar roll across the room and be done with it. But she persevered and ended the round in 17th place.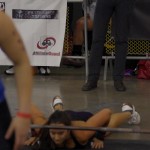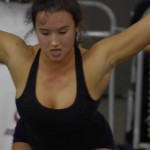 Serafina had a few "let me just lie here" moments with the burpees (us Peanut Gallery folks yelling "Get Up!" "Lie Down!"), but her bar work was amazing, especially the overhead squats. Wow! She rocketed to 15th place in the Open.
The final Event was a 12 minute AMRAP of:
10 deadlifts (135# masters/155# Open)
20 double unders
60 yard suicide (6 times back and forth, 10 yards a time)
15 DL, 30 DU, 60 suicide
20 DL, 40 DU, 60 suicide
25 DL, 50 DU, 60 suicide
30 DL, 60 DU, 60 suicide…
(you get the picture).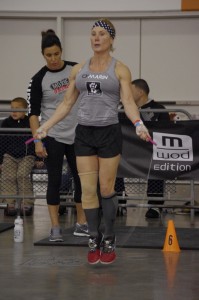 Ashley came to the floor in first by a few points. The nerve-wracking part was that the announcer knew it, too, and so was constantly pointing out to the audience (and Ashley) where she was vis-a-vis the other gal. After the 2nd round, the 2nd place gal had pulled into 1st. She was just as much a machine as Ashley. But then in the 3rd round, she lost her double-unders and couldn't get them back. Ashley, who is not only leading the charge for a double under clinic at the box but also constantly worries about them, was, quite honestly, amazing. By only having 2 breaks in her 50 DU set, she cemented her place in first. Shari and I were so nervous every time she hit the rope (because of her aversion to double unders) that we held our breath and didn't even call our her name, for fear of breaking her concentration. Watching Ashley in her nearly unbroken 50 DU set vis-a-vis the "then in first place" gal only getting 1 or 2 off before tangling her feet in her rope was a wonder to behold. Shari and I found ourselves murmuring "OhMyGod, OhMyGod, OhMyGod…" over and over! In the end, I believe Ashley got through the 30DL set through the suicides (not quite sure, we were cheering too loud when the MC pronounced her as a "lock for first").
Rich LeFurgy was kind enough to put up with me texting him "blow by blow" reports, as he was the only box participant for whom I had a cell phone number (thanks Rich!)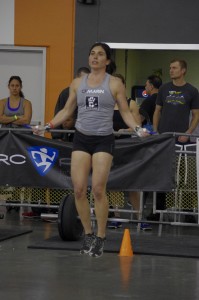 Shari was a force in her Event, pulling herself up to ultimately finish in 15th place. I unfortunately had to leave before Serafina's competition (had to get my husband to the airport), but she did great, taking 18th in the Open!
Not as amusing a write-up as Martin's – but I hope that gives you the "spirit" of the competition! All the photos can be found HERE: culled down from over 600 to about 200 ;-)