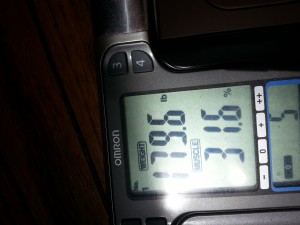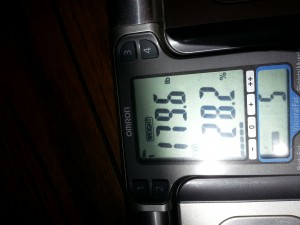 Well, I'm cautiously optimistic. I'm down 1.2 pounds, BUT most importantly, I'm down 3.4% in fat – !! My muscle percentage is up – I'd have to go check the scale because I can't remember exactly what it was (luckily, it keeps a record). But I know it was 30.something. Pastor/Coach Bill even said to me today that it looked like I was "leaning out" which felt good. He was the one who was quite overweight, then started doing Crossfit (a while back – I want to say 5-6 year ago) and after his first year – and ever since! – he's gotten to the Games – !!!
I'm not particularly hungry on this "eating plan." Granted, sure, I "cheat" – as in, we still have "champagne Sundays." But it's interesting – I feel odd when I "cheat eat" . . . as "cheating" as I get, mind you. This is not a bag of potato chips, or a cupcake. Example – we went out for sushi yesterday after the theatre with Mom and Dad (3-1/2 hour play! It was good but – holy cats!), and (since I'm allergic to fish) I had a number of California rolls. Then I went home, and went to bed! (laugh!) The rice just did me in. I suppose it's good, in a way – and as I said, I don't feel faint, lightheaded, angry, or "whatever" at all, like I have on other eating regimes.
One thing though that's kinda funny – H mentioned it to me yesterday. I have become an organizing FREAK. I'm usually pretty much a proponent of the entropy style of drawer and cabinet organization…but I've been FANATICALLY cleaning out and organizing all the drawers in the kitchen, etc. One thing that this eating regime is supposed to do – if it's WORKING – is to eliminate the "brain fog" that's part of having hormone dysregulation. I didn't really think I had it – but now, I have so much energy, and this "desire" for organization, I'm thinking that I've had "brain fog" for a long, long time and just didn't know what it was. H thinks it's hilarious, mind you. I mean, all the pots and lids are together . . . even the dreaded "junk drawer" and "tupperware cabinet" are now completely organized.
Yesterday I painted the air conditioning units – my TAR workout for the day. Way up on a ladder – well, "way up" for me (2nd story of our house), and leaning out off the ladder to paint the units on all sides. Today, I have some law work to do, but I did Murph at Crossfit with Tracy and her daughter Lilly (and their dog Tai lol). It's run a mile (we all did that), then 100 pullups, 200 pushups, 300 squats (which we just did "round robin"), then run a mile (which we split, I did 1/2 mile, they did 1/2 mile). The pullups was the one where we'd each fail the soonest, so whenever the pullup person would do "enough" they would basically tag out the push up person, who would then tag out the squat person, who would go do pullups. I thought I could do the pullups with the black band, but not today! So I had to have the black band plus the red band. Tracy did it on the red band, Lilly did jumping. The interesting thing is this black band didn't feel as "thick" as usual – I'm curious if they're all lifting the same weight. (Yes, that's me trying to somehow reconcile why I could do the green band Friday and I couldn't even do the black today…)
We were the only team – most folks did it alone, or did it alone AND with weights (Martin, Karen, Mikaela, etc.) After, I went with Tracy J. to get a book for her travels with Guy to Poland and wine tasting in France. She hadn't read "Almost French" so she got that, plus The Railway Men – Guy is reading a book about the Washington (State?) crew team that she's going to read then loan to me.
And, that's all she wrote for today ;-) I have to go do the work that needs to be done – I've procrastinated all weekend about it.