Today at Pelo, I got my hat!
Today, three of us (in this photo, the three of us with the pumpkin-colored hat on) got our "20 workouts in 30 days" Spring Challenge hats. The other gal in the photo is one of the awesome instructors. Georgia.
In this photo, we'd just finished doing Georgia's "Coachella" ride – her playlist was all bands she'd seen in the desert – hence, our sweaty selves ;-)
I'm such the Swag Hag.
The Spring Challenge was a brilliant "marketing plan" by Alan, the owner of Pelo. It was free to sign up – and if you did 20 workouts in a 30 day period (April 15 through May 15), you got a "20 in 30" hat.
What it really made you do was come more … try out different classes … and consider bumping up your membership.
I hadn't tried the TRX classes before starting the Spring Challenge. And that's part of the brilliance of the program . . . it makes you check other things out.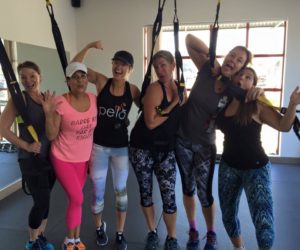 In fact, before the Challenge, I only went to Pelo 2x/week – for their T and Th classes. Otherwise, I was doing Crossfit 3x/week (M, W, F), and then hot yoga T and Th (well, kinda – see yesterday's post heh heh). The Challenge made me swap things around a bit, adding TRX strength training into the mix. I think now that I've "got ze hat," I will probably go back to just 2 of the bike classes a week – but I think I will keep up the TRX.
TRX is like an "old school" strength training class.
You use straps and your own body weight. Crossfit, on the other hand, is all about "functional fitness." In other words, in Crossfit you're not doing "isolations" (e.g., bicep curls), you're doing a movement that could translate into something in real life (e.g., carrying heavy kettlebells, which could translate into carrying buckets; deadlifting a barbell with good form, which could translate into understanding how to lift something heavy off the floor).
After doing Crossfit for a few years now, I've sort of been indoctrinated into a mindset that isolations are "bad," because they're not "functional." But the thing that TRX has taught me is that isolations (when combined with functional fitness) can actually be useful, since you're working on building your strength and seeing what "pieces" of your functional chain need work. Then, by strengthening them, you can perform functional movements better.
Looking at these photos makes me embarrassed, though.
Man, I weigh so much more than I weigh "in my head"! I think that's part of my problem. I don't spend a lot of time in front of the mirror. And I'm usually the one taking the photos. So when I see photos of myself, I think "Who the Heck is that chunky monkey?"
I really got caught short today.
I got to class early today, so I chatted a bit with Alan. He praised me for doing so well in the Challenge, then he told me "how much slimmer" I looked. He made a particular point of saying how much slimmer my face was.
My face, to me, looks like a big round tomato. This isn't my face! And the fact it had been bigger – at least, in the perception of the owner of the gym – makes my stomach hurt.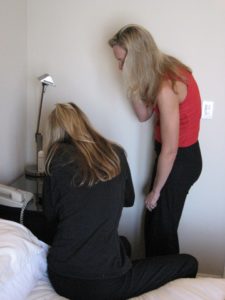 And my body? I've always been bigger "at the bottom than at the top" – but never like this.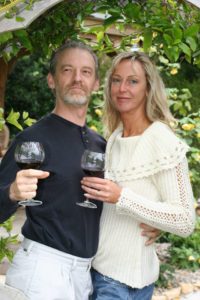 Well, not really "never." It's not like this happened overnight. I just haven't paid attention. Obvs.
It's been ten years that my weight has been slowly, slowly, ever so slowly creeping up.
The thing that really pushed me over the edge, metabolism-wise (so says my doctor) was doing a ton of endurance stuff over a short period. I did an Ironman, then a couple triathlons… then in a year's period of time, I did a swim from Alcatraz, 5 marathons, and a triathlon. My doc says that put my stress-related hormones out of whack.
Also during that period, I had to have some "female plumbing" yanked out due to issues, which put me through menopause – and more hormone havoc.
But the photos above are how I have continued to perceive myself. And they just are not how I look any more.
I've talked about this in posts before – how I don't seem to have a lot of "body perception."
And I think part of the problem is that I have always been pretty slim – "Beanpole" and "Chicken Legs" and "Scarecrow" being "terms of endearment" from my formative years. I didn't really learn how to control my eating, because I never had to.
Now, I've "not paid attention" myself into a body I don't recognize.
The crazy part is that I don't feel like I have been "ignoring" the problem. I have had a blind spot. It's like the opposite of what you hear folks with anorexia do. They look in a mirror and see a fat person, even though they are skin and bones. I look in a mirror and see a slim person.
I honestly can't believe that the photos that I just posted above are ten years old. That's a little crazy. Though I've tried to steer the train back onto the tracks over the years (see all the previous blog posts!), I haven't really been all that motivated. Sure, I've slowly grown out of the clothes in my closet. But my hubby still tells me how beautiful I am, I can basically get out and do what I want to do, etc.
I need to own the fact that I'm 30-40 pounds overweight – and just stick with the program 'til I'm not.
I need to remind myself that my hubby telling me that I look great doesn't mean I couldn't look "greater." (This is how my mind works… He thinks I look fantastic – so why not keep doing what I'm doing? Pass the mashed potatoes please…)
I need to do this for myself – and keep my "Oh! Shiny Penny!" self fixed on staying with it until the scale is back in range.
Ah-ho.