OK, first of all, let's just get this out of the way – look at this:
OK, I know that you can't really read this. But you can "kinda sorta see" the hills. Suffice it to say that the highest percentage was FOURTEEN percent. Yes, a 14% grade.
Yo. Mama.
Here is actually a URL that shows the route – though the elevation map somehow spreads out and "averages" the elevations, so nothing looks as high. Hardie-har-har.
But I get ahead of myself. I haven't blogged in a while. Before this, on Saturday (a week before this ride), Mentor Margaret and Swim Coach Sedonia and I did a 16 mile rolling hill run in Napa, which was great. I wound up running a lot harder than my set V-DOT (we ran at average 11 minutes/mile), but I felt OK about it because we did a 5 minute run/1 minute walk routine. I'm definitely going to use that during the Ironman. I used the Infinit I had gotten (more on that below) and it worked out well, as did running in a cycling jersey instead of a running shirt with a belt to hold a bottle. The next day (Sunday) was "Honey Do" day for me – Herbert had a LOT of things for me to do around the house, and so we got those done; Monday he and I did the 75 mile ride that was on the schedule. We went from home out Lincoln to the Marin Metric Century course, but we didn't turn immediately right at Nicasio Lake – we turned left first (so heading out towards Pt Reyes), to Sir Francis Drake Blvd., then turned around and rode back and then up and over to the Cheese Factory. Instead of doing the big hill at Walker Creek, we turned left (away from the hill) and had a really lovely ride on the rolling hills out that direction, up to and a bit past Walker Creek Ranch. Then we turned around and came back out Hicks Valley Road and rode on back. Big Rock and the hill "up and over" to the Cheese Factory were not pleasant, but they were do-able. I did the whole ride on Infinit and was pretty confident I had FINALLY found the energy/salt/hydration solution for me. Tuesday I went running with my brother Jeff out in Ross around Lake Lagunitas (70 minute run) – it was great to catch up. There were some seriously steep spots and Jeff is an a-c-e runner, but he was patient with me when I had to walk or just jog. It was so great and a gorgeous day. Wednesday I did the spin workout on Angeline – Thursday I was out with Les, Jen and Melissa to Crown Road in Ross – which looks "over towards" Lake Lagunitas (Jeff had even actually pointed Crown Road out to me on our run, across the valley). We did a 60 minute run, and Melissa looked 1000% better since she had been able to kick her sinus infection. I had so much to do Friday I didn't get a workout in – bad me – but I also knew that Saturday was going to be a killer! So that's a week without swimming which is NOT good, since I am in Dallas this week and there is no pool to be "had."
I spent Friday night at Maria M-Dot's over in the East Bay so that I wouldn't have to get up at an INSANE hour to get on the road by 6:30 a.m. as scheduled. We got up at 4:30 a.m., mixed nutrition, puttered around a bit, and pasted on our snazzy Safeway tattoos. (I had gotten a sheet of these for the Clear Lake 3/4 Iron, and found them when packing. I picked a little Tahitian design, Maria picked this "tat" which means "DREAM.")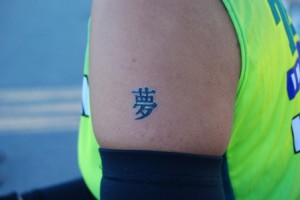 Then we headed on over to meet the "usual suspects" – Carol, Patti, Susie, Janice, Mel, Tiffany, Dana, Marina, Kathryn, Paula, Mary (I think that's it) in Heather Farms Park.
We were a bit later than we expected (I was dragging, I admit it), and so what with all the to-ing and fro-ing (and pottying!) that generally needs to take place before a ride, Maria and I wound up being about 10 minutes behind the main "pack" of the Earlybirds.
We got on the road after a few false turns, and headed out through Mt. Diablo State Park. I have never actually been to Mt. Diablo, and certainly don't know the East Bay. I had admitted to Maria driving over that I was scared of this. Even more scared than I'd been for any of the other workouts. This was going to be a bear – Three Bears, actually! – and that's not the least of it…8,732 vertical feet of climbing including Grizzly Peak, The 3 Bears, Pig Farm, Reliez Valley Road, Tice Valley Road – "oh and" Mount Diablo and Skyline Blvd in Berkeley/Oakland.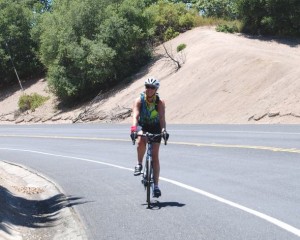 I had decided to do the ride solely using Infinit, the new beverage that I had had made up on my training mate Missy's suggestion. I believe I've mentioned it before – it contains all the calories, salts, etc. that you need – and they pride themselves that the "osmolality" of the drink is such that it won't pull water OUT OF your system to "dilute" it. Apparently that's a real problem with some energy drinks – if the "osmolality" is over 300 (parts of drink mix per x ml of water), your body can't digest it without sucking water OUT of your system. It's just simple Osmosis like High School Biology. Many of us mix "power bottles" of mix with Carbopro, energy beverage, etc. in them, then suck down water "as well," but if you don't drink enough water to "dilute" the osmolality of the "power bottle" this can happen, leading to gastric upset. I was hoping that this would work (I had my Bento Box full of Thermolytes, GU, etc. "just in case" it did NOT).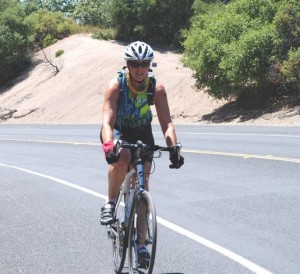 We got to the gate at Mt. Diablo and though Maria and I had talked about how nice it would be to ride together, she was a bit slower that morning than it's comfortable for me to go and so with waves and Atta Girls we parted. She had said Mt. Diablo wasn't that bad (Coach Mike calls it "relentless") – but I have to disagree – I think it was brutal. And right at the beginning! I am sorry at times like this I do not ride in the East Bay, as the East Bay contingent of our team goes out midweek and "tackles" this hill. I wish that our North Bay cadre lived closer, and had that sort of thing set up. I think that would really help me. I don't like to ride alone, and so I wind up spinning most of the time instead of getting out and doing hills, etc.
I wound up catching up with Dana after a bit, and she said she wasn't feeling that great. After a couple turns I ran into Tiffany and Carol, then at a little ranger station before the Junction I ran into Janice. I pulled over to have a stretch, and she had me fill her Aerobottle – no way to get water in there when it's all strapped down on the aerobars, and her "other" water bottle was filled with energy drink! I nearly poured MY energy drink into her bottle, but was smart enough to take a swig first (Infinit is clear). I put my water into hers, then filled up my bottle at the drinking fountain. We rolled up Janice's jacket as small as we could, and I stuffed it into her back pocket; with the obligatory "potty break" we set off again.
I got to the Junction and headed down South Gate road, which was a blessed relief after all the climbing. At the end of the road though – WOAH! – the road is SO BAD! I managed to lose my GU bullet, which flew off (Maria lost her Garmin, but luckily was able to find it and it was OK). I am not sure I have EVER seen a road that bad, including the bad bit in Clear Lake.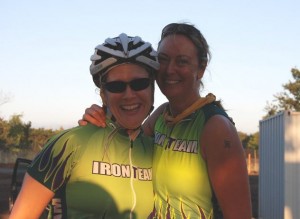 I rode solo for quite some time, and in fact missed the first TNT water stop at Shannon Park. I'm not sure how I missed it – but when I took out the typed directions and looked at where I was, I was a couple turns past it. Somewhere along the way I passed Marina and Mel – Melissa had gotten her FIRST flat (in like 6 YEARS of cycling!) and was changing it. I asked if they were OK and they said they were – she had the tire off – but come to find out that after she got the new tube seated, etc. she didn't have the right CO2 cartridges! I guess that's how we all learn these things! (I have now had PLENTY of flats – especially as if H gets one he has me change it, too, for "practice." On the 75 mile ride, he got a back-wheel flat RIGHT at a spot I had had TWO flats about 4 months previously. Something is up there.)
I did finally see a TNT stop where Dana's wife Ro was womanning a station. That was good because it was 3 hours in and time for me to juggle getting the Infinit mix/more water/etc. into my Camelbak. I had made a 3 hour "concentrated" bottle and one of just plain water, and those were on my bike. Ro helped me top off the Camelbak with more water (and ice), and then I had another 3 hours' worth of powder that I made another concentrated bottle with, plus the other bottle of water. After a potty break (which made me feel I was doing well with my hydration), I was off to climb up the hill from Ro's car. I had seen someone taking off as I was coming into the stop. I had thought it was Paula, but after a bit of a ride I caught up, and it turned out to be Susie (Paula and Kathryn SMOKED the ride – I never even saw them). She stopped on the side of Dublin Grade and we shouted Atta Girls at each other, then off I went.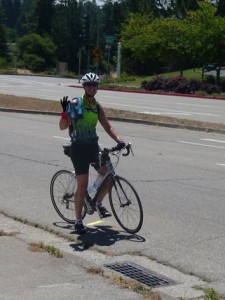 My hands/wrists were getting tired as was my right shoulder. Not sure "what up" with that – I had had Rand re-fit me with new handlebars after I had had SO much pain in the Wine Country Century (WCC), and everything had been going well until that day. I wasn't sure what was up, but I decided that I would have to do what I had learned in the WCC – when I felt that I had to, I just pulled over and stretched my shoulder, my back, my neck. It felt like a little luxury, even though I generally wasn't stopped for more than a minute. During one of these stops the "big guns" from the group that started at hour after us passed by – first Carolyn and Nate, then a bit later, Chris, BK, Jim, then Rocky, Sara, Josh, Tony, Nick, etc. As usual with our wonderful team, everyone wanted to be sure I was ok – "Just Stretchin'!" – and off they went.
There were some amazing and breathtaking views on Grizzly Peak Road and also Skyline Blvd. I have never been up that way, and it was magnificent. I was in a bit of a grumbly phase though along the way – the roads were a little bumpy, and my shoulder was hurting. There was also really no place to pull over and stop. I turned a corner and there was a big TNT stop and I saw all our "peeps" including Honoree Laura, the "fast folk" and Coach Dave. I had had a noise emanating from my bike that had actually made me pull over a couple times (I could never find it) but as I started to head out of the stop after topping up with water, I saw that my bike bottle looked odd. Turned out that my cage was almost rattled off! Coach Dave had the right tool, and so we tightened them right up. Oy! That would have been REALLY bad – losing the GU bottle wasn't that much of a loss (as the Infinit was working), but dumping my water bottles (WITH the cages attached!) would NOT have been okay.
I rode with Les and Jen and Tony for a bit, as we were tackling the "bears." We were on the middle "bear" (Mama?) – I think – the one with the false summit – when Jen Jay was there in her car around a corner. I was SO glad to see her. I was nearly out of water, and though I knew Meenu and Claudia were up ahead, I felt much better to be able to square my hydration away. Les and Jen caught up at that point and Les mentioned this was a "false" summit. That did not make me feel so great (laugh!)
I remember on "Papa" Bear, Simon pulled up alongside, and I was definitely feeling it. I could tell there was a car next to me, but I couldn't even look up. It was all I could do to keep pedaling. Then I heard someone clapping and I looked slightly left, and realized it was Simon. He shouted "You're more than 1/2 way up Papa Bear! You're doing great!" and then off he went. (I wasn't so sure I wanted to know there was still about 1/2 "to go" but I really appreciated the Atta Girl.)
Once I reached Meenu and Claudia's "best TNT stop ever" (complete with butt'r, sunscreen, Meenu Bars, red vines, salt, chocolate, cold washcloths, what-have-you) I was on my way. I checked with them to see what was coming up, and they said "Yes, more hills, and of course Pig Farm." I wasn't exactly sure where that was. Somewhere along the way Bike Coach Nick and I had chatted (might have even been right there at the stop), and he asked me what my strategy was. I said that Pig Farm had "bitten" me twice – once on a training ride, and once on the Louie Tri. I had had to walk the bike up the hill. I knew that the highest I had gotten was to a "sign" that's on the first of the "steeps" on the hill (it is steep, levels out for a second, then steep and steeper). My goal was to get past that sign – then I knew that I had done better than I had either of the other two times. I said that if I walked up it from there, I would still be satisfied, because I would have done better than ever before, AND would be 60 or so miles less "fresh" than those other 2 times, to boot!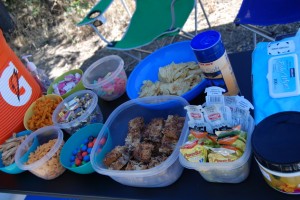 I headed away from Meenu and Claudia's stop (Nick had gone up off ahead), and was riding alone along the hills and dales of the countryside for a while. After a while, I saw a WALL of road ahead of me. I was really bummed – this looked nasty, and I wasn't sure I could take it and Pig Farm too. I just geared down and started pedaling, but I got about 1/2 way up and I was exhausted. I realized that I could start up again after I had rested a bit (I had been practicing this "feat" of starting up again on an uphill), and so I rested, stretched, and then got back at it.
The top of the hill was REALLY steep, and as I was coming up to it at my snail's pace I realized that there was someone with a TNT Jersey up there to the side. I got up to the top, and I saw it was Nick. The first words out of my mouth were: "Is Pig Farm harder than that?" Nick looked puzzled. "Harder than what?" "Harder than that climb. I don't think I can do it." "That was it." "That was what?" "That was Pig Farm hill. You just did it." "I WHAT?" Nick started laughing…"Yes that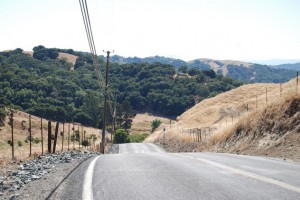 was it, you did it. I knew you'd said that you were going to be OK if you walked it and I saw you stop your bike, but you surprised me and got back on and finished it. You did it!" I slapped him a High 5 and could feel the adrenaline COURSING through me. I DID IT!
Interestingly, I wonder if I had KNOWN that it was Pig Farm, if (once past the sign that I wanted to pass) I would have "given up." It's a curious question – but one I don't need to know the answer to!
I was PUMPED riding down from Pig Farm. I put the pedal to the metal and RACED down. Nick was right behind me and at one point he said "You have REALLY gotten to be such a good cyclist!" That made me feel AWESOME! Nick peeled off to join Jen and Les at another of Jen Jay's impromptu water stops, but I just waved on by, and headed up the dreaded Reliez Valley Road. I had not anticipated that Muthah – and it was HARD. I asked Coach Mike after if we had done that in the Louie Tri (because we had done Pig Farm, of course) and he said no – we had peeled off on another route before hitting it. The funny thing is as I was on it, I thought that we MUST have done it on the Louie, so I was "determined" since (in my mind) I had done this months and months before (on my old bike) and hadn't walked…ah, the Mind is so interesting. (On the Louie, I had only walked the Pig Farm part.) But of course we hadn't done that at all. And boy, It SUCKED. But I persevered – and every now and again, stopped, and stretched. I can't explain what a difference this made. And thinking I had "done this before" (on the Louie) and I "must just be more tired" because I was hitting it 70 or so miles into a ride. As I said, ah, the Mind…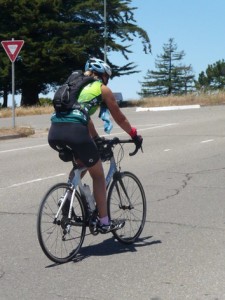 I rode along again, and ultimately wound up turning on Olympic (there was another TNT Stop there in the shade, but I didn't need it), and then hit Tice Valley Road. For me, this was the final insult. (laugh!) It was REALLY HARD! I was an unhappy camper and really just SO DONE with hills already! I wound up missing the turn back onto the bike path trail when I was sooooo close to being back, but some passers-by helped me find it. At the first part of the bike trail the pavement was like moguls – honestly – they were big waves up/down/up/down/up/down. It was odd because you couldn't really 'see' them because of the afternoon light, and so I wound up just going "Woah! Woah! Woah!" Luckily Nick met me about then and I followed him in – I say "luckily" because at one point the trail we were supposed to follow went "up and over" a bridge that went over the highway, and NO way would I have gone the right direction as there was another seemingly "better" trail to the side. Thanks Nick! You rock!
I got back to the Park, and I had 9:26 of full elapsed time, 8:38 of moving/riding time. I had only prepared "Nutrition" for 9 hours, but had been able to top up about 1/2 way through my final (third) Camelbak with water so I was fine. The Infinit worked like a champ, and I was able to sit down and lounge with the team (and stretch my aching right shoulder) and munch lumpia, Pringles, Meenu Bars, Coke, and the like!
After the last of us was in, we were off to Sports Basement for a 20% off spree (THANK YOU Sports Basement) and a team pizza-and-beer meeting. Then it was time to gather Maria up and drop her off, then get back home. I was nearly there and my tiredness hit me like a ton of bricks. I really dragged myself those last 3 miles of driving – and got home, showered, and hit the sack!!
The next day (Sunday) was supposed to be an Open Water Swim and a Run – I was set to go with Mel to meet a gang up to the Vineman course, but H was feeling a bit left behind so I texted her that I wasn't going to be able to make it, and got back in bed. I woke up at NOON – no Herbert, sun streaming in! He "hadn't wanted to wake me" and had taken off on Angeline for a ride around Paradise to Sausalito for brunch!
I cleaned the house a bit, and then prepared to be interviewed for SOC Lifestyles. We had such fun. They did the main "sit down" portion of the interview on Sunday, and then Monday (yesterday) we "simulated" an Ironman. I surprised Michelle (the presenter) with a few things – I had strung together a bunch of my scarves and held them across the path so that she could "break the tape" and presented her with an Ironman (coffee) visor…I had also gotten a TINY little girl pink bike with streamers, etc. and a huge white beach cruiser with a basket for her for the bike (after being very serious on camera about how "technical" and "important" the equipment was on the cycling portion) – then we all went out to swim at Aquatic Park. I had such a blast, and we just laughed and laughed. I hope that it comes out on the video.
We got out of the water at Aquatic Park with the usual post-open water/salt/bay swim "Oh So Sexy" look (yeah…and FILMED, too), and then I took them to Sports Basement (Michelle wanted some Injinji socks for her husband) and then they were off to the South Bay. I hightailed it home and Sue Bird was already there for the Goal/Manifestation Workshop that we were holding that evening. I jumped in the shower, warmed up, washed out the wetsuits, and then it was time to get the Workshop going. 4 of my teammates came, and I think we all really had a fantastic and profound experience. YAY! This morning, up at 6 a.m. to go sub at BNI at McInnes Park, catch up on emails from being off the computer for 4 days, write this blog (and you wondered why my blog posts are few and far between?), approve the draft of my new Fempowerment Playbook for "blue line" (draft) publication (we get one that we look at before it goes to full print), and today I think I will run. Tomorrow I have a MUCH needed massage in the morning, have some more time to "catch up" with things falling off my desk, then I have to pack for Dallas. I am leaving Thursday from Oakland airport at SIX so I have to get up around 3:00 – the plane takes OFF at 6:00 a.m.! I guess it's long term parking for me – not a chance I can get a ride at that hour! Then in Dallas through Sunday at 10 p.m. I plan to run outside there (humidity, come and get me) and use the spin bikes in the Hyatt gym. They don't have a big enough pool to make a difference, but I will take a suit anyway and maybe I can find a time to do some drills.
So – that's my story and I'm stickin' with it!
More You Know You're Iron When's from the weekend…
…when you take 20 lbs of ice to the tub with you and don't even flinch. (M-Dot)
…when your cat drinks from your ice bath. (Kathryn)
…when you catch yourself talking about energy/nutrition and you sound like you're part of an underground drug ring. As per an email from Maria: "I caught myself saying to Phil yesterday… 'So you're off the Cytomax now?  How long has it been?' "
…when you can unlock your water bottle with your teeth while climbing up to Mt. Diablo Junction. (Melissa)
…when you go to the bar for a drink and realize all your money is in your bento box. (Nate)
…when you didn't even REALIZE that THAT was Pig Farm! (me!)