So, the WOD yesterday was for time:
400 run
30-25-20-15-10-5 overhead press
30-25-20-15-10-5 box jumps
(What that means is you did a 400 run, then 30 OHP then 30 box jumps, then a 400 run, then 25 OHP, 25 box jumps, etc.)
There were 3 of us – H, me, and a guy who does the Rx and with him doing Rx and me doing scaling, we are just about matched. I "graduated" to doing the OHP with a bar (whoot! whoot! LOL – of course it's the "swirly bar" e.g. 10 lbs) and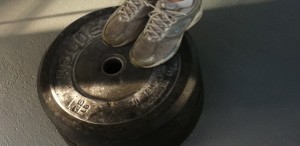 the box jump at 8″ (I was doing it onto the red gym mats – now I've "graduated" to doing it on 2 25k plus 1 20k stacked up which is 8″). H did 11″, the Rx for guys was I think 24″, something like that.
The best part? I beat the other guy by 2 seconds (I heard him coming down on me during the final run, and though I nearly tripped doing my box jump, wound up calling time at 2 seconds before him). The best part? I got a compliment from Bo for having good/swift transitions (yippee!) H and I actually talked about that on the drive home. Losing time during transitions is just being a sandbagger. Sure, sometimes you have to take a breather – but NOT during transitions, it leads to super bad habits.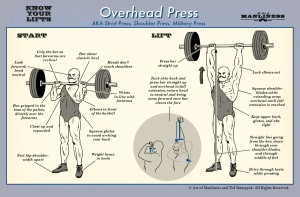 H had messed up – had read the Conditioning WOD but then about 1/2 way through somehow went to the regular Level 1 WOD – so he "skipped" one round. When he came in and did 5 (the round he'd skipped was the 20!), he finished just about when we did, but Bo said that he "knew" H had another round and to do it. He didn't want to, so I went out and ran the 400 with him, then "cheered him on" during the 5 and 5. He had GREAT form on the OHP, except he was looking up. But his arms and squat looked just like a book. (Which I told him.)
I really didn't particularly want to go to the box this morning but the good part about the M-W-F 9:00 is that the same "cast of characters" are always there – and I'm quite sure that folks like Jim or Michael or Margo would probably give me a good natured "ribbing" if I didn't show.
The warmup included V-ups (basically situps where you have your hands extended behind your head and you're lying straight out – the Rx is to then bring your toes and hands together to "V" up), pushups, a row, and a medicine ball "clean." The key with the "clean" is that you are picking the ball up from the floor and you're squatting "underneath" it, but you have to keep the "laces" of the ball in one place – so you have to sort of "spin your hands" (not the ball) to get it up. HERE is a video showing what I'm talking about. It's a tough move, I definitely still have trouble just with the mechanics of it. (I didn't really KNOW that until I was just watching the video that I linked here LOL).
Anyway, the WOD itself was:
8RFT
10 Pull Up
40 Squat
200M Run
Yeah yeah. I know. Gee it's only 3 measly exercises, 8 times. And one is a run – so really it's just TWO measly exercises.
Oy!
Anthony worked with me to get a good pull up "stand" for me. It's basically 2 of the big plates plus 1 of the next down. The idea (which I have said about 450 times before) is that when you stand on your "box" or plates, the bar comes to the middle of your forearm. Then you squat all the way down, and use your legs to help "push you" to chin up. What you're SUPPOSED to do is to basically "swing forward" in a kip with your feet on the box, then swing back and up in one movement. I couldn't do that. HERE is a video that sort of talks about the progression – starting on a box, then going to a band, then going to a "kipping pullup" from a box, etc.
Anthony told me I could scale to doing 20 squats per, and scale more to 15 if it was just getting too much. I did the first round at 40, the next round at 20, then the next 5 at 15, then the last round at 20. Because of course everyone had finished a round and a half before me, and was watching LOL.
Then I used the nasty Lacrosse ball and rolled my shoulder with it. Ouch Ouch Ouch. Both Bo and Anthony have said that I need to really concentrate after the WOD on doing some "smashing" on the muscles I have lower mobility with – plus trying to get in some at home and/or some of the Supple Leopard mobility exercises.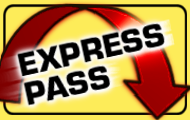 So that's my check-in for today. R did answer my post with respect to "to whom would you give the extra Express Pass" – my choice makes better theatre and "surprise factor" but hers is more strategic (you don't really know anyone in the first episode, so you have to really save it and give it to a team that would likely not use it well – stellar example of course being the team last year who DIDN'T even USE their Express Pass and was eliminated with it still on them!)