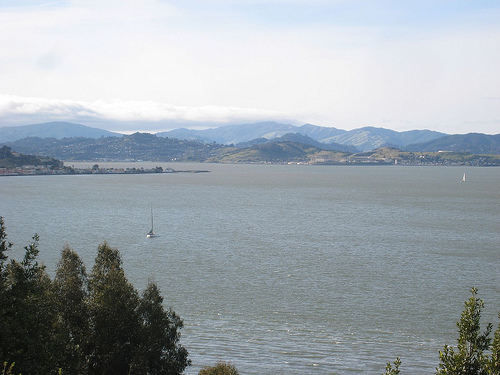 I moved things around this weekend from the Training Schedule, because H wanted to do the 35 mile bike ride. So instead of doing the ride yesterday in Sonoma/Napa with the Coached Team, I did it today with H. That also means that I moved the "rest day" to yesterday – and the Swim/Run to tomorrow.
We rode from our house down to 5th Avenue, then out on H, and finally on Red Hill towards San Anselmo and the "hub." There we turned and rode through the gorgeous homes in Ross (on "Shady Lane"), and then around to Redwood High School – which is where the 20 mile bike ride from 2 weeks ago began. We took the same path out of Redwood – up and over Paradise Drive (this is a photo from Paradise – what a GORGEOUS day!), through Tiburon, then around the back side of Strawberry (had to walk up one KILLER hill I had forgotten about – whoops!), then around the Strawberry Shopping Center and up and over to Mill Valley. We had eaten a "power bar" in Tiburon, but H was feeling very hungry. I actually think he was dehydrated – he still doesn't have any way to hold water on his bike, since it's an old frame without a way to attach a "cage" to it. So I carry his water. I was wearing my CamelBak, and WOW did it make all the difference in my staying hydrated. Wow wow wow. I remember that from when I was doing triathlons Oooooooh so many moons ago – but this really SHOWED me.
We went up and over Horse Hill and down into Corte Madera, where we stopped at Pacific Catch to get some lunch. That was Mile 27. I wanted seaweed salad and miso soup – H had fish and a full meal (and a glass of wine). After that, we went by REI, because H wanted to use his bike gloves (which I'd borrowed to try to pad my hands), so he bought me my own as an early Holiday Present.
We went from the shopping center back the same way – past Redwood, around and back through Ross, and home.
The bumpy roads are playing havoc with my hands, especially my left one. I don't lean that "hard" on my hands, but every time we take an unexpected bump, it KILLS me. My left hand winds up totally numb by the end of the ride (similar to how my feet get numb when running. Something's up).
Had a funny thing happen – I had put my iPod into a little $10 "speaker case" I had bought at Best Buy. It runs on 2 AA batteries – you plug your iPod into it and there are speakers on the front. I figured I'd give it a go to have some music on the ride, but H was less than enthusiastic. We got to a particularly hard part on Paradise, and I was wishing I had tunes. I went over a jarring bump – and the thing started playing! It cracked me up. The only problem was that it was playing one song over and over – and was skipping. I wasn't sure if that was because it was really sort of "half on" or what, so when H stopped for some water (remember, I have his water on my bike), I took it out and put it on the last Playlist that I used. It worked GREAT! I'm still laughing though about how it turned itself on – I heard music, and I thought "Wow, one of those houses has a good song playing, but that's pretty loud for me to hear it all the way here," then I kept hearing it…then I realized D'oh! It's ME! "Divine Intervention" or something! (smile)
I know you can't use headphones in the race, but I wonder if I had Tunes this way, if it's against the rules. I had it on pretty low – I couldn't actually hear it if there was any traffic noise, etc., but then if it was quiet, I could. Sneaky Sneaky!
The odometer ticked over at 35 miles EXACTLY at the foot of 5th and River Oaks – we walked the bikes up home (another 0.3 miles, straight uphill). We were at 3 hours exactly of riding time at the 35 miles – the bike keeps track of how long the "wheels are turning," though we had had a couple potty stops and also lunch. The ride was "supposed" to take 2 hours of riding time – we're still way WAY behind the curve there. We averaged 11 or so MPH, though the max speed I got up to was 31 MPH – yikes! (That was coming down off Horse Hill – it's a good road and one I know.) However, when I was a little bummed we were an hour longer that the schedule "planned," H said, "There is NO WAY you could have done that ride 2 months ago – an hour longer, or not! I'm so proud of you! In another month, you're going to smoke me!"
That made me feel GREAT!