I received the following note from a long-time friend of mine. We recently hooked back up via Facebook (isn't Facebook great?) She saw that I was training for the Ironman through Team In Training, and shared the following: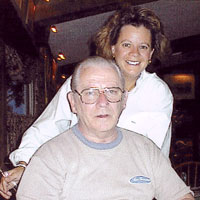 My dad was diagnosed with Non-Hodgkins Lymphoma in 1994. After receiving his initial treatment, he suffered a stroke and was confined to a wheelchair. For the next 13 years, he fought a brave battle against his disease, at the same time learning to live with his new disability. He rarely complained and faced his chemos and obstacles with humor and optimism. My mother tirelessly cared for him, allowing him to spend his final years at home with the assistance of CNAs who visited every morning for two hours. She bathed him, toileted him and gave him the best quality of life she could. When his body started to fail in June of 2007, we made the decision to withdraw treatment and helped my dad enter eternity with the assistance of the wonderful people of hospice. He had a peaceful and loving death, surrounded by his family and knowing he would always be loved and missed.
This is who I'm doing this for. Stories like this will help me as I train during this winter. Please let me know if you have any stories to share, so that I can have your loved ones' spirits in the wind at my back.