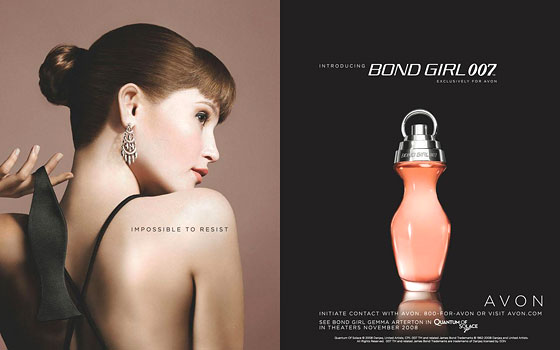 So what do YOU think a Bond Girl smells like?  Avon is having a go at figuring this out for us, apparently. According to Now Smell This, quoting an Avon spokesperson, "Bond Girl 007 is a sexy cocktail of velvety florals, cool freshness and warm woods; the notes include white peach, orange blossom, jasmine, calypso orchid, freesia, amber, cashmere wood and patchouli. The bottle is meant to recall a woman's body; the cap is meant to be 'a stealthy homage to a Bond spy gadget'."
That's a lot of "notes" for one fragrance! I'll be very curious to see how it smells. Being a "one note woman" myself (I wear Jo Malone and layer it if I want more "notes"), sometimes fragrances like this smell a little confusing to me.  Then again, we could say they smell "mysterious" – and that's all Bond Girl!!
P.S.: Love that the Avon spokesperson also notes that Bond Girls are "… one of the most widely known aspects of the films — they're empowered, feminine and glamorous." Yup – that's what we've said, huh Bond Grrrrls!