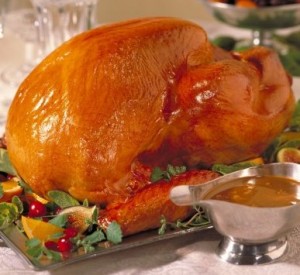 Yeah NOW we're talkin'…I found this picture and I'm quite sure that we could have a nice feast in our neighborhood, if it just wasn't verboten to take the lives of the flock of turkey-shaped alarm clocks that are now living in our trees. Oy! They got us up at 5:00 this morning…H is going to see whether he can get a pellet gun or "something" and make them just go away. Sleep deprivation and lots and LOTS of nasty turkey droppings don't make for happy days.
I've gotten the workouts in this week, though in slightly different order as our pool was down during "pool day." We have a pool day today, but I have a required meeting from 7:00-11:00 for BNI (networking group), then need to go visit a friend who has cancer, then come home and do some workout and see if there is any work in email, then we're having some friends over for dinner and another friend is staying overnight. I think I'm going to run instead of swim – not really the same, but (as Coach Simon says), SO easy to fit into little "pieces" of time. Saturday we are swimming in the S.F. Bay and running, Sunday is a bike ride on the Marin Metric Century course. That has me scared stiff, frankly. It's 60 miles, with 3 serious hills (best I have ever done is 45 – on the flat).
Every little scrap of time I am out marketing, networking, trying to find work or at least someone who will pay me to do something. It's so frustrating I can't believe it. I have to look friendly and smile and be nice and people just don't have the $ to hire me to do anything. So more and more marketing and networking (spending $ for "networking lunches" and the like) – more and more time taken, less and less time available. I got my taxes done – I made -$17,000 last year. Yes, that was "negative." Bills are due, credit cards are maxed, no one is buying. Gee, maybe it's not just the turkeys that have me up at 0-dark-00…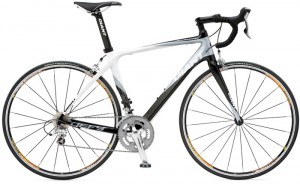 Longest swim this week was 2850 yards – also got on Angelina (new bike/Valentine's present from H) on the trainer. I now have the clipless pedals on her, though I haven't been out on the street yet. I still find the thought daunting with the click-shifters and pedals, etc. Maybe some time next week.
Yesterday we were to bike and then run (brick) – I actually did them separately (since I usually do all my workouts as bricks, I don't think that the fact I didn't "do it as a brick" makes that much difference). I ran down to a one-on-one meeting in San Rafael, and ran back. I have stopped apologizing for showing up to meetings with a baseball hat on, in sweats. And, folks have stopped asking.
YOU KNOW YOU'RE IRON WHEN:
… you've stopped apologizing for showing up to meetings in jog clothes after running there…and people have stopped asking.
…an allen wrench falls out of your pocket at a restaurant. (Jen Jay)
…you stumble across catalogs like De Soto Triathlon and it becomes your new porn. Move over miracle bras and cute undies… it's all about wetsuits and tri shorts! (Maria "M-Dot" Afan)
…you put your bike in your trunk and it doubles the value of your car. (Coach Helen)