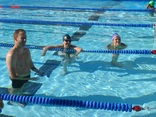 Today, back to a far-away world in the East Bay (or as Iron Mel calls it, "unPleasant Hill,") to work out with the IronTeam.
We started out doing a Run workout – warm up for 10 minutes, and then we did 800s. The way it worked was that you were matched up with 2 other folks with the same VDOT score. (I was matched with IronMel and Maria, who I've blogged about before.) IronMel started off, did one lap, then Maria started up and ran with Mel, then on the 3rd lap, Mel dropped off and I started running, and so on and so on. We were supposed to do 10 rounds of 800s this way; however, as Ironteam, TNT Triathlon team, AND TNT Cycling wound up in the same spot, we were sort of strapped for track/swim/Iron University space. So we wound up only doing 4 of the 800s. I was really sucking wind by the end and couldn't figure out why, until I checked Iron Mel's post about the workout – she's a VDOT score of 30, I am a 25 – meaning she does an 800 in 4:41, I am not supposed to go faster than about 5:40 which is a whole MINUTE slower! (I feel better now – typing this "postscript" 2 days later.) The photo to the right is of me, running with Maria (in the black hat). Note our gloves – it was nippy!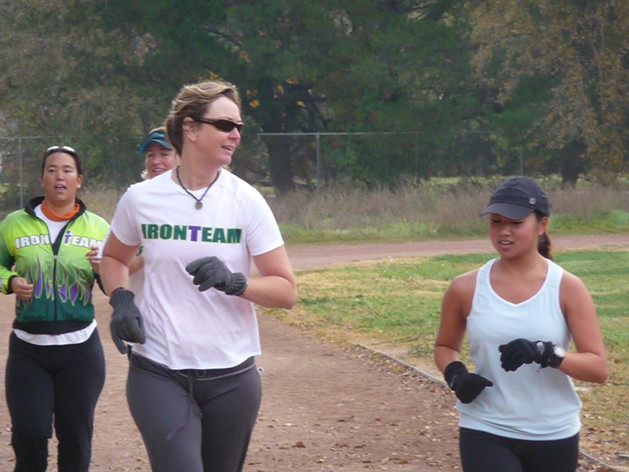 We had an Iron University about Nutrition, and then we had our Swim workout. HOLY CATS – it was a kicker! At the end, we wound up doing 2350 yards. (Yup, that's me above and below, in the sexy black swim cap.) We did a 10 minute warmup, and then some drills, and then some other drills…I know that the 4 of us in our lane thought that "warm down" was coming next, but it was a 300, THEN a ladder set (50-75-100-150-100-75-50) and then 200 warm down! YIKES! We "Ironman'd up" and just did it . . . though I must admit that we were doing a little b*tchin' there at the 300!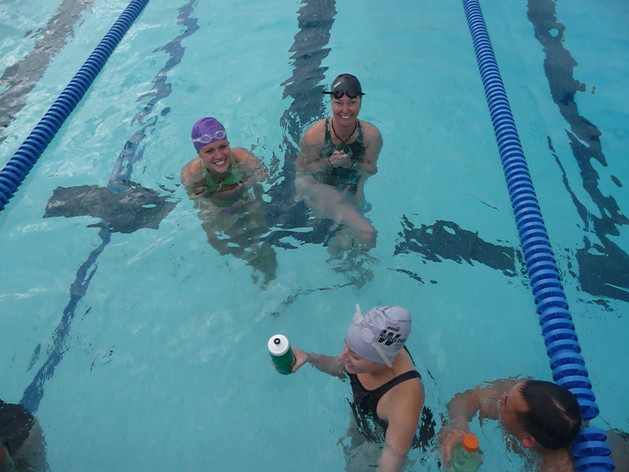 After, we had a Team moment with some stories about our Honorees and others who had lost friends and families to cancer. Iron Mel and I had to get back, so we headed off into the sunset – to get together tomorrow morning early, for our Bike Marker ride around Lake Lagunitas!