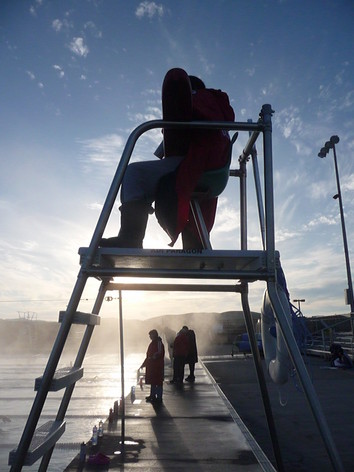 Sunday Morning and it was time for IronTeam Training! Met Iron Mel at the Larkspur Ferry at 6:30AM. Thank goodness I had blogged about the workout – I somehow had thought it was Saturday (which was the Bike Marker) – and Mentor Margaret saw my post and let me know that being at the Ferry Terminal a day early would do NOTHING for my weekend!
Loading the car was something – holy cow. We had our trainers and our bikes (just in case it rained) and all the bike "gear," run stuff, swim stuff, "fuel" stuff…I don't have it as together as Iron Mel, my stuff was in a slew of bags. She has a back pack that could hold a small town in it, and  fit nearly everything in. Not me! I also had the Spirit Cape, which went to its new "owner" (Coach Mike) at the workout.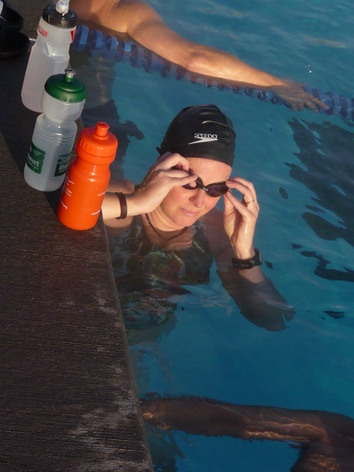 We got to San Ramon without incident, and were in the pool by 8 AM. Thank GOODNESS it was warm (unlike IVC, my last pool workout with the group). We did a warmup to get our blood flowing, followed by 3×75 (kick, catchup, free build from L3-L7) and 2×100 focusing (in my case) on "swimming downhill" – in other words, looking at the bottom of the pool, etc. This head position thing has always been my Achilles Heel (Achilles Head?) My shoulders hurt just from the focused work! I was swimming in a group with one guy in it, who said at one point "WOW you swim FAST!" It made me feel good because I know I'm not as fast and consistent as folks I have watched (Josh, Jen J, Brian K), and I beat myself up about it, as the only sport I've had any coaching in is the Swim.
They moved me over into a new group (they kept jockeying us around) and we had the main set: 2×50 L3, 2×100 L4, 3×150 L5, 2×100 L6, 2×50 L7 with 15 second rest in between. By the end of the L7s I felt sick but was able to catch my breath as I waited for Chris to finish his final 50.  Jen J was in the lane as well, but she was done WAY before we were done. I couldn't figure out how she could have smoked us so bad. She's a rockin' swimmer that is for sure, but she would have had to have "eeled" her way past us like 6-7 times to be done like that. When we were counting back over our workout near the end, she said "it was THREE 150s I thought it was TWO??" – Ah-HA! (laugh) So THAT'S how she got so far "ahead"!
We did breathing drills next – four 25s. I was able to get down with 5 breaths the first time, 4 the time back, then 3, but no way I could do less than 3 though I tried on the last 25. After, we had some fun – sort of a "red rover" drill where 3 of us swam down the lane, and one from behind had to "break through" us. The first time was rough – I think it was Jim first, and he hadn't done that sort of thing before. We talked after that first 25 about how to "do it" (e.g., sort of swim over someone's arm, after you time their stroke "forward"). Everyone did it without incident then, and Jim did it again and was perfect. I wasn't sure if I would have a black eye or chin where he had elbowed me backwards hard into the chin, then the goggles, on his first try – no mark this morning though (phew!)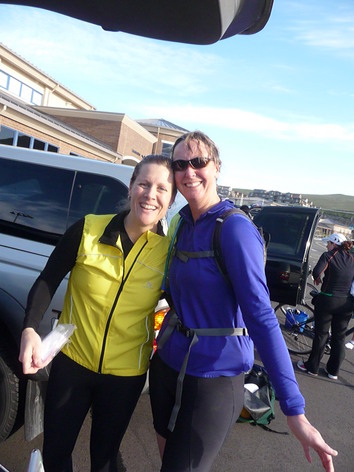 We did a cooldown (about 2,500 yards total), then it was time to get on the bikes. The men were taunting us girls about being so slow out of the locker room. If they could have only seen us. It was pretty hilarious – once you're out of your swim suit, no matter how hard you try to dry off, getting a jog bra on and down your back is impossible. A bunch of us got "locked up" with the jogbra halfway down our backs and arms up, and were running around trying to "unlock" each other. I was trying to remember from my Olympic Tri days what we used to do – it was just swim, bike and run in the suit. With 112 miles on the bike, however, no WAY you want something like that cutting you underneath. Once I get rid of this Buddha Belly I guess I will move back into my two-piece suits from "back then" – and actually perhaps think about what Erin from Tri'N'Reality said – that she swims in her bike pants. Then again, she wore a wetsuit on her Ironman (Canada) to cover them, but I am pretty sure we aren't going to be allowed in Louisville. It's all a learning. Glad no one had a camera with all of us in our "arms up like chicken wings, clawing at our backs" position with the jogbras!!
The bike was about 18-20 miles. I stayed in back as that's where I have belonged in all our Coaching Rides, but was able to move up some as we went. I felt good, though I had had a twinge about 1/2 way through the swim on my calf. It didn't feel bad, just a little tight, so I practiced stretching it as I pedaled. The ride had one street with no bike lane, a steep step-off to the right, and heavy traffic which was nerve-wracking, then rolling hills and barns and cows and bulls and miniature horses. I had Head Coach Dave behind me on part of the ride which was great. It was like having my own tour guide. He lives there and had set up the ride. He also gave me some great tips to practice and though I didn't get it at first, once I was back on my own I figured out what he was saying and it was SUPER helpful. The scenery was so gorgeous – I have never been out that way before. One part of the ride was super windy and it got a bit cold, but we got over it. I practiced getting "fuel" out of the back pocket of my bike shirt, as well as of course using the Camelbak. I had "promised myself" I would make the Camelbak empty by the time I finished, and I didn't quite make that goal. I need to pay more attention. I was quite pleased though I actually (on the go) got some GU out of the bike shirt back pocket and did the "open with your teeth, squeeze, tuck the wrapper up your bike pants' elastic" move without falling off the bike. Small victories. It was actually fun on the bike, and I felt like I was going pretty strong. At one point Brian K and Jim passed and we had a little interaction and it was fun and funny. I remember when we did our very first ride around Paradise, and these 2 guys had ridden over from San Francisco to do the bike and then were riding back . . . they were like Lance Armstrong to me and I was very cowed and a little depressed that I would never be like that. On that first ride, I was about an hour behind the group. Granted, on this ride I was still finishing in the last part of the pack, but I was able to tease with the 'big boys' as they passed me and they teased back which made me feel super good and included.
On the way down at the end of the bike route I saw Mentor Margaret and Iron Mel running up the same hill – Iron Mel had my keys because I knew she would finish first. She held up the keys as if to throw them to me – which panicked me a bit – then shouted "I think it's open!" I was sure hoping so, since I didn't have the wherewithal to stop (much less "catch")! Got back and stripped off the Camelbak and put on my fancy '80s Chicago Tri Tshirt – no need to change shoes of course (ha) – and then we were off for the 2.5 mile run. I was definitely tired by that time, and did a Galloway 5 minute run, 2 minute walk. I took a full bike bottle of fuel/fluids and told myself it had to be gone by the end of the run – which it was. I'm not sure how long it took me – it was supposed to be 1/2 hour, but I imagine I was closer to 40-45 minutes. I know I was one of the last ones in. I felt fine, just a little "zen" (didn't really want to think or talk). I'm glad that I didn't catch up to a group or one didn't catch up to me, so I could just be "zen brain" and do the 5/2 and breathe. I was a little concerned when I got on the last straight-away before the turn back, as there weren't as many "arrows" as there could have been, and I had left my cell phone on the bike! But it all turned out OK when I saw the final "RUN THIS WAY" arrow. It was a gorgeous day to be out and about.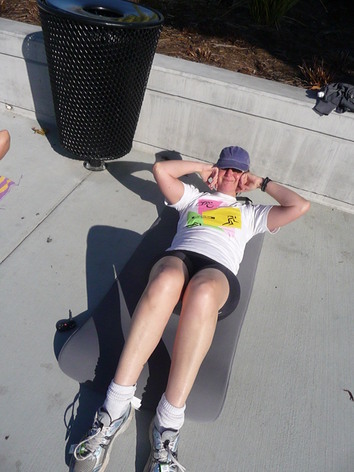 After the run, it was time for Core. We did situps of all different flavors, then some crazy stuff like plank with a partner and playing "slap hands" as you stayed in position. We used the "strap contraption" that Coach Doug represents to do some stretching, and that's when I felt that something was a bit wrong with my calf. It tightened up on the drive home, and once I was home, I couldn't put my heel down. I did what we "know to do" – strapped ice on it, and elevated it. I got home and ate everything in sight, then watched old Criminal Minds reruns and some Kona Ironman tapes, finally hauling myself upstairs to a shower and into bed way early. Not sure that H is excited that I wind up cutting Zzzzzs at like 7:30 and not making dinner!
All in all, it was a good day, and a good week. I feel stronger, though I see the photos of myself and am so frustrated with how I look that I could just scream. (Said by the woman with a big chocolate chip cookie in her hand as she types.) Of course, I know that's silly, especially as the framed photos I have of myself doing tris, etc. are TWENTY YEARS old (for Chrissakes). I just have to keep on keepin' on. In 3 weeks we have a simulated Olympic Distance tri – when H and Mom and Dad will be at the theatre, so I can't ask for them to volunteer. (I am of course supposed to be at the theatre, too – hmmmmm, do the tri then jet for Berkeley Rep? Maybe not!) Unfortunately I also just found out that our 1/2-Iron distance race ("Wildflower") is when H and I are in Sedona. I am SERIOUSLY bummed out by this. I'm going to have to figure out if H will "sag wagon" me in a 1/2-Iron distance somehow. The problem will be the swim, since he can't swim. I suppose I could do something around the Tiburon Lagoon, since that's only 4 feet deep in the deepest spots, then the bike/run out from that area. (10 times around Paradise? (laugh)). Well, we'll just have to see how that goes, come March.
All in all a good week with two marker sets in which I increased my pace, a simulated tri yesterday, then a REST day today. The best news – I woke up and the "hurt" calf is no more sore than the rest of me – so I think the "rest and elevation" worked. Yippee!!!