"An acre of performance is worth a whole world of promise."
19th Century Writer W. D. Howells.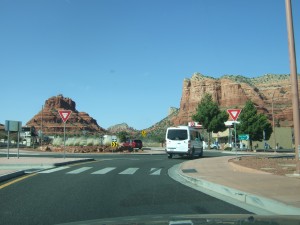 When H and I made our reservations a year and a half ago to come to Sedona for a week, the only thing that we thought we'd be doing was a little hiking and wildflower-watching (okay, and margarita-drinking). AH, how things change!
Packing for Sedona was pretty funny, actually. Usually for a non-business (and "non-dress-up") vacation, we try our darndest to get our clothes into just carryon bags. This trip, thank goodness we were on Southwest with "free baggage allowance," as we wound up with FOUR bags, and I mean BIG bags! Two were stuffed with our car bike rack, shoes, helmets, bike bottles (themselves stuffed with GU/Accellerade/etc.), various "nutrition bars" to try…you name it. In fact, I sent out a Tweet during the packing (and unpacking, and re-packing…"oh OOPS forgot a HELMET…oh OOPS where is H's 2nd bike shoe…oh OOPS OMG the Camelbak…") that said "100 lbs of TriGear…U know ur iron when ur luggage = bike rack/replacer drinx/spandex/camelbak oh, and 1 sundress." That pretty much covered it!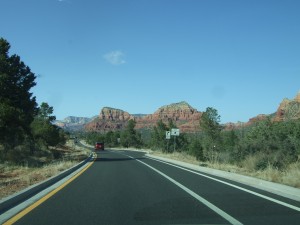 We spent our first day hiking. We thought we would "stretch our legs" and headed out for a hike to Brins Mesa. It wasn't Peru altitude (far from it), but at 4,000-5,000 ft. or so, it wasn't sea level, either. It made me wonder a bit about how the 1/2 Iron was going to go for me as we huffed and puffed up to the mesa! The views were magnificent, and I can understand how New Age folks have congregated here, drawn by "Energy Vortexes" and the like.
Our "little stretch our legs" hike wound up being 4.5 hours of climbing/scrambling/a little over 7 miles. I had made the mistake of not looking at the map and relying on Mr. H…men, directions, need I say more? Suffice it to say I had to rely a bit on my "Recon Skills" and I got us back to where we started after we both realized we were "way lost." I started humming the Gilligan's Island theme song at one point, but it was lost of H who of course grew up in Vienna. (I totally amused myself though.) After hiking, we went to one of the local establishments, complete with "gun check"…!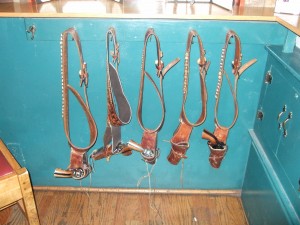 The next day H decided that we should take the train up to the Grand Canyon. Neither of us had been there in decades, and we'd never taken the train. It was pretty fun, though slow – H got to be a bit of a "pacing panther" near the end. I think it didn't help that we had to be there early, they told him that there was coffee on board, and there was not! (We took Coach on the way out, and Deluxe on the way back – plenty of food/champagne/etc. there!)
When we got into the station at the Grand Canyon, I had a good laugh at this sign: "What's the difference between Outlaws and Inlaws? Outlaws are Wanted." On the way back, "outlaws" "ambushed" our train (a guy on a pinto NO I did not just say "IN a Pinto!" rode up as our train slowed to a crawl, then ultimately a stop). He roamed the train, and wanted "all our money." H's commentary was pretty sardonic and very funny about the whole thing.
I particularly loved sitting out on the very back of the train once we were in the Deluxe cabin, and listening to the train over the tracks. I even took a movie of it on our little camera. It sounded just like when tap dancers have a "duel" (I saw this on So You Think You Can Dance last year during their "tryouts"), and I stayed out there until it was too cold to really be sitting outside. Loved it. Me, a train, and a glass of champagne. Clickety-clack.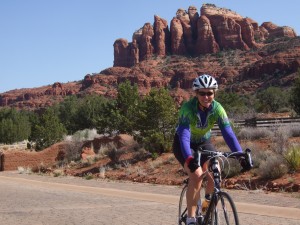 The next day we were off to start figuring out the route for the 70.3. It was going to be tricky, because Sedona is surrounded by killer hills. And, of course, you're at altitude already starting from the "flats" at 4,000 feet. We biked from the place we rented the road bikes (Specialized Sequoias – just like my old bike Vlad, only 30 years newer!) down to Montezuma's Well and back to try that out – part of the road was very steep AND under construction so we had to re-think. I had my first "clipped in fall" at Montezuma's Well – we had a steep climb out of the parking lot and H (trying to be helpful) said "you're in the right gear, aren't you?" and I wasn't moving fast enough to pay attention to him, try to shift in the new-to-me click-shifters, and make the grade. SPLAT! The tourists having their picnics nearby mostly had the decency to turn around as they laughed at me. But I saw their shoulders!
I had another "moment" when we had to stop for the flagman at the road construction. I had unclipped my "stand on" foot, thought I was fine (I was completely stopped), but suddenly I must have gotten hit by a vortex or something, because I started to fall – right INTO the flagman. He was as surprised as I was (and did catch and right me). H's comment, "That's my wife. She's always falling for other men." Pfffft.
We went back to the condo and sorted the ride out, but had to go out the next day to see if the "spur" we were considering would work. We rode that, and H figured that I could do that spur with a little "add on" hill for the run. It meant that we were doing 2 loops on the bike, then I would do 2 loops on the run that would cover part of that course. The hard part about it was that the "spur" had one "granny gear" hill on it – and so I would need to cover it FOUR times (2x on the bike and 2x on the run). The bike also had one "granny gear" area on the backside as well, plus a long long LONG insidious climb – again, that we would cover 2x. Frankly, I was pretty tired of the area just from the scouting…what can I say?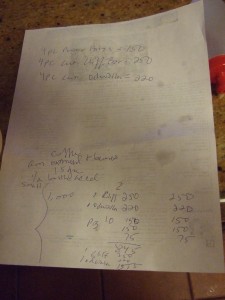 That evening, we ate in, and I spent the time filling bottles, cutting up Clif Bars, and generally trying to breathe and stay calm. I realized with the extra couple of rides we had done during the scouting, that we were going to be pretty close to the "edge" with the amount of Accellerade I had brought. (We actually ran out – H had to return the bikes to get our deposit back while I was running, and he was able to pick up more from the bike store.)
The route that we wound up started at Hilton Spa in Big Park, off Ridge Trail Drive. This is where the only large pool is in the whole Sedona area (all swim teams practice here!), so we needed that to be the start. Everything circled back to the Hilton Spa parking lot. It was only $10 for a day use pass – and what a gorgeous facility! I must admit, I wish that I had been able to use it for more than just the Swim section of the 1/2 Iron, because it was so nice.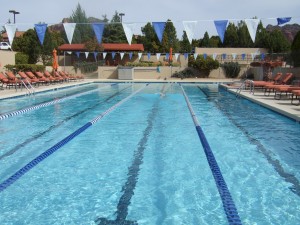 The Hilton pool was 25m, so H figured that I had to swim 46 laps (92 lengths). From there, I would change (in the Spa…nice…) and we would ride 2 loops (28 miles each) as follows (in case you care):
Right onto 179 South; follow 2.9 miles.
Right onto Beaver Flats Rd; follow 6 miles.
Left onto E Cornville Rd; follow 0.8 miles.
Turn around at farm driveway on left; return to Beaver Flats Road.
Right onto Beaver Flats Road, back to 179.
Left onto 179 North; follow 3.1 miles.
Left onto Verde Valley School Rd; follow 3.3 miles.
Turn around at Sunset Pass Road (dead end road on right); back to 179.
Right onto 179 South; follow 0.2 miles.
Right onto Ridge Trail Drive, back to Hilton Spa parking lot. (Restock water/food and repeat.)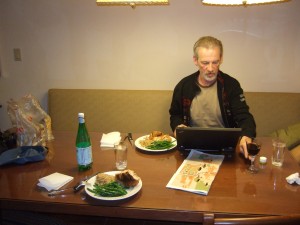 When we Mapquested this route, it only will get the percentage grades down to an average of 1/4 mile. So it looked like deceptively easy elevation changes – because none of our high percentage grades lasted for the entire 1/4 mile distance. I was VERY thankful for the fact that, though we had some serious "ups and downs," none was longer than 1/4 mile. I'm not sure I could have done the Wildflower course!
Next, I was to run 2 loops (6.5 miles each):
Cross gravel at back of parking lot to get onto Ridge Rock Road.
Run left, follow Ridge Rock Rd about 0.3 miles.
First right onto Kalbab Way until dead-end into Verde Valley School Road.
Left onto Verde Valley School Rd, follow 2 miles.
Turn around at Mundy Dr (private gated road, third on right after open space); follow Verde Valley about 2.2 miles.
Turn left onto Castle Rock Rd, follow 0.3 miles to 187.
Turn right onto 187 South, follow 0.6 miles to Ridge Trail Dr.
Right onto Ridge Trail Dr, back to Hilton Spa parking lot.
Restock water and repeat.
The note about "cross gravel at back of parking lot" was because we found a short-cut into a private, locked, gated community that would add the required mileage that I needed. It could be reached by a little cut-through from the Hilton Parking Lot. I felt pretty subversive riding down the street between all the million dollar houses on the golf course the day we were trying to map it out; of course, no one took any notice!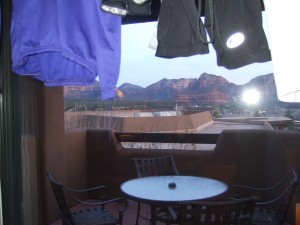 Since we had been out for the 2 days in the clothes we had to use for the race, I did the laundry – and hung it up in the only spot where I knew it would dry, the drapery "surround" on the sliding door to our deck. I took a photograph because "You Know You're Iron When" your "view" is not of the red rock vistas, but of bike shorts, jog bras, and assorted paraphernalia!!
The "race" day dawned and I got up early so that I could eat my "standard" pre-race meal of oatmeal, blueberries, a GU, a cup of coffee and some Accellerade. I tweeted that I hoped that "the hardest part of the day" would be waking H up! Once he was up, we took all the condo garbage pails, lined them with liners, and filled them with ice, water bottles, oranges, and the like, and took them to the car. As we were leaving, I ran back up the stairs, and hung the "Do Not Disturb" sign on the door. I tweeted that You Know You're Iron When the "Do Not Disturb" sign on the door means "We're stealin' your stuff"!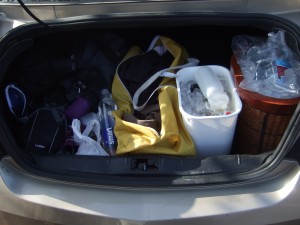 As we stepped outside, my next Tweet was: "Holy Desert Winds Batgirl! it's 40 degrees outside w/a bitter wind. Not feelin' so iron. Oy! In the car to the start tho no turnin back!" I have read my fellow Teammates' blogs about their start at Wildflower – sounds like we were all starting with icy hands and chapped cheeks, both in CA and AZ!
I started the swim at the Hilton pool, and got into a groove fairly quickly. H stayed for the first 100 just to see what my pace was (a little slow, 2:20), then he had to go rent the bikes. Yes, we had turned the bikes back in each night, so that we wouldn't have an "overnight" fee! I kept counting as the sun came up and warmed my back. The pool was only 4 lanes, but no one else was around. I had one funny moment – I saw what I thought was H out of the corner of my eye, and shouted "9-3!" (meaning, I was on the 3rd length of my 9th 100 set – don't ask me why I count this way – in other words, I was at 875 meters) and I startled the guy badly – turns out he was the pool cleaner! (Whoops!) That was odd too – he cleaned the pool "around" me. I watched the long pole sliding under and around, cleaning up nonexistent debris from the pristine bottom, and smiled, remembering when Paula, Will and I shared a lane at Boot Camp Day 2 at Gunderson High. Will got enmeshed in floating fishing line, I dove for a pair of Speedo goggles at the bottom, and Paula swears that the huge pile of debris in our lane included everything from discarded syringes to Jimmy Hoffa's body. (OK she didn't really say that about Jimmy. Syringes, yes. Jimmy, no.)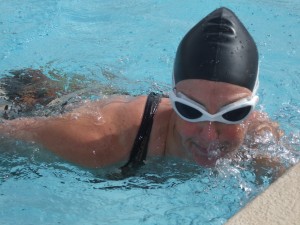 H finally returned, and I didn't hear his "last lap" call, so stuck my head up to ask how far I had to go (I thought I was within about 50 meters – once he really DID arrive, I gave up counting), and he said "You're done!" So I hoisted myself out of the pool, and off into the Spa to change. The swim was 54 minutes – longer than I had wanted, but as Sedonia says, "you can lose 5 minutes on a bad potty break [somewhat prophetic, that, as it turned out], so don't stress it."
The Spa locker room was by now teaming with folks, and the transition took me longer than normal, which was sort of to be expected. I couldn't really "hustle" because I was surrounded by toney Arizona ladies with their perfectly coiffed hair and my initial bustle was given the stink eye. I realized as I was leaving that I hadn't applied the Butt'r and so "slapped some on" in the hallway out of the Stink Eye Zone, though that slap/dash effort would come to bite me in the proverbial *ss later….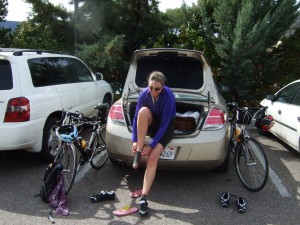 I'd left my bike shoes out at the car, so as not to make a racket clacking around the gorgeous Spanish Saltillo Tiles in the spa (thank goodness, talk about STINK eye had I done that!). Once I got out and into my shoes, H and I headed out of the Hilton parking lot and onto the 179. The road from the Hilton is VERY steep, though short (downhill on the way out –  uphill on the way back in). H got down to the bottom and started dithering about forgetting something or another and so we went back up (why I went is beyond me), we started off again, he'd forgotten something else – this time I stayed and tweeted "Is part of being a wife doing all transition planning and checks for 2?" I added the "aborted starts" to my transition time, and restarted the bike time when we REALLY headed out.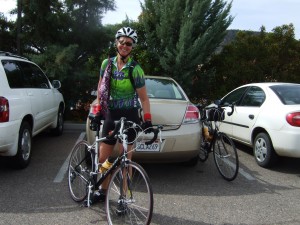 The first loop was pretty uneventful. I practiced taking 1/4 of a Clif Bar every 15 minutes, and getting down a bike bike bottle of 2x Accellerade every hour. I had one "behind the cactus" pit stop, and we were back at the Hilton so I could take my next one in Luxury (laugh). We headed back out, and as H had predicted from weather.com, the desert winds had started up on the Beaver Flat Road leg. Oh lord. It was brutal. I felt really frustrated because I had to throw it down into my lowest "granny" gear just to make headway. H (who was generally riding behind me, to allow me to set the pace) finally cut in front of me, and told me to draft. Wow, what a difference. I hunkered down behind him, and practiced what Coach Les and Mentor Margaret had showed me about drafting. So one more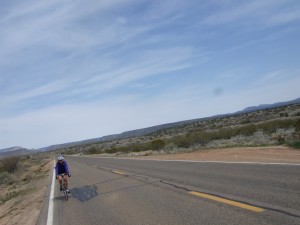 demon licked – I not only was using click shifting, but I was clipped into pedals…and drafting! Let's just say that self preservation is a WONDERFUL motivator!
We turned around at the "farm driveway" we had mapped out through Google Maps as the ride mileage, and headed back … and all I could think of was how folks describe the Kona Ironman. How exactly could it be that we had just turned around on the same doggone route – and the wind was STILL in our faces! (On Cornville Road, the wind was so brutal from the side that it nearly blew us off the road.) Once we hit the Mile 3 marker on Beaver Flat Road, I was about an hour from being "done" so I stopped eating solids as I had been instructed by Coach Doug. My mantra, as I pumped up the grades and into the wind, "Just…Keep…Biking."
I was using my little "boombox" on the ride, as I had for the previous days' rides – and it gave out on me at about this time. I had forgotten to put in fresh batteries! D'oh! We went down the Valley Verde "spur" (complete with monumentally gorgeous views of the red rock mesas), then turned around and got back to the Hilton Parking lot. The bike had taken us just short of 5 hours (4:51). This made me feel good – I wanted to do it in 5 hours. I know that's not that fast, but my goal was actually to not walk the bike, and keep a good pace. H wanted to do it in 4 hours. This did include our various pitstops and the like – which was probably about 1/2 hour's worth of time all told. (Including the midway stop between the two loops which was pretty long, since we had to refuel all the bottles/Camelbak/etc. and then head into the Hilton for the potty break.)
As I mentioned, H had to return the bikes, but he said he would sag me on the run first to see my pace, then return them and come back to continue sagging (where does "sag" come from, anyway? I bet it's an acronym for something, S.A.G.?). I headed out and felt pretty good, except some discomfort from the saddle. I did a 4:1 Galloway run/racewalk, and every time I would walk, I would drink the Accellerade and every other one, take 1/2 a GU. I felt very very strong and happy. OK, I was just happy to be off the Gold'Darn BIKE, to be frank!
H met me when I came out of the gated community and swapped me a new bike bottle (that's when he told me that the Accellerade had run out). He went from there to return the bikes, and I kept on going down the road. It was rolling, totally surrounded by Red Rock mesas (Big Rock, Castle Rock, etc.). Truly and completely gorgeous vistas spreading out in all directions. I smiled and thought of my Teammate Patricia…on the 2nd day of our Boot Camp with South Bay Team, I had tried to keep our minds off a grueling climb by pointing out flowers, trees….rocks! Anything! I had a smile on my face and kept thinking "Look! Patricia! A mesa! Look! Patricia! A cactus! Look! Patricia! A tumbleweed!" and that kept me in good spirits.
As I ran for the turn-around on Mundy, I started to get more and more discomfort. I knew that the tri shorts were not "rubbing" in my anus area (ok, one of my teammates talked about having had a frostbitten penis, I can talk about my anus…), but it became more and more hot and uncomfortable. I am not totally sure if more Butt'r would have helped, but I surmise that it would have. I also didn't re-apply it at any time, which I think was a mistake.
I started on the climb back up from Mundy, and I realized that I was having some pretty serious G.I. distress. It took me a little bit of time to find a place where I could break through the thicket on the side of the road, but finally I found a spot and in I went. It was not pretty. I had bloody diarrhea, and a lot of it. I surmised that the blood was probably coming from "outside" not "inside" but it was just Not Good.
I doubled up on hydration at that point, because I knew that I was going to be in a deficit if I was losing it that way. I actually made it back to the Hilton, and made my next pitstop there. By this time I was burning so bad, it was all I could do not to cry. The urine and the runs were like someone had rubbed hot peppers on me. I got back on the road for the 2nd loop, and realized that I was "not okay." I got 1/2 way down the slope towards Mundy, and had to dive into a thicket again. I got to Mundy, where H waited for the 2nd turnaround, and I told him that I thought I should probably quit. I didn't actually say why (embarrassed, frankly), and he told me that I only had a little more than 3 miles to go, and that he wouldn't let me get in the car (ah, tough love). And in fact, he drove off, so there was nothing I could do but to continue. I got 1/2 way up the slope again – and back into the thicket I went. I now did not feel completely right in my mind. Yes, surprise, my mind started playing tricks on me, and convinced me that I had to stop drinking altogether (I was about 2 miles from the end, at least, not like 10) because my mind told me that would stop the runs. I burned like fire "down there" and was frustrated and upset. I just wanted to be THROUGH WITH ALL THIS. (I did have a wee small voice in my head, however, that took note that my legs felt strong, my breathing was strong, my heartrate was not racing….though it was a very VERY wee voice.)
"Experience is a hard teacher because she gives the test first,
the lesson afterwards."
Former Pitcher, Vernon Sanders Law
I got into the subdivision portion of the run (probably a mile out) and – had to cut behind a bush, trying to stay inconspicuous as basically it felt like fire was coming out of my *ss. Yeah, fine, I know, disgusting and graphic and this was a SERIOUS low point. I was embarrassed (pronounced: I'm-bare-assed…), frightened someone would see me and call the cops…oy. I cried a little bit then. I got back on the road, and headed for the last hill (except the hill up to the Hilton) on Castle Rock. I had been keeping to the 4:1 all the way through by this point, but decided I would walk Castle Rock (which was a grade), and then "decide" if I wanted to run again once I came back out on Highway 179. I was holding my sides and I am quite sure I did not look the picture of health…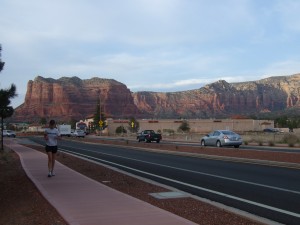 Once I turned onto 179, I actually either got a "2nd wind" or I was just so fed up with the whole thing, I started to run and couldn't stop. It was immensely painful in my derriere but my legs felt strong, I wasn't breathing hard, and I just wanted it OVER. H met me along 179 with about 1/2 mile to go, to "Run Me In." I think he thought I would be walking, because he was in his sandals. I took the bottle he offered, and I was really upset that he had refused to sag me, so I had some choice words for him about the runs I had been having. Interestingly, usually when I run, I'm so slow that he can fast walk next to me to keep up. He couldn't – so I was running at a pretty good clip. He said he would meet me up at the Hilton, and was smart enough not to have any comebacks to my evil sound bites (probably similar to a husband in a wife's delivery room!) I walked up the Hilton hill, and was pretty sure I could make it to the Spa bathroom, but was once again overwhelmed by a peristaltic rush and had to duck behind a huge Air Conditioner about 70 yards from the "finish." In the end, the run took me 2:43.
I walked a little bit, but just wanted to be DONE and back at the Condo. H put me in the car, but as soon as I sat down, I started breathing really hard. I was sucking down the Recovery Drink, but I started to shake, and felt super cold. When I actually started to feel faint, I remembered that my friend Benjamin had told me to be sure I got my legs up as soon as I could. So I tipped the seat back, and put my red rock dust covered running shoes up on the black dashboard…and immediately started to feel better. My breathing slowed and I stopped shaking so much. We got back to the condo, and I wasn't totally sure I could even make it up the stairs, so I told H to go in, unlock the door, start the shower (the hot water took a long time to heat up), and start getting buckets of ice from the Ice Machine. He didn't ask any questions, though I could see he was torn between staying to be sure I wouldn't get out of the car and hit the dirt (I didn't).
I got into the condo and took a hot shower because I was shaking so bad, and the water made me cry out loud when it hit the "cuts" in my derriere. Oh My Lord. I moved from the shower to the bathtub (they were separate) where H had lined up all the garbage cans full of ice, and I took an ice bath. H brought me miso soup while I soaked, then once I headed straight for bed (I felt totally punk) he brought me more recovery drink, some oatmeal and blueberries, and then some Rice A Roni from the night before. I kept having to get up to have more runs and would cry each time. Not pretty. H went out to the Safeway and got me some bananas and Imodium – which thankfully did the trick, and I got to sleep.  
I woke up the next day and actually felt fine, except the "fire in the hole" situation (OK, stop gagging, you know it's funny.) I didn't feel any "ill effects" from the race, though I felt a lot of questions as to whether I'm "made for this." I knew that our course wasn't as hard (by a longshot) as it sounded like the Wildflower Course was. I also knew that our rented bikes (with the 1:1 granny gear) were a LOT easier than my new bike – and I used that granny gear a LOT. I emailed back and forth with Missy, Maria MDot, and Mentor Margaret some, trying to get some perspective. My mind kept coming back first to "bad stuff" (especially given my still very sore state of affairs), then it would swing back to "holy COW grrl, you just worked out for 8 straight HOURS, shut UP!"
I had Tweeted/Facebooked that we'd finished it the day before, and ok, so, I totally basked in my Teammates' "wa-hoos" as I had my morning coffee. I had had fun on Saturday texting with Belinda while my Teammates were on their course, and it just felt beyond fantastic to get Facebook post after post from my friends and Teammates sending me "Atta Girls." That's pretty much what turned the tide for me – I was still hurting, I wasn't sure I was "made of Iron" (Note: Donor Jason Chilton commented: "Being that Iron is element '26', would that make you Aluminum Woman? (Al = element 13, or half of 26)" – so I was calling myself "Aluminum Woman" the rest of the day). I decided that if my Teammates thought I was "made of Iron," maybe I WAS. In a way, I am really glad that I will be doing Louisville, because that gives me the same sort of ability – to cheer on the bulk of the Team while they do the course in California, then (hopefully!) they will cheer me on a couple weeks later as I hit Louisville!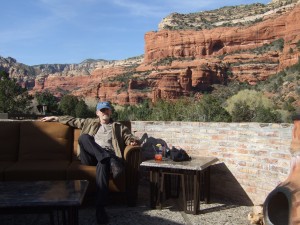 I started feeling fairly normal (except the inability to walk without reapplying Butt'r part), and so H and I went to Enchantment to get a super-spendy-but-trendy margarita or two. He really made me laugh at one point, and I tweeted our conversation:
You MUST drink ur RECOVERY drink!" he said sternly, handing her another margarita.'Extra salt, u must watch ur electrolytes,' he added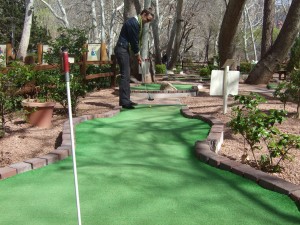 We actually also found an unmanned miniature golf course, and decided to "play a round for free," as instructed by the hand-lettered sign on cardboard, hanging above the racked clubs and balls. We also did some shopping, and I bought some Arizona "stuff" for my grandboys. (I have some great pictures of them in their IronTeam skinsuits that I got from Merla/LLS – need to post them later this week.)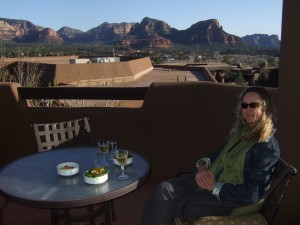 We went back to the condo to enjoy the last of the light on our last evening in town – and I realized it was the first time I had actually been able to enjoy the views without thinking that "soon" I would be climbing "up there" on the bike or on the run! Yes, it was still nippy outside, but H improvised a "scirroco solution" from our bedspread!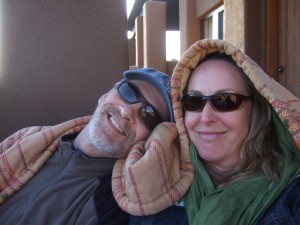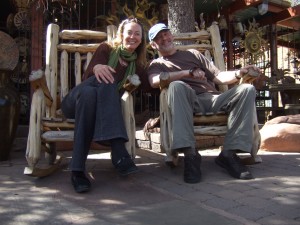 My best grrl Leann texted me that she was "sneak gifting" me a massage the next morning (the morning we were leaving), and though I told her I would have to kill her when I saw her, I of course noted I would do that after the massage! The massage was back at the Hilton, which has a very snazzy spa with all the right ambience – whoo-whoo new age music, hot tea, cucumber water, orange slices, big plush robes, the works. Tracy, my amazing (tiny!) masseuse wound up giving me an extra 1/2 hour once she saw my bruises…see, there are plusses to clipless falls!! She was the perfect masseuse – she didn't talk, but when I talked, she was witty and actually hilarious. (She asked about the bruises and I told her I'd fallen on the bike – she said "Oh, I was figuring it was Vortex Marks – everyone around here wants to find one but they never KNOW what it's like to get spit out the other end of one!" She was particularly impressed with the yellow and green one on my hip that was just verging on purple.) At one point I heard my wedding ring "hit the deck," and she commented that was a first for her and she hadn't been near it at all, so was a little puzzled by it. She had to turn on the lights to find it. She then commented that she was giving me an extra 1/2 hour "on the house" because she didn't have any other clients – and I mentioned that the ring had probably jumped because I had the only car and my husband was sending the "stink eye" my way for being late! I left the massage smelling like clary sage and lavender and with just a little bit of dried drool in the corner of my mouth – and big, huge, post-scalp-massage "Cosmo" hair (thank goodness for the wonderful showers and conditioner).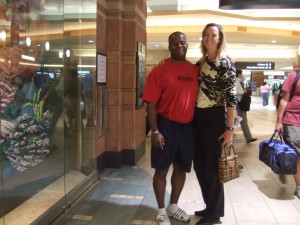 There is more to tell – met one of my wonderful SendOutCards distributors Kenneth Rhodes in Phoenix, and was also able to see my sponsor Dawn McDonald there at the Scottsdale Museum of Contemporary Art, and have some hugs (and drop off our extra groceries to her!). I had even been able to see my friend Leslie Lesher on the way out – it's been a decade! – but my schedules didn't mesh with my friends Jodi, Judi and Judy. Next time!
As I type this, it's Monday, and I haven't actually worked out since the "race" in Sedona. I meant to get out and run today, but the sprinkles of rain all day (and my still "tender condition") kept me inside. I have to get back in the saddle again (as it were) and get back training. I don't feel like it. I feel like I deserve a rest – that the 70.3 was a huge feat. But I have the schedule…and tomorrow, it's just time to keep on keepin' on.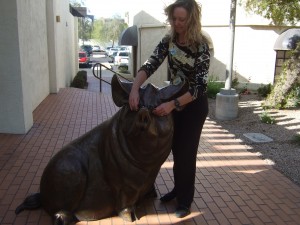 You Know You're Iron When:
*…your luggage to your long-awaited weeklong vacation is a bike rack/ replacer drinks/ spandex/ Butt'r/ Camelbak/ bike shoes/ run shoes/swim suit…and, like, a sundress.
*…your "360 degree vista view" is, well, there somewhere under all the bike clothes hanging on the patio door.
*…putting the "Do Not Disturb" sign on the door does not mean that you're sleeping in, but instead that you're sneaking out early, with all the garbage cans full of bike bottles/sports drink/oranges and bananas.
*…you "butt'r up" to go walk to lunch for days after your 70.3 endeavor and carry a "spare" in your purse for "touchups"
* (this one courtesy of ZenTriathlon from twitter) …you wear arm warmers into the grocery store. Cuz I'm a triathlete and go hardcore when shopping for kale.
…and finally…
*…you just Keep On Keepin' On…