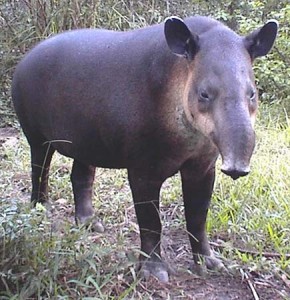 It's Taper Time. I also got a great book called Paleo for Athletes (something like that – Kevin Koskella from TriSwimCoach.com suggested it), and it's been super helpful, especially as they really break down nutrition in the final Endurance/Taper stage. Nothing much new, just good stuff to remember.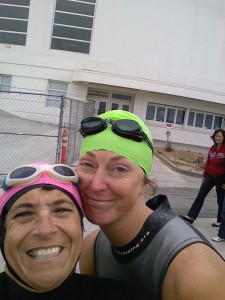 Jane and I did our last "long" swim in Aquatic Park on Wednesday. I swapped the Tuesday swim and the Wednesday run around, so that we could go out and do the open water. I won't go by myself, and Jane is nice enough to go with me when she can. We have been generally swimming on Sundays, but I wanted to make the mid-week swim an open water one, too.
We took a few photos on her phone for "posterity" – then into the water we went!
It actually wasn't as cold as it has been in the past, but by the end, we actually wound up getting out "shy" of the distance that we were trying to do. It has been very grey here in the S.F. Bay Area, and it was choppy out in the water…grey, choppy, swim, swim, swim, swim, swim…not the most pleasant. The last time we went (last Sunday) the sun came out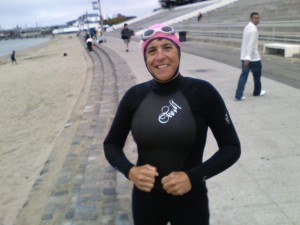 and it felt SO NICE – though we got cold also on that day.
I'm QUITE SURE I will have NO problem with that in Lousville!
I was reading a write-up that Coach Simon sent out, and part of it says that the "good thing" about Ironman Louisville is that "everyone can anticipate" that it's going to be hot and humid, and have "plenty of time" to prepare by working out in the heat of the day, etc. I guess they were talking about anywhere BUT San Francisco this year.
Off to do a bike/run brick – a Taper Tapir's work is never done! Snort snort snort.
And here is an interview that I did on the great TriSwimSecrets podcast :-)