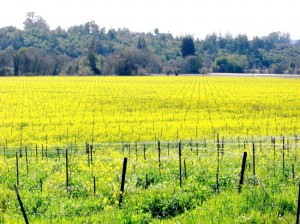 At Saturday's workout, Swim Coach Sedonia mentioned that Mentor Margaret was going to help "run her in" at the Napa Valley Marathon and I asked if she'd like more company. She said that would be Great, so off I went Sunday morning at about 8:00 a.m. We were supposed to "be on our feet" for an hour and 45 minutes per the workout schedule, and so I figured this would qualify!
I got to Napa around 9:00, and was able to get a great parking spot right near the end of the race. I called Margaret (who was waiting at mile 13, 1/2 way), and she said she hadn't seen Sedonia yet, but was sure she would be "along any time." I told her my plan, and started off walking the course backwards. It was a GORGEOUS day. Really the perfect day for a race – a tiny breeze, not too warm, sunny, mustard fields vibrant…wow! As I mentioned, I walked the race "backwards" – through neighborhoods first, then a long straightaway, then basically out to the Silverado Trail. The road was closed for the race. It was fun to see the neighbors coming out, and doing things like stapling signs up to telephone poles to cheer on the runners that would be coming through past their houses in a few hours.
While I was on the straightaway (before turning onto Silverado), the first hand-bike racer passed me. It was a little odd because no one else was out. I of course stopped and clapped and cheered him on. Same for the second one – who was far enough behind that I was on the Silverado Trail by that time. After he passed, I could see in the distance (but not SO far in the distance) the headlights of what I took to be the chase car for the first Marathoner. He passed me at just shy of 9:30 a.m., moving like lightening. Very impressive. Again I was out there alone, clapping and cheering. I felt like that old Olympics ad, where the farmers stop in the fields to clap on the guy running with the Olympic Torch. (The winner won the race in 2-1/2 hours. Holy Cats.)
I knew that Run Coach Simon would be running with a gal who wanted to make the time for Boston – but I wasn't prepared to see him so early. He actually shouted out MY name as they ran past in a small group. They were running VERY strong – really amazing stuff. I found out later that the gal he was running with finished in 3:10 – her FIRST marathon – which qualified her for Boston!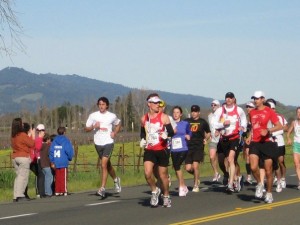 I also found out my friend Lisa's son Dakota ran the race (his first marathon) and finished in 3:34 – 2nd in his Division! Fabulous.
I kept walking up the road, which was very peaceful and gorgeous. I saw a number of Team In Training folks – apparently this is a race for the Monterey area TNT. Every time I would see a TNT shirt, I would shout "GO TNT!" Some of them had written their names in white on the front of their shirts above the TNT logo, so I was able to shout their actual names. That got a lot of smiles. Again, I was the only person out there, and once I would start cheering I would of course have to cheer the entire "knot" of runners through! That was my job – walk, cheer, walk, cheer…
I had a little bit of trepidation that I would not be able to keep UP with Sedonia, as I watched the runners blast past me. I didn't want to have walked all the way out (no cross streets!) and then not be able to help…those were some of the thoughts going through my head.
After about a 5 mile walk (at mile marker 21), I came to a hill that the runners were coming down, and slowed down a bit, because I wasn't certain I wanted to go up that hill, then come back down again. I was saved the decision because at that moment I saw Sedonia and Margaret!
Sedonia ran SUPER strong. Her goal was to finish in under 5 hours – and she SMOKED that (finishing in 4:32)…with a minimum of "stink eye" or "grumpy phase." My job was to keep her honest in her walk breaks – I would ask where we were "walking to," she would let me know, then when we got there, I would start running again. Not that she needed to be kept honest…but it made me feel helpful.
The aid stations were pretty far apart at the end – every 2 miles – though some of them were interesting…Mile 23 had the string section from Napa High, and they were passing out cold sorbet with the Gatorade and water!
Once we got to the neighborhood part (about 1/4 of a mile from the end), Margaret and I peeled off and Sedonia took off for the finish line. I felt a little guilty, because there were a LOT of folks cheering in that final mile, and they were cheering Margaret and me just as much as they were Sedonia! I said to Margaret, "We gotta get off this path!" because I felt so guilty! It reminded me though how amazing it is to have all that energy pouring out at you. Wow!
Since Sedonia had finished 1/2 hour sooner than she thought (whoot! whoot!), I was actually able to hop in the car and high-tail it back home, to get a quick shower before heading out to the theatre with H, Mom and Dad. As I got in the car, I could feel that I was having an issue with an area right on the front of my left hip. I gotta figure out how to manage this, because it seems to get worse every time I run – and it definitely was NOT happy after an hour sitting in the car after the run.
After the theatre, H and I had a couple hours and so we got some snacks at a Persian restaurant on Center Street, then we met our neighbors Jan and Tom at Hotel Mack in Pt. Richmond. The restaurant was having an "Oscars Celebration" (1/2 off champagne, and lobster/prime rib dinners).  H and I were "bad" – martinis, champagne, dessert, the works. WOW I felt ill this morning! That's the only problem with our "clean living" kick – when you are bad, you FEEL bad!
Today is an off day, but our pool is going to be down for repairs tomorrow so I will swap out tomorrow for today.
CONGRATS SEDONIA!!!
YOU KNOW YOU'RE IRON WHEN…
…you launder towels, then fold & store them in the car rather than in the linen closet… (Jen Jay)
…you're excited to go shopping – for bike, run or swim accessories, not new jeans or jewelery! (Tiffany)
…you have 3 swimming suits in rotation, but when you pack for your vacation trip to Mexico you have to dig through your closet to find the cute but dusty "bathing" suit…(Helen)
…when asked by your Mom about your workout that day, you say you were just helping a friend, no big deal – then realize the "no big deal" was over 10 miles…