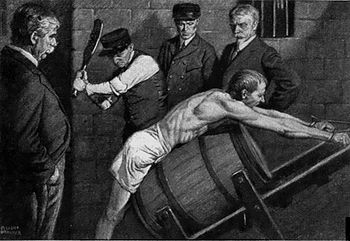 Today Iron Mel and I were off to Napa for a Private Swim Coaching with Coach Sedonia, Helen, Carol, Jen Jay, Tiff, &  Cory (did I get everyone?) We practiced reaching "over the barrel," kicking, feeling the water, and all sorts of other nefarious things. Managed to dislocate my shoulder on one of the 25s doing a 'feel the water' exercise (rolled on my back and it popped back in) – I think it's time for rotator cuff exercises or some such. Sedonia showed us some of those using one of the "bands with handles," after we did our Ab and Arm work.
Iron Mel and I almost didn't make it – we had the most unbelievable Tule Fog on our way, and literally passed Arnold Drive straight on by. When we realized we were heading onto Highway 80 towards Sacramento, we dove for the next exit, and meandered our way back using the GPS. Can anyone explain why it is when you're in thick rain, or fog, that somehow it seems like you can see better if you bend your back and peer forward, so that your head is nearly touching the windshield and your eyes are all squinty? I am pretty sure that extra couple feet in the "lean forward" doesn't make that much of a difference…and why, when you get lost, do you have to turn off the radio? Things that make you go Hmmmmmmmmmmmmmmmmmmm…

We had breakfast at the Juice Squeeze place in Napa again, which has great food. OK except Sedonia's cheese sandwich. OMG. Literally, sliced cheese, on white bread. No tomatoes, not grilled, etc. (I tried to find a photo that depicted this – the one at the right is the best I could do, and that one is at least WHEAT!) As she said, she "took one for the team" on that one – so that everyone NOW knows not to order the cheese sandwich there! It looked so forlorn on the plate that it was funny. Helen, Tiff and I had the most gigantic breakfast burritos known to man. Delish, but tooooooo much. Since I have FINALLY breached my next "deca" on the way down to fighting weight, I have to be careful not to "burrito-indulge" too often! Of course tomorrow is Valentine's, so all bets are off!
I don't even want to tell you about Iron Mel's new Glute Trick. You're going to have to read it for yourselves here. She made me laugh so hard on the way home I could barely breathe. OK I do admit, training can be fun (though the driving is "funner"!)
I was supposed to have a Noon meeting, but they bailed. I have a 3:00 meeting that moved out to 3:30 – thought I would get a post down quickly to keep up!
On the way home (since I didn't have the Noonmeeting,  thought it best to try to get some bookkeeping done), I measured the hill repeat road that I had done middle of last week. I was right – it's exactly 1/2 a mile. As I was driving up the road, I thought, "These are CRAZY steep hills!" We really are only supposed to do 4% (oops!) Instead of a long uphill, it rolls. The drills have been run up the hill, then walk down – instead, I ran up the ups, and walked down the downs. I wound up cover the 1/2 mile in about the same time each time, so I think that was good!
Okie dokie – off to do a SendOutCards demo for an Accounting firm. Wish me luck! I need 2 more distributors and then I have 100, which is supposed to be "where Magic Happens"!