So, about 5-6 months ago, I came to the realization that I was going to need a Secret Weapon during the Ironman event. When was this? During my 1/2-Iron at Sedona. When I ran up to the car where H was waiting with hydration for me and said that I was really feeling sick (which wound up devolving into The Nastiness that followed & I've already written about), his reaction was to tell me to "Tough It Out" and drive away. Now, that's all well and good if someone is going through what you are, and understands where you are coming from. But (though he had done the biking with me), I felt very angry and hurt because I thought that I was being told to "dig deep" by someone who didn't really have a physical feel for what I was going through.
So I asked a guy on my IronTeam whether he'd be willing to be my Secret Weapon at Louisville. My idea (before finding out that you aren't allowed to carry a phone) is that I could call him up, and get an Atta Girl or a "Tough It Out" from someone who HAD done it. (As he was signed up for Vineman so would have done his Ironman-distance race before me.) Not only that, but we were both former Military, and so hearing "Tough It Out" from him would have a bit more weight and that "Gunny-ness" that I could yell against and be pissed at in my head, but then just go out and DO…because the Gunny never EVER tells you to do something that they have not or would not do themselves.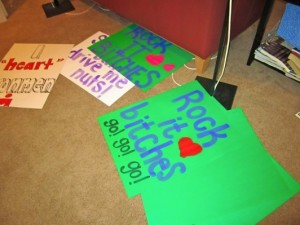 In response, I promised to be at Vineman for him. This seemed rather an empty promise, since he was an ex-pro cyclist, and a far faster/better runner than I. Now, granted, we had actually become Friends on the team because he sucked at swimming, and I gave him lots and lots of friendly advice, answered questions, sent YouTube videos of what I was talking about, etc. But that was matched against – when H said that he would buy me a "good bike" for my Valentine's Prezzie – Will taking hours and hours and going round and round with what sort of bike would be best for me (including taking measurements, talking about details, giving me the "math" that would get me a compact crankset that would be similar to my old tried-and-true triple, etc.)
He was dating a gal on the team, and sadly, they broke up a while back. That meant, as she had done TNT for years and had been the one to get him involved, that he felt it necessary to step off the team. I was sad, because he was always good to kid around with, and (more importantly) even when I was riding my 20-year old P.O.S. downtube shifter bike with basket pedals, made me feel like I could Do It. He also was really patient explaining stuff to me that I wanted to know, but was too embarrassed to ask, about cycling "in general." (You know, things like "which way do you lean when you do this," or "how do you stop from falling down if you have to unclip going slowly on a hill?"…This last being a lesson I am still digesting, I might add.)
We had emailed a bit after he left the Team, and he said he was still going to do the event. I said well, that meant I would be there to support him, and be there for him "if he needed me." To me, that just basically meant hangin' around and cheering. The only place he MIGHT need me might be the Swim (there's nothing like 1,000 people crawling over you as a fairly novice swimmer to spazz you out bigtime), and that was the one place I could NOT be. Well, except at the Exit, to cheer him on for NOT drowning.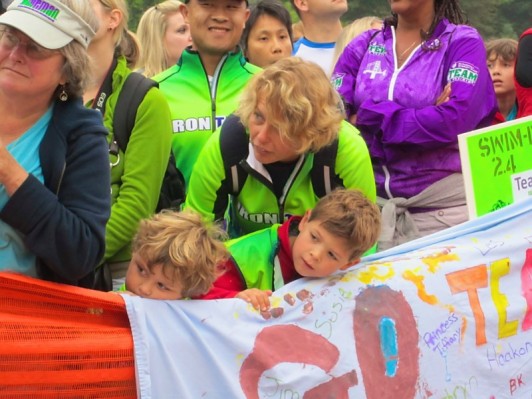 Teammate Paula and her boyz Will and Jack picked me up at 5:30 a.m. to head out to cheer on our Peeps. H had told me he would pick me up that evening, so I wouldn't need to drive home at midnight. Will and Jack had made a great banner to cheer on our IronPeeps, and they were very excited…until they fell into a wonderful snoring heap. (More on that later when I can actually figure out how to get MY photos out of my camera…all the ones here are from other folks.)
It was an IMMENSELY foggy day, and I realized that I definitely didn't have warm enough clothes. Oops. We swung by Rohnert Park to pick up Becca (I had to call to actually get the name of the offramp –  it was so foggy I couldn't make out landmarks), and off we went to the Swim start.
Folks were already in the water when we arrived – there are 7 races that go on that day – the full Ironman, Aquabike (the Ironman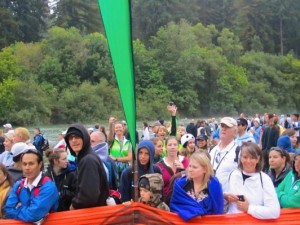 without the run), Barb's Race, relays, etc. It was a bit of madness. We cheered as our teammates exited the water – but the first person out that I recognized was my old swim coach, DeAnn, who was obviously swimming for a relay. (She got out of the water with the guys – as the relay folks were slotted after the women who were after the men, she had done that doggone 2.4 mile swim in some insanely short time.)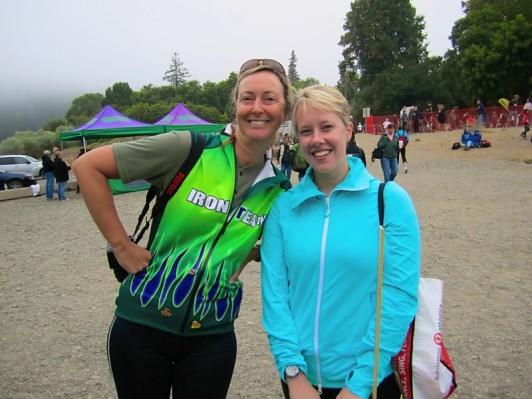 It took a while (I think it was a bit over 2 hours), but Will finally emerged from the water, and headed out to the transition area. Becca had a big sign that she held up but I cautioned her not to shout, because if something was left at Transition, nearly always the Shouter is blamed!
We ran over so that we could see all the folks that I knew come up the hill out of transition, then found Will's truck and drove out to the next transition area – Windsor High School – where the finish would also be. We were super lucky to have very little traffic out of the small town where the swim is held, and even got a parking spot in the High School lot. We caught up to some of the coaches who were having breakfast, and then set up to cheer right before the bike Special Needs bag stop at about mile 60 or so.

(I had dropped a couple of "Atta Girl" notes off to Teammate Lil' Laydee Baby Calf Melissa the week before for her Bike and Run Special Needs bags, and was hoping she was having a good day. I'd missed her coming out of the swim, but saw her come by on the bike.)
Once we'd seen the bulk of the team go past and had confirmed that Will was still in the game, we all moved to a corner transition spot that would be passed 6 times on the run. This is where the rest of the TNT supporters had set up. As Teammate BK said, the run was to be a "Groundhog Day"-esque event – three loops on the same roads.
We heard that Teammate Nate (who was doing Aquabike) had come in 3rd in his age group – yippee! – and saw Teammate Carolyn streak by at an unholy pace. Nate actually was running too – I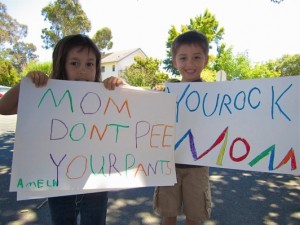 missed out on why, maybe he just "decided" to do a full Ironman "for fun"? (He's doing Ironman Canada the same day as I'm doing Louisville.) Teammate Rick was right with them – it was just so great to see all these folks as they headed out up the run course smiling.
After a while, I started to get concerned, because I hadn't seen Will around the time I thought I might. So I asked Becca to watch my stuff, and jogged back down the line to the Transition area (about a mile from where we were all sitting on the corner). As I came down the straightaway and then to the corner, I saw Will, and he looked BEAT. He was walking, and said he wanted to walk the entire first lap of the three.
I happened to know, doing the math, that if he did that, he wasn't going to make the 9:00 p.m. cutoff, though I just agreed with him "for now."
He had gotten way behind on the bike (his forte) because he had helped not one but 3 other participants with their bikes that had broken down/gotten flats/etc. – and had also stopped to block the racers from an errant mole that was trying to cross the course. (That one made me laugh. "A MOLE? With those FLIPPER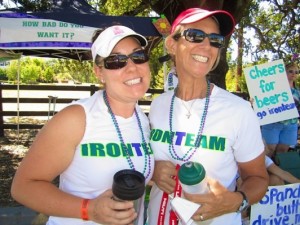 hands?" Yup.)
He felt like crap, too, because he hadn't taken into account the fact that the 2 hours he was swimming, he was still using up carbs, salt, sweating, etc. He didn't have enough nutrition fast enough to fill up that "black hole," and, worse, he had used a nutrition mix that had made him bloat. (He was noticeably bloated – it did NOT look comfortable.) OK and he'd done a 23 mile crosscountry race, at pace, the week before. (Oh. THAT.)
As we were walking, I of course had my Infinit bottle in the back of my jersey, plus I had stuffed the triple-salt Margarita Shot Blocks and some GU in the other pockets. I got him to down a whole sleeve of the Shot Blocks, and then start sipping the Infinit. After a while, I actually could see that he was feeling better. So we started to "run the downhills" (the run course is VERY hilly), and when I surreptitiously looked at my watch, I realized that just doing this would likely make up enough time for us to MAYBE make the 9:00 p.m. cutoff. (You have to start your third lap by 9:00 p.m. or they take your chip – if they take your chip, you are listed as "DNF" – did not finish – even if you continue. They even make you sign a waiver if you want to go out again.)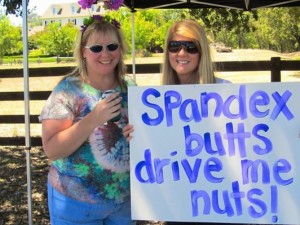 Some of the TNT folks that we ran into were coming back in on their 2nd round or even their 3rd as we were heading to the turn-around. Apparently there has been a lot of "unfriending" going on with respect to his old girlfriend (still on the team) and such, so he wasn't sure how he would be "received" as he saw folks that he had been friendly teammates with just months before. Everyone was very "Atta Boy" to him, which I think was a relief.
We came in and around to the transition area to end the first lap, and I had to 'leave him and pick him up' on the chute out. Mentor Margaret checked in with me to be sure I was OK, and as we were supposed to run 18 miles that day, I figured I was just getting my training run in if I kept this up! The problem, though (I realized later) was that I personally wasn't paying attention to my own hydration, I had put aside the sandwich Maria had brought me, etc. and so by the end, I was kinda a mess. But not at that point. Then, I was just concerned to get my friend back out there and then back to transition, to make the 9:00 p.m. cutoff. I was Ms. Adrenaline with a Goal. :-)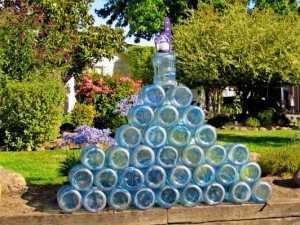 We headed back out, and now that he was on the Infinit (and I was happily acting as mule, carrying whatever from the Support tables he wanted in my 2 side jersey pockets – pretzels, caffeine shot blocks, cookies, etc.), he was feeling better. He was able to pitstop away some of the bloat on the way out, and then he looked way better. We were not only running the downhills, but the straightaways as well. (At one point I broke out in Jodies – Military run cadences – which made him laugh. You know the ones… "C-130 rollin' down the strip/Me and my team gunna take a little trip/Stand up, buckle up, shuffle to the door/Step right out and shout MARINE CORPS!/If I die in the combat zone/box me up and send me home/pin my medals upon my chest/tell my Mama I did my best…Stand up…1-2….Stand up….3-4…Stand Up…1-2…1-2…3-FOUR!)
We were pacing with Teammate Sara – who was on her 3rd round – and teasing that she would pass us, but then she would stop to do her walk (I think she was doing a 5:1 run:walk), and we would "elephant" up on her (she runs without a sound – I would definitely not say the same of the 2 of us). As we got about 2/3 of the way down the front of the loop out, she started breathing funny, and I realized she was starting to have an asthma attack. BEEN THERE! I didn't have my inhaler on me (silly really, I kept thinking of myself as a "helper" not as really a "runner") – and I am not sure I would have given her medicine anyway – but I certainly could see the panic in her eyes and knew what was going on. Will was doing fine so he kept running, and I stayed with her.
I rubbed her back, not only because that feels comforting, but also if she actually passed out I knew that I could grab her quickly behind the knees that way with my other hand and swoop her up/stop her from hitting the dirt. I told her to look up, because that opens your lungs up so that you have a little more surface area for the oxygen to try to work with. I just did the whole soothing "It's OK, been here, this is an asthma attack" thing, and when she could talk, she said she had had a panic attack that felt similar; my fear had actually been she would have a panic attack BECAUSE of the asthma attack, and maybe go into bronchiospasm. We were literally out there, sun going down, with no one really around. I was able to surreptitiously check my phone (also in a back jersey pocket) and made sure I had reception – if she went down I wanted to be sure I could 911 her out of there ASAP.
Luckily, a bit of a walk, some talk, rub rub on the back, and the asthma broke. She was breathing fine, and stopped at the final Support table before the turn-around, and said it was OK for me to catch back up with Will. I thought later that maybe I shouldn't have left her, but she came in over the finish line fine, so no worries (Thank Goodness!).
As Will and I were coming back down after the turn-around, we started asking other runners about the 9:00 p.m. "cutoff" time. It wasn't my race, so I hadn't really read the rules, but from other races I had done, I was 90% positive that if he didn't make it, he was DNF. Turns out that was correct. So we started running more than we were walking. It was going to be tight – I actually was not completely sure we were going to make it. I also managed to mis-judge the route at one point, thinking we had reached the mile 2 support table, when we were really at mile 3 (e.g., we still had an extra mile to run before hitting the transition area). We didn't let up though, and when I came around the corner and realized I was a mile off in my calculations, and apologized for it, we just dug deep and toughed it out. (It sucked.) We had to run actually faster than I am personally comfortable running, but if HE was running that fast, for goodness' sake, ~I~ was going to, too.
We got to the straightaway before the turn towards the transition area, and I realized we were actually going to MAKE it. We had to keep running though. My favorite part of the run (I think because we actually laughed through our somewhat grim "get it done" demeanors) was when I said that we had to pick it up just a tad for the cutoff, and he said very loudly "F*CK ME!" I immediately said "No, thank you" and then we both burst out laughing. It was like getting a 2nd wind.
As we ran into the "cone zone" where he would go into transition, Mentor Margaret stopped me. She said I had to stop running NOW – because I was at where I should be for my training, and I think she probably realized I hadn't been paying any attention to myself and was kinda wasted. Honoree Frankie and his girlfriend the wonderful Meghan stepped up at that point – they were fresh, and rarin' to go. They said they would take him out on the 3rd and final lap.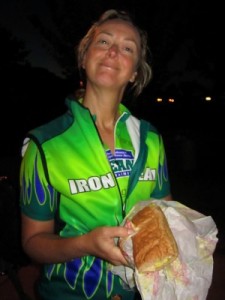 I sat down, and finally had my lunch sandwich! It was dark, cold, and I was beat. I was so grateful that I had been of service, though, to get him over that 9:00 cutoff. I was actually pretty amazed, because (seriously) there is NO WAY that I had thought I – WAY less of an athlete than he is – would be able to help AT ALL when we made our "pact."
I watched Melis' come in at about 9:13 and realized she was going to be chipped, and wasn't sure she would keep going. She did – she was very upset, and called at our corner for someone to go back out with her. I stood up, but Mentor M. forcibly pushed me down and said "NO." She was right – though I had the will to go do it to help my buddy, I'm not quite sure I had the "way." Team Mascot Belinda went out with her into the dark. (One great thing I saw on the course – LED "flashlights" that were clipped to the brim of folks' caps. Very cool – I need to see if I can find one.)
I stuck around with the Team for a while, and Becca went and got me a hot chocolate (Nectar of the Gods!) because I was freezing. I did have dry clothes to change into – just not WARM dry clothes. (Duh.) We went to sit in the truck for a while as we were both definitely chilled, and just at that point H called to say he was in the Windsor lot too, to pick me up. It was 10:30. I felt bad, because I knew that meant that I couldn't stay and cheer on my peeps, but I was also relieved, because I was freezing and beat. He came and got me from the truck, and I sent out some Facebook posts to try to say "Bye!" to people – and off we went.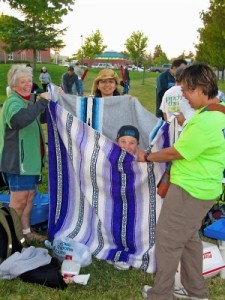 The next day I found out that Will had come in 13 minutes past the midnight cut-off, and was bummed out and trying to think if that "really" made him an Ironman. I reminded him he had helped not one but THREE people on the bike course (AND a MOLE), and asked him if that had taken more than 13 minutes. "Way More." So – in my view – though he didn't make the midnight cutoff, he was definitely Iron after factoring that part in. I'm not sure why – I think that if he had had a bunch of flats himself  and crossed after midnight I would not have said the same thing – that's just "dumb luck" as it were, and you don't make it by midnight, you don't make it. Maybe I should be more hard-*ssed – you are, or you aren't – you make it by midnight, or you don't. But I guess to me there is "special dispensation" for helping others (2 and 4 legged!) and then being a tiny bit over.
H and I went out for the 75 mile bike ride that was slated for the next day – and I made it to 50 and actually had to have him go get the car to bring me back. Stick a fork in me – I was DONE. The whole week, I felt like crap – and today (Saturday) when I was supposed to do a Century (our final last "push" before the Taper), I woke up with a serious sore throat, headache, and golf-ball sized lymph glands. Arrrrgh. I went back to bed (I wound up sleeping a total of something like 14 hours), and got up in time to help H with a couple things – I was going to drive up to Yountville to cheer in my IM-L and IM-C homies on the Century, but H said that I "look like Death" and he doesn't want me to drive. I was supposed to do an Open Water swim with Jane tomorrow too – we'll see. It was freezing last time we did it, not quite sure that's the smartest thing to do.
So – that's my Vineman writeup, for what it's worth. The experience was really different than I expected – in a good way, though. I love to be of service, and I really do know that I was helpful to both Will and Sara. I was so excited to watch my Teammates tough it out. I must admit, I'm sad that there won't be more of us out there for IM-L – I can really see how passing the "flame jerseys" on the run or an out-and-back could be a real boost. I was particularly glad and humbled that lil' ole non-athletic me could make a difference for big athletic Dude (and little awesome athletic dudette Sara). I am so thankful for this experience; hopefully I will get over this "creeping crud" soon, and I will be able to join all my Iron Homies who now "Know They Are Iron"!
Marina's addition to the "You Know You're Iron When" list….You Know You're Iron When You Cross the @#*$&#@&*$ Finish Line! (Ha!)