In Episode 4 we discussed Feng Shui as a method for ordering your life and how your life can be diagnosed as being out of balance using Feng Shui techniques. In this Episode Sandy runs through the mechanics for doing a Feng Shui clearing and energy realignment on your home. These two podcasts expand upon the topic of decluttering that she discussed in her first View From The Bay (ABC) episode last month, and the topic of using Feng Shui as an ordering method for your physical surroundings, to be discussed in View From The Bay (ABC) on May 5th. (The San Francisco Bay Area lead-in show to Oprah.)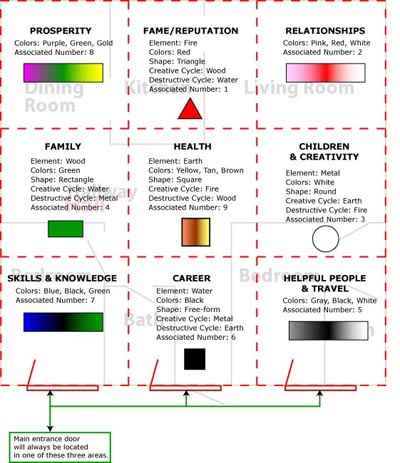 Click here for a printable Bagua map (from www.wsfs.com).
I know it's difficult to "imagine" the bagua square just from my talking about it, so this should help.
If you have comments on this episode, please call the Listener Comment Voicemail at +1 (206) 350-3537, e-mail sandy [at] beabondgirl[dot] com or leave a comment below.
Click the red button below to listen:
Podcast: Play in new window | Download (Duration: 36:49 — 33.8MB)