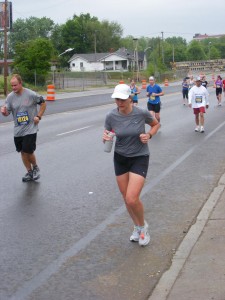 This was Missy's longer post on the Country Music Marathon that she "completed" (see the writeup for why that comes with "bunny ears") on Saturday. 22-Mile Marathon or not, she's a rock star!
++++++++++++++++++++++++++++++++++
Yes, it has taken me 48+ hours to send out any news regarding the marathon weekend.  Here it is.
First, congratulations to all who braved the weather, traffic and general mayhem that was marathon this weekend.  I've always prided myself on belonging to such a dedicated and tenacious group of runners.  We've got talent, make no mistake about it, but it's the spirit that draws me back to this event with you all each year.  This is number four and for obvious reasons, it is as remarkable as the first marathon.  Thanks to those who rode to expo, ate a pre-race dinner together and thanks to those who braved the traffic with me on race morning.  No comment from that crew about my aggressive driving!
Out of 32,000 runners I ran into my next door neighbor (from the old neighborhood) while waiting in the shuttle line.  What are the odds of that?  She's a fantastic lady who began walking as a form of exercise a few years ago.  A real treat to run into her and it would not have happened had we not faced the dreadful traffic back-up. 
I left Laurie and Becky in the potty line (sorry girls) and headed down town.  The race began early.  Who did that?!??!!?  In my haste to not be late, I just jumped into a coral.  I left about 5 corals early but the line was so loose and empty due to thousands not yet being at the start line.  I heard they left thousands stranded at LP field with no shuttle to the start.  I know there were a zillion folks there when we left, so that report seems credible.
Things were very congested for some reason.  I had not ran in a crowd that tight before and I attributed it to the fact that I had left with a faster crowd or that the coral behind us were actually faster than the majority in the coral with which I had left.  Yikes!!!!!  It was a free for all there for a while.  I personally was trying to run fast enough to make the cut off at 11.2 that they had said would be necessary in order to be allowed on the full marathon course before bad weather.  So at 11.2 after heaving, dieing a thousand deaths with the congested mob moving at a pace I did not intend for the morning, I made it to 11.2 and asked the course official if I had made the cutoff.  He informed me that I was fine "for now".  Funny how you don't process those little details at the time.  "For Now"
I allowed myself the potty break that I had staved off at the rabbit start.  I then began eating and drinking too.  That led to yet another pit stop all before the 13 mile mark.  Jeepers!  I knew I would slow down considerably once I had been allowed on the full marathon course and true to form, I did just that.  Things were going rather well.  I got some bananas and more drink.  I thought all was well.  Kudos to the large church on the route with full on choir and music singing "How Great is My God" that was remarkable and very motivating.  It made up for the absence of the nuns that I've always looked forward to seeing each year.  At about mile 16 the weather began to change.  People were beginning to slow and the folks you see each year who need to stretch on the curb or remove shoes due to blisters were mounting.  One guy was so out of it he asked me the time on three occasions, each of which were about one minute apart.  He reported that his knees were shot but I began to worry more about his mental state.  It was around this time that the first good strike of lightening shot across.  I listened for the thunder to see how close that was.  About 15 seconds.  I figured I was fine.  The profanity from "mental guy" suggested he thought otherwise.  We kept plugging along.  These were "my people".  The people I run with each marathon.  The ones who really struggle in the later miles and are not your break land speed record runners.  I always feel at home when I get in these miles with these folks.  I stopped to offer body glide to one gal who had already removed her shoes.  She thanked me and we talked about what we still had ahead of us.  We then passed a group of girls over to the side comforting their distraught team member who was crying.  She was clearly in pain and obviously upset that she wouldn't be finishing the race.  Later I saw her with the medics in their mobile unit.  There was another racer with her who looked pretty sick as well.  You start praying for those people right then and there.  The mental pain of disappointment would far exceed anything I might encounter on the route.  Shortly after this the actual rain started.  I had expected it far sooner so to have more than 17 glorious dry miles was a blessing and the rain was not the dread I had built up in my mind.  I considered it a connection with God.  He was pouring something out for me.  I took the opportunity to listen and reflect.  It was going well. 
The bullhorns blasting warnings from the police that we were "highly advised to take cover" seemed like noise but I was never concerned.  I kept looking at the faces of the volunteers and seeing what a blessing they were to stick it out with us.  We ( my people who run the slow race) were all thanking every volunteer as we passed.  It was incredible to see them with their rain gear handing out drinks and smiling at us.  I absolutely love this part of marathon.  At about mile 19-20 we begin seeing marathon #s coming back at us with no medals around their necks, still running.  I thought, "how strange".  I then asked one of them if they were allowing us to finish.  They said they were rerouting us.  I assumed that meant they were keeping us close to the finish line in case of severe weather but they were allowing us to get in our full mileage.  I was way wrong.  Once you entered the shoot, they were having us finish.  I couldn't believe it.  I was going to have a DNF due to weather.  For a millisecond I thought about doing what the other runners had done and that was turn around and go back out on the course.  I had no idea where to turn or how to get my mileage correct.  I figured I had about one more hour of running to do.  Then I realized what a bad idea that would be.  If I'm out there then volunteers are out there too.  I decided to play by the rules and go on in.  I picked up my finisher medal.  It didn't have that same satisfaction as the 3 previous medals but I'll hang it along side them anyway.  I keep this medal to remind me of those last miles with "my people" and the incredible volunteers who stayed out there until we were all across the finish line.  Like I told Laurie, we can always use a Sharpie marker to add in the "3/4" right before the word marathon on the medal and I think I'll do just that!!!
Just for laughs and giggles, the marathon site list us DNF finishers as half marathoners rather than rerouted marathoners (yes, there is a category for that) which means we get the pleasure of appearing in the local paper as half marathoners with a 4 hour finish time.  That will give my pride a little bruising but I think I'll survive.
Oh what a blessing it has been to train for another with you girls.  What a super group of friends!!!!
Enjoy your success and may we all run many more.
m.