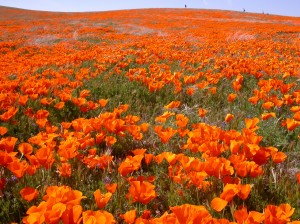 Saturday H and I got up to Yountville to ride the Tour of Napa Valley route with a good portion of the IronPeeps. I hadn't seen folks in what seemed like forever! (Pre-Half Iron/Sedona.) That day, there were a handful who went down to Monterey for a ride, another chunk were in the East Bay doing the Tierra Bella, and then about a dozen of us for the Tour of Napa route.
H rode on my old bike, Vlad, which he had "souped up" as much as one can on a 20+ year old bike! He had replaced the handlebar, stem, brakes, derailleur, chain…like I said, as much as he could. I was on my new bike, Angelina, for the first "spin" after having her fit at Aria Velo. I was a little concerned about getting "up onto" my seat, which now seemed pretty much at stratospheric levels! (Sure enough, until I got the "hang" of it, the bike shorts pad kept catching. Not so comfy.)
Here is the map of our route (pretty much). If you look at this map, we cut off the "bottom left" part (going out through Larkmead to Calistoga and back on Highway 128 to Highway 29/St Helena Highway ), just cutting down to Silverado Trail and back into Yountville, instead. It was somewhere between 50 and 60 miles.
H and I rode together most of the time, until we got to Ink Grade (between Mile 51 and 55 or so – 4.5 miles and 1110 feet of climbing). Teammate Will had told me that one of the things I would really notice with Angelina was the "power differential" of her geometry over Vlad's, but I had sucked on my first ride on her with H (pre-bike fit, mind you) and I just thought that was one of those "cycling dude myths." Well, post-bike fit…I TOTALLY got it. As we were going up Ink Grade, H (who has always been far stronger than me cycling) hit the first of the 12% portions and just said "I have to walk – keep going." I did…and slowly, inexorably, I got up Damn Ink Grade. I was shocked. Seriously. I passed Patricia and JP on the way up – just going, going, going. Every time I pedaled, it actually moved the bike forward. Now, that sounds stupid. And it's hard to explain if you don't know what I'm talking about. But with Vlad, the "power transfer" was such that even though I pushed down, it didn't push the bike "forward" as far, and I had trouble balancing, so that in the end, I would have to just walk. I was astonished. I got up to the top of that bad boy, and didn't walk AT ALL. I realized at that point that though I'm not sure I could do Pig Farm or Wilson Hill, I am pretty sure I could take McEvoy Ranch Hill (Red Hill) grade now. Who-hoo! Wow! (OK, and my heart rate maxed at 185 – where my Lactate Threshold is 161. That's Some Hill.)
I stopped at the top of Ink Grade to wait for H, and he was actually pretty close behind me. (I was a little bummed – I wanted to rest a bit!) We did stop to swap some nutrition out of our Bento Boxes, etc., and H securely stowed Liz's glove, which we had picked up right at the beginning of the climb. (I nearly killed myself turning onto Ink Grade trying to shift and turn left – I wound up on the grass verge and muscled the bike back onto the road, with Coach Mike laughing in his Mini at me. Of course I would pull a bonehead "shift the wrong way" moment with an audience!) H and I talked a lot about the difference between the bikes, as well as how much of a help the clipless pedals were and that I was beginning to like them…even though I'd nearly bitten the dirt when getting Liz's glove…I'd unclipped one foot and started to reach down on that side, and the bike is so light it pretty much twisted away from me and I had to do a little "hop" with the BIKE attached to my FOOT to stay upright – too freakin' funny.
On the other side of Ink Grade – oh my Lord – was the most glorious downhill EVER. The day was perfect and gorgeous, first of all. But there you are – at the top of Howell Mountain – with all of Napa spread out under you. And the road was perfectly paved – not a rut or pothole – and wonderful loopy curves down, down, down. Patricia, H and I sped down and I got to 38 MPH – Patricia reached 40! Woah! There were many "Look, Patricia!" moments – with the glorious California poppies, new olive shoots on the trees, stark black lines of grape trellises up steep slopes, and the like. I was sad that we had forgotten our camera. My favorite was actually a weed field next to the road, in which a full-on tennis net was strung up between two green tennis uprights, left from God knows when! I think H and I might have to drive back just to take a picture of it, it was so incongruous! As H said, "Now THAT adds new meaning to the words 'grass court'!"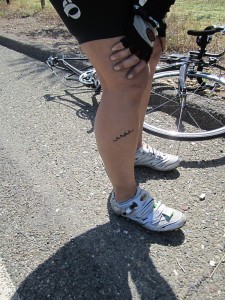 Iron Mel had come with us in the car. She'd been sick for quite some time with a bug that just wouldn't let go, and this was her first outing. The three of us got into a gigglefest on the way into Yountville – don't even ask. She blew past us on the first uphill of the day on Pope Valley Road – but ran out of gas after Ink Grade. On the way home, the 3 of us hit a deli because H was at his low-blood-sugar worst, and then had to wait about a year to receive our sandwiches (the deli staff kept taking what were obviously locals' requests first). Skip and Nancy were there too (Skip did his own ride – Nancy SAG'd for us) – at one point, Skip asked Melissa if we had put in our order the previous week too, and we said indeed that we had!
Kudos to Coach Mike and Nancy for their SAG wagons – and especially to Mary and Marina for helping me corral H back in, when he got lost and did another 8 miles down Silverado Trail at the end of the ride! (I had ridden ahead with JP and thought H would ride with Patricia – they both missed the Yountville Road turnoff back, but when Patricia showed up without H, I realized something was not right. Luckily he had his phone turned on – I called from Mary's phone and discovered he was just continuing to tool on down Silverado Trail! Marina headed off to see if she could find him, and as she left I realized I didn't have Marina's number, I wasn't really sure she knew what H looked like, etc.! So Mary loaned me her car( H had our car keys!) – and as I pulled up to H way down Silverado Trail, Marina pulled up, laughing, behind us. She had realized the same thing – once down the road on her Good Samaritan Mission!)
H and I got ba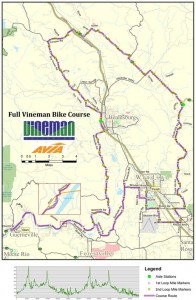 ck home after the ride and took hot showers, then bad me, I snuggled into bed (it was only like 3:00 PM!) for a little "snoozle." H woke me up with a tray of treats he had brought back from Austria – champagne, cheese, chocolate, and the like! This was particularly bad, because of course I was going to be out riding again the next day! I am not sure that's the ultimate recovery nutrition. (Added to the Pringles, Chips Ahoy, and Oreos at the end of the ride!)
Sunday, Iron Mel and I were off again – lather, rinse, repeat – this time to do the bike portion of the Vineman course. She is doing the Vineman for her Ironman, and navigated us to Windsor High. We were doing the whole course – though when she does it during the Ironman, she has to do the loop TWICE! (I hadn't realized that.) After a pitstop at McDonald's with 3 of the other girls (during which Coach Dave wound up having to wait in line longer than all 4 of us girls – the irony!), we were off.
I rode for a while with Patricia, Erin, Mary and Maria, and then for most of Westside Road and Dry Creek Road, I was by myself. It was once again a GLORIOUS day. Wow! I passed what seemed like 100s of wineries, many of them with balloons out and announcing tastings, art showings, and the like. I tried to keep my cadence up as Coach Sedonia had cautioned, to make it an "active recovery" day. I rode for a while with Melissa, Marina and Kathryn on Canyon Road, but then was on my own again for Hwy 128.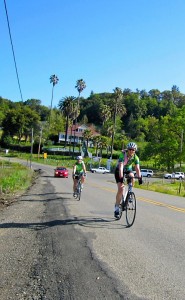 The directions we had were pretty good, but after going a number of miles on 128, I hit a stop sign (at about Mile 41 of the ride – around Jimtown). The signs to keep on 128 headed Left, but that didn't seem correct. It also said that was towards Calistoga, and I wasn't sure that was the right direction, either. I got a wave of uneasiness over me that I had somehow missed a turn – and the last turn had been MANY miles back. Just as I was getting out my phone to call Coach Mike, Teammate Sara pulled up. I was so glad to see her! She said she was sure we were in the right place, but agreed that a left turn didn't seem correct. Coach Mike didn't pick up, and I tried Mentor Margaret just as Sara connected with her boyfriend Gabe (who was in a SAG wagon). (I felt bad – once I got back, Margaret said she had been worried because she saw a missed call from me – whoops!) Gabe immediately knew where we had gotten "confused" (even before Sara asked him) and he said that yes, we had to go left at the stopsign, because the road actually turned back on itself and ultimately led to where he was in the SAG Wagon (at mile 45/beginning of Chalk Hill Road).
So Sara and I rode together, meeting up with him and Coach Mike at the stop. Now, Sara is a GREAT cyclist. The road between 40 and 45 wasn't so bad – a few small rollers, but not much. So I decided to keep up with her. We talked about her impending "plunge" into law school in Colorado, the fact she had once again had trouble with a wheel (that's why she was riding so "slowly" and had come up behind me), etc. After fueling up at the SAG Wagon, I decided that as it was "only" about 17 miles more (still sounds so funny to say that), and that I didn't have a run afterwards, I would "ride until I bonked" and endeavor to keep up with her.
Whew! Every time I would think I couldn't keep up and would gear down to an easier gear, Sara would pull away, so I would "Iron Up" and throw it back into the higher gear to keep pace. Of course, I was drafting – even though Sara is little, there is no question that this helps. We did hit a climb before the "big climb" at Chalk Hill, and I definitely fell behind as she hammered up it. She said she'd wait for me at the top – which she did.
We hit Chalk Hill at Mile 47-49. It's not really that bad of a hill – the problem is that you have already been riding for so long when you hit it. (And the Vineman crew are going to hit it not once, but twice!) Just as we started climbing, Sara lost her chain. I realized there was no way I could get back going if I stopped, so she said no worries, to wait for her at the top. As I turned around to say OK, she did a "slow-mo" fall. I shouted "You OK?" and she was laughing, so I kept going.
We had been riding with 3 other gals (not IronTeam) for part of the way, and the first of them caught up to me as I was near the top. She had heard/seen what had happened, so first joked, "Nice way to leave your buddy back there," then (laughing) she said, "You have to tell her that's the most graceful fall I have EVER seen." When Sara caught up, turns out she had just had one of those standard "not quite unclipping fast enough" situations. I told her I was so surprised to see her on the ground when I turned around, it looked almost as if she just decided to take a little nap there on the road!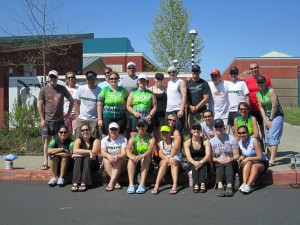 I kept up with her all the way in to Windsor High, and was SUPER proud of myself. There is no way in the world that I thought that I could actually do that. I thought I would get maybe 5 miles in, and then just bonk. Her cadence is so high and strong. I felt ELATED as I saw the High School pull into sight – and I know that the "good bikers" who were already in (Coach Dave, Mentor Margaret, Will, Rocky, and the rest) were probably as surprised as I was to see me coming in with her!
As we waited for the rest of the pack to come in, Will had brought his tools/oil/etc. and worked on Angelina. He commented about how great she looked & what a good bike she was (which made me feel good). Ultimately everyone rolled on in – Melissa, Marina and Kathryn as a pack, Sedonia, Patricia, Maria, and Mary, and then Liz (who had actually had some sort of really weird wheel issue that Phil was helping her with, when I saw her on the road). I was all in exhausted (but happy and proud!), and just lay down on the sidewalk while we were waiting for our peeps to get in! It actually felt nice and warm on my back.
Iron Mel and I got ourselves on back to Marin, spending the drive planning our "first dinners" (of at LEAST two) when we got home! I opted for a miso soup and yogurt/fruit smoothie, in my ice bath! My inner thigh muscles all the way from groin to knee (adductor) muscles cramped up a bit on the drive home (and are actually still sore today). That has to be from the new bike fit. Otherwise, I was pleased that on the 2nd day, by and large, I didn't have all that bad of a time – a little "chacha" discomfort, but not as much as I had imagined. (I was Butt'r'in' up like a crazy person though, which I think was part of the serious problems I had in the 70.3.) The nutrition plan seemed to work – "GU Brew" with CarboPro, GU, Thermalytes, and Clif Shot Blocks. No fiber, no protein. I still have to see if that's going to work with a bike and run combo, but I felt OK and didn't seem to have that much G.I. distress. Once I got out of the ice bath, I started eating everything in sight…! Oh Lord, it was really bad. This morning in fact I was 2 lbs heavier – and I know it was all the crap I ate as if I was a starving person (leftover Oreos and chocolate, etc.) Yowzah!
I'm sure there is more to write, and I will annotate this later – just wanted to get the "broad strokes" down. Today is the Blessed Monday Day Off – whohoo! And it's a recovery week – even better!
You Know You're Iron When…
…You breathe a sigh of relief that your FIRST of two long rides back to back is "only" a metric century, not a full century!
…Salt & Vinegar Pringles, Chips Ahoy, and Oreos become "must have" Recovery Items.
…Your feet and upper thighs are the same shade of WHITE (courtesy of Maria M-Dot)
…Your bike mantra (JUST…KEEP…PEDALLING!) wakes you up out of a sound sleep at 2 a.m. Monday morning, and you sneak a peek at your husband to be sure you didn't shout it out loud…(true, so true…)