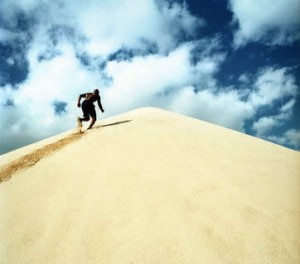 I definitely feel like I'm doing better with the Dreaded Running, and I also definitely think that it has to do with the fact that we have added hill repeats.
Although our weekly charts say to do 6 x 400 hill repeats at no more than 4% grade – running up, then walking back down – that worked for me like once. I hated it. I decided instead to do hill repeats by my house, where it's hilly for sure. I do a course that's "rolling" where I can jog down the downs, and run up the ups. OK, "run" is always relative for me, but let's just say "go faster." Every time I am going up, I hear some random Marine Corps gunny from boot camp shouting "CHARGE THE HILL, LADIES!" – makes me laugh, since I move at such great blistering speeds (just call me Achatinacea . . .)
Click here for the map of my hill repeat area. If you click on "Terrain Map" (middle of the page) and then "Show Elevation" (over on the right side of the page), you can get a better idea.
I start off by walking quickly from my house (which is the "Start" on the map, if you click through) to California Street. I turn up California Street, and once I reach Humbolt, I start running. I run from Humbolt to Elizabeth (where the "End" is on the map) – which is 1/2 mile – and then turn back around and do Elizabeth to Humbolt, then back again, 6 times (or 3 times round trip). If I'm feeling strong, I "run" the whole thing, going faster on the ups than the downs. These days, I pretty much do the whole thing. When I started, I would walk the downs and run the ups. That's how I know I'm getting stronger, because now I can "run" (I think it's probably "jog" to you) all of it. But I do "CHARGE" the hills, Sarge (smile).
Once I finish the last repeat, I actually run all the way back to River Oaks on 5th Avenue, and then walk from 5th/River Oaks back up to Moody (home) to cool down.
I hated doing this at first – but not as badly as the brain-numbing "run up 400/walk down 400" routine. I particularly hate the turn where California turns up into Windsor Avenue – it is a true killer. I was discussing this road with H last night, and he said that a CAR has to be gunned extra to make it around that hairpin. I can't imagine, for example, doing that (or the turn from 5th onto River Oaks or River Oaks onto Moody for that matter) on a bicycle without being able to really stand up and push HARD. If you look on the Elevation part of the map, the "California to Windsor hairpin" seems to be the "pink" or 8% portion – but it looks like we live in a 8-9% range on Moody. Note that I WALK that part! Mama didn't raise no fool…
Today is a Spin day – Saturday will be Swim and Run Markers with the team (in NOVATO – Hallelujah! No 2 hour drive each way!) and then Sunday the Bike Marker out on the road. It's supposed to rain on Sunday – I hope not! I wasn't able to make the last Bike Marker because of having theatre with Mom, Dad and H – so I really want to get this one in.