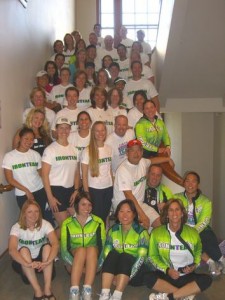 IronMel's blog about the Brick starts with the old Commodores song, 'She's a BRICK….HOUSE…She's Mighty Mighty….Jus' Lettin' It ALL Hang Out…' – I can't get that out of my mind now, so I have just downloaded it from iTunes and added it to my "Soundtrack" tape for the Ironman.
A "brick" is a combination of two sports right in a row (usually, Bike and Run, hence the joke that B-R-Ick = B(ike) R(un) Ick!) Today it was a double brick for us IMC and IML'ers (so bike/run/bike run) – for Vineman, which is a month sooner, it was a Triple.
But back to songs. Iron Maria found the greatest blog. She shared it with me – it's a gal who did IM Brazil. One of the things this gal mentioned was having 5 "go to" songs for when things got tough during the race. Maria and I have been bandying about what songs we are going to include – we both have Journey's "Any Way You Like It" and ZZ Top's "La Grange" – I have a very quirky list in fact which I will winnow down as the event approaches – but this Commodores song is on it as of now. I also ordered the Eagles Greatest Hits Vol. 1 from half.com for 50 cents which just arrived today – nothing like songs from high school (Take It To The Limit; Desperado) to get me howling away tunelessly as I bike along…
I picked up Mel at her house at 6:30 a.m. and off we went to Yountville – though I had had to return home not once but TWICE for things I had forgotten for the workout. The next day I received my checklist from my trusty elance.com Virtual Assistant Fiona from Connemara, Ireland – so I will not be stuck again! I sent Fiona all the checklists I had found, had, been given, etc. with respect to equipment/strategies/etc. for doing an Ironman, and she prioritized everything and put it into one "uberlist" for a shockingly low cost. Fiona Is A Goddess. It's fantastic. If you want it, email me – I'm not putting this out for every Tom, Dick and Harriet. Besides, then I know that you're reading my blog…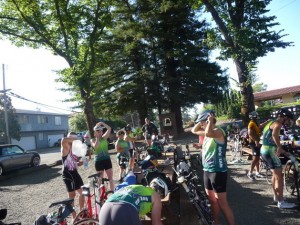 Mel had been sick, which sucked. I had the unenviable task of telling her that it was going to be in the 90s to possibly 100 degrees in Yountville – she hadn't watched the news all week, and so that was a shockeroo. I was trying out my new Personal Iron Mix from Infinit Nutrition. (DO NOT ORDER YET if you are  thinking about it – I'm trying to get an Affiliate deal so that I can get anyone who orders it a discount.) There are "sliders" on the Infinit Nutrition website where you can customize your own energy "brew" – and a "real person" will go over it with you as well. Since it's supposed to replace ALL your needs (salt tabs, carbs, etc.), it is WAY cheaper than the alternatives. Also, if the mix is "wrong" they will re-make it for you after you report what didn't work for you. I have tried the new Ironman drink that they are now using on Ironman-sanctioned courses – it's from PowerBar – and it DOES NOT work for me. Probably because of the Fructose. I was super bummed they moved from the new Gatorade formulation, which has neither fructose nor HFCS. Ah well.
We got to Yountville, set up our transition areas, and with a "GO" from Coach Dave (who was on crutches and Vicodin from knee surgery that week – big smile on his face…good drugs!) we were off. We went through the Town of Yountville, and I started feeling very "wary" – these are fairly narrow streets and I KNEW that the cars were probably 90% tourists…who would "door" you without even thinking about it. I wound up riding just about in the middle of the road, as did many of my Teammates.
We went under the Highway and then down a few streets, ultimately winding up on Dry Creek Road. Just past the highway underpass, I realized I had "mis-dressed" myself – something was whacky between Camelbak/jersey/sports bra. I pulled over (I was midpack), and the thing I SO LOVE about IronTeam is that I spent the next few minutes just saying "I'm Good! I'm Good! I'm Good!" because everyone slowed down and wanted to be sure I was OK. LOVE my teammates!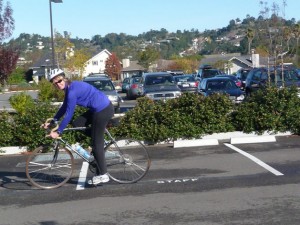 Once I had gotten myself "sorted" I was way-hay-hay at the back of the pack. I started out in this position at the beginning of our Adventure in Iron, back in November. As Marvelous Mentor Margaret always reminds me with a smile, I was the gal with a 25 year old steel frame bike with downtube shifters and pedal baskets, plastic Bell helmet of the same vintage, and my cotton sweats tucked into my white tube socks (and sneakers, not bike shoes) when we started. I've come a long way, bay-bee… 
I slowly caught up to the pack, then just kept my speed and picked off folks. My goal was really just to keep to an 80-90 cadence and keep my heart rate in the middle of my Zone (155). I was sipping the Infinit, and a little scared as to "when" I would bonk just using it and no Thermalytes, GU, what-have-you. The day definitely started heating up as we headed out hilly Dry Creek Road.
I wound up riding with Marina a good part of this time. We made a pretty good cadence team. I did my "Look Patricia"s on her – including a wonderful patch of pink flowers in the sunbeams between some oak trees, and two huge metal dinosaur sculptures that were up a driveway on the route! We made it to 13 miles in an hour, and turned around. (The deal was 15 miles, or 2 hours, whichever came first.) We headed back, and caught up to Coach Les and tailed him on the way home. He turned left MILES before we thought we were to turn off Dry Creek – good thing we found him, Marina and I might have blithely ridden back to Marin!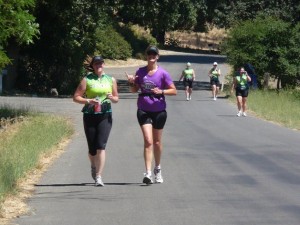 We changed from our jerseys, bike shoes, etc., loaded up with energy drink for the run, and headed out together. Coach Sedonia pointed out that I had my shirt on backwards – as I wear a fuel belt, that meant taking everything off and re-dressing myself. What WAS it with me and clothing…? This bit was to run for an hour or 5 miles, whichever came first.
Man, the day was really heating up by this point. Marina ran at my "slow run/trot" pace (I think it's about 12 minutes/mile), and I kept saying "don't forget I am only doing TWO of these, you have to do THREE." I really liked having the company, but I didn't want her to exhaust herself when I was running and biking with the knowledge that I only had to do TWO sets (Vineman folks had to do a Triple, Louisville a Double, because their race is a month before ours).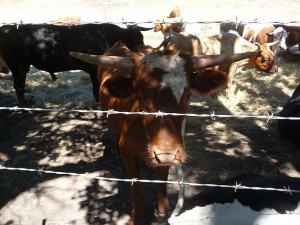 We ran out for 1/2 hour – after commenting on the lovely herd of cows with One Big Bull on the side of the road (with crazy horns) – and met up with Maria, then turned around. We were shy of the 2.5 mile mark; Rocky pointed it out to us, but it was way farther along, so we turned. We also realized that we were both a little spastic in the "run and drink" department, so started to walk when we would reach bits of shade, to be sure that we drank our whole bottles down. I had mixed up an hour bottle for the run, and when we got back, remixed another Camelbak full for the 2nd bike. Mrs. Yoshida was honestly an Angel, fluttering around with ice cold washcloths, filling up our bottles with ice water, and the like. We are all so in love with the Yoshs!
Marina and I headed back out through Yountville, both of us being even more careful this time around, as there were lots and LOTS of tourists out and about. We did have one odd "you first, no YOU first" with a truck – but that was it. No dooring, no cars pulling out without looking, etc.
We got through the streets that ultimately got us to Dry Creek Road,and caught up with Kathryn, Maria and a few others. Marina said that Kathryn was one of her biking buddies, and so she hung back to chat. I knew this was my last round, so I wanted to see how well I could do. The Infinit was working like a charm – I had had a "potty break" when coming in from the run, but nothing bad, and I felt very hydrated and happy. I caught up to Les and Jen then, and wound up going past them as well. I had a good cadence going, and I had one of my "Soundtrack Songs" going in my head (I Can Transform Ya). I felt great.
OK, I felt great until I hit the Pothole From Hell, which was right in the middle of some dappled shade. If you're a cyclist, you know that dappled shade is NOT your friend. The road was either very well paved or it was awful (as in, the sort of awful just before they grade a road), so this pothole came as a complete surprise. Angeline hit it so hard that it knocked my teeth together (I bit my tongue so hard it bled), and my shoulders were rocked back into their sockets. I honestly thought I had just thrashed my bike (and shoulders) and that there was NO WAY she was going to come out of it fine. That bike takes GOOD care of me – because when I pulled over and stretched my shoulders, looked over the wheels, etc. – everything was fine. OK except my tongue. Yowch.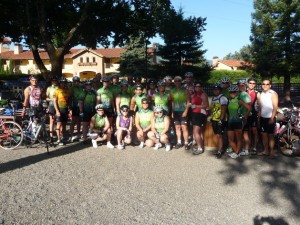 This time, I made it to mile 14 just a bit before the hour turn-around time. There was a downhill that came next going towards mile 15, so I decided to turn a bit before the hour mark because otherwise I would be turning around in the middle of that hill. I had passed Rocky with a flat (being helped by Sedonia and Mary), and he wound up passing me right at the point I was stopping. With the usual wonderful IronTeam way, he slowed down (he was booking, obviously trying to reach 15 and make up for lost time) and I just shouted "I'm Good!" and he laughed and sped on by.
Marina caught up with me somewhere along Dry Creek (I think she said she turned around at mile 13), and so we rode together again for a while. Coach Sedonia rode with us as well, and that was a lot of fun. She had a great cadence and I was kind of laughing to myself, as we were keeping the same cadence, but the bar of her bike was like a foot closer to the ground than me! (Well, that's an exaggeration, but suffice it to say that I am about a foot taller than Coach Yosh.) Last time we were together we were singing "The Lion Sleeps Tonight" (Weem-O-Way) at the top of our lungs at Clear Lake while I was getting loopy at the end of the 16 mile run.
Marina and I changed again into run clothes, and I made the mistake of picking up my recovery drink bottle instead of my Infinit bottle. And it was warm. UGH!!!! We headed out, and it was really scorching on the pavement by this time. We ran from tree to tree, shade to shade – and Marina put up with me gagging down the not-energy drink and complaining with every swallow. She looked tired and I kept saying she should slow down because I knew she had the triple (though I really didn't want her to leave me!) We got to 15 minutes out and I thought we should be more systematic with our walk breaks, so we started doing a 4:1 (4 minute "trot" then 1 minute walk). We did that for the rest of the first 30 minutes, and made it farther along the road that we had gotten before. Then we turned around, and came on back.
After getting more water (and Red Vines!) at Coach Simon's SAG table, we caught up to Maria. We all ran together for a while, though she was running on a timer on her Garmin and her pace was faster than ours. Then Coach Sedonia came out – first running with Maria and picking up her pace, then running with me for a bit, then running with Marina. When she left me, I kept to the 4:1 until we were close to the turn to head back to the Park. I saw that Maria was on the walk break of her 4:1, and so I summoned up the energy to get up to her, which rallied her. :-) It was actually fun, because she had said she was having some issues (can't remember what – nausea? headache?) and she didn't look so great when she stopped for that walk break (hands on hips, head down). I wanted to be sure we both came in strong, since we are both doing Louisville so we were both coming in on our final "bit" for the day ("only" 2x brick not 3x like the Vineman folks). She rocked that run in!
Marina was a ways behind and she looked beat. She ultimately did get out and do the final bike – not sure how far she went – but she Ironed up and gutted it out. Mel had been having troubles as well, and Mentor Margaret rode out with her on her final bike ride. She was having the issues I have been having – super HOT feet on the bike. Margaret mentioned I should try wearing H's shoes (which are a size larger) – so I am going to see if I can remember to try that on the next bike ride. IronPhil, Rocky, BK, some others had issues – it was a "humbling" experience, if that's the right word – all these super duper athletes puking and the like. It was a hard and HOT workout, that's for sure. I mentioned Infinit to BK who was having serious cramping issues. I am not saying it's for everyone, but it sure worked for ME.
Unfortunately I had to cut out because we were having our Neighborhood Picnic that night – and where they set up the tables is right in the court under our driveway! So I was sad that we weren't able to stay for the Spirit Cape presentation. As usual, something happened in the car that made me start laughing so hard I nearly had a wreck – Mel calls it our "Homeward Bound Ab Workout" – it made me laugh and laugh and laugh the rest of the day and into the next. I remember what it was about, but I will just keep that a secret.
Today is Tuesday – Monday was a rest day, and today was a 3500-ish swim and then a 90 minute Spin. I did them back to back at the JCC after subbing at the McInnes Park BNI at 7:00 a.m. I got home at like ONE! I have to admit, it will be NICE to have my life back after the race…at least until I decide to do some other darn' fool thing. :-)
Songs on my current Soundtrack (not in order, and  subject to revision and addition):
Any Way You Want It
I Can Transform Ya
Summer Nights
We Belong to the Music
Mercury Blues (David Lindley)
Pour Some Sugar On Me
Don't You Worry 'Bout a Thing
Express Yourself (Glee cast)
Ice Ice Baby (Glee cast)
Relax
The Lion Sleeps Tonight/Wimoweh
Solsbury Hill (live)
I Gotta Feeling
Beautiful Day
Down
It's Raining Men (live)
Love The Ride
The Stroke
Lady Marmalade (Moulin Rouge version)
Spirit In The Sky
Every Little Thing She Does Is Magic
Little Willy
The Yeah Yeah Yeah Song
Baby I'm A Star
Bad Romance (Glee cast)
Just Dance
Hollywood Nights
Fever (L.E.X. Bette Midler's On Fire Radio Mix)
Heads Carolina, Tails California
Brick House!