Team,
This week we say goodbye to the June calendar page and move onto the July page. That's right folks, some of you are ON YOUR LAST PAGE.  And we have finally added our Canada and Louisville athletes to the "single digit weeks to race day" club. To quote the Grateful Dead, What a long strange trip it's been!
This weekend was another one for the record books. And we are not just talking about the weather almanac here folks! We completed our first ever double/triple brick from the Yountville City Park and by all accounts it was a very successful day. Thanks to captain Les for coordinating the training day and working behind the scenes to ensure we had all the support we needed out there during the long and very hot experience. Huge props to Coach Sedonia for coordinating the delivery and execution of the Sandwiches. We heard more than a few "this is the best sandwich ever" comments. Also thanks to Mom & Pop "Yosh" for being the best darn transition area helpers EVER and Meenu, Mike, Simon, Laura, Jen Jay, Merla and Mike K. for the added support and smiles all day long, it was sometimes just what the doctor ordered.
On a special note, a few of you got a firsthand opportunity to meet our newest "Honoree", a passerby who stopped to thank you for what you are doing since he was diagnosed with blood cancer only a week ago. In that moment when you guys were contemplating turning back a little early, he arrived to remind you that the journey is far from over and that you needed to keep pushing for a cure to the disease that until only a week ago was "someone else's burden". It's moments like that which truly ring home our task at hand and how incredible you all are doing at fighting the good fight.
The 2X/3X brick workouts are not without their challenges. Many of you had "ah-ha" moments of self discovery about your nutrition/hydration plan and generally how your body responds in adverse conditions this weekend. A couple of you worked out the kinks in your bike set-up, had a crash course in blister management or learned a thing or two about the impact that heat has on your ability to absorb nutrients. All of these lessons will add to your ever deepening understanding of yourself and your abilities come race day. Make no mistake, we have said it over and over again. If this were easy, it would be called Plasticman, not Ironman.  This is Ironman and it is hard, perhaps harder than you ever imagined. Some of you have overcome some pretty incredible physical and mental roadblocks to get where you are today and you should be very proud of yourselves. Nobody will think less of you because you didn't complete every inch of this weekend's brick workout due to injury or special circumstances. Nobody will think less of your if you do not make a cut-off or reach a particular time goal at your chosen event. Your success in reshaping your life, reaching for new milestones and becoming a more focused and centered human being is reward enough. We are Ironteam and there's nothing and nobody that is going to take that from us. Only you can decide how you manage your circumstances on race day, but we know what kind of people you are, and that regardless of the outcome on race day, we know you will always be a member of an elite group of dedicated and truly exceptional people called Ironteam.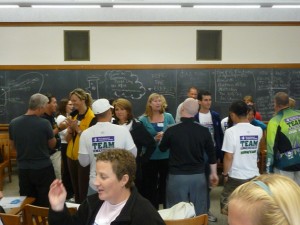 Let us step back from this moment in our time together and reflect a little bit about how far we have come. While we are not yet awaiting the starting gun for our event, we are very close. Everyone is now into single digits when counting the weeks until event day. Think back 34 weeks ago to that classroom in Berkeley when Simon had run-lovers and run-haters huddled in opposite corners of the room or when you were telling a complete stranger about the virtues of your favorite food or childhood memory during the modified speed dating session. There is not a single person among you that is even a shadow of your former self from that room at kick-off. The coaches looked over the room that day and saw a lot of scared faces, peppered with self doubt, fear and a whole lot of "what the Hell have I done". Sure, there are lingering thoughts of doubt that creep in from time to time, but a vast majority of the time the thing you are doubting today is your limits. Some of you were a bit freaked out when we started mentioning the number of weeks until race day. Now we are hearing you plotting your course for that day, not how to make it go away. It just doesn't get any more Iron than that.
The week ahead:
Monday:              OFF
Tuesday:              Swim (See calendar)
Bike – 90′ (TR-7 Pyramid) or hill repeats. Keeping with the hill climbing theme from June, we will continue the training opportunities in the far East Bay with a little twist this week. Endurance athlete and sports nutritionist, Matt Fitzgerald, will be speaking at Sports Basement in Walnut Creek starting at 7:00PM on Tuesday. If you would like to see Matt speak, there will be a group meeting at 5:15 to ride hill repeats together and be back in time for the start of Matt's talk. If you would rather not attend Matt's discussion, the regular meeting time of 6:30 is also good, consider it an athlete's choice workout. Captain Tony will let you guys know his plans to a near east bay ride as well.
Wednesday:      Brick (50'bike + 30'run @ IM Marathon pace) – If doing an outdoor bike ride, choose a mildly hilly course without a lot of climbing. Short, repeatable loops will work well too.
                                Stretch afterwards for 20′
Thursday:            Run & Stretch (See calendar for workouts and past coaches emails for prior guidelines for stretching)
                                FINAL RECOMMITMENT
Friday:                  Swim (See Calendar for workout)
                                Strength workout: Core Routine with flexibility
Saturday:             MENTOR GROUP RUN
                                VM – 18mi. ~ LOU/CAN – 16Mi (See calendar for specific instructions) Mentors will send out meeting time and place information by Thursday PM.
Sunday:                OW Swim (OYO) – Get together with your teammates for some open water fun on independence day.
                                Bike (VM-45mi ~ CAN/LOU-75mi)
                                Fireworks !! (Happy Fourth of July)
You guys continue to amaze us!
Have a great week,
Sedonia, Simon, Mike & Dave