First of all, check this out
Pretty exciting, eh? Many folks who are considering sponsoring me through a tax-deductible donation on my fundraising website are curious what each of the miles "mean" for Ironman Louisville. This is the best I can find out (especially with respect to the times that you need to meet to not be "chipped" – have your ankle chip taken away and thereby be out of the race):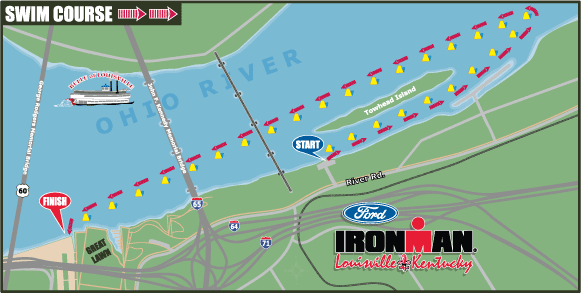 SWIM COURSE: "The Swim Course is a point to point swim; set in a time trial fashion (athlete position is first come first serve, one at a time).  Athletes will jump off the dock at Tumbleweed Southwest Grill to start the event, finishing at the Great Lawn. The swim course will close 2 hours, 20 minutes after the final athlete enters the water. Utilizing a unique time-trial start, the final athlete is projected to enter the water by 7:45 a.m." So what this seems to mean is GET IN THE WATER EARLY! I can't figure out if they will "personally" chip you if you don't finish the swim in a certain amount of time – seems that's not the case. But they WILL chip you if you are the last swimmer, and don't do it in 2 hours, 20 minutes. Checkin is at 5:00 – Pros start getting in the water at 6:50, Age Groupers at 7:00. So basically they get all the Age Groupers in the water in 45 minutes. It says ARRIVE EARLY – yeah, no doubt.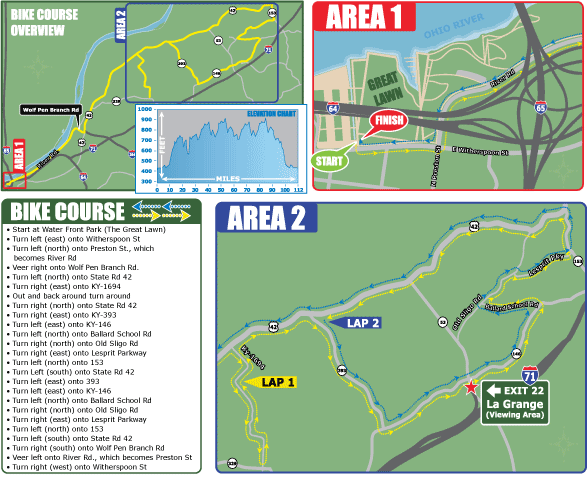 BIKE: "Athletes will be required to reach the 61-mile mark on the bike course (located at the intersection of State Road 42 and KY-393) and start the second loop by 2:15 p.m. Athletes have until 6 p.m. to reach the transition area at the completion of the 112-mile course." So again, getting in early in the swim is KEY! Obviously "Mile 61" would be a good mile to sponsor on the fundraising – as that's one of the "if you are not here by this time, you are out" miles. OK and what the HELL is an elevation chart doing in the middle of the Bike Course Picture? I thought this was a FLAT RACE? I've been duped! :-)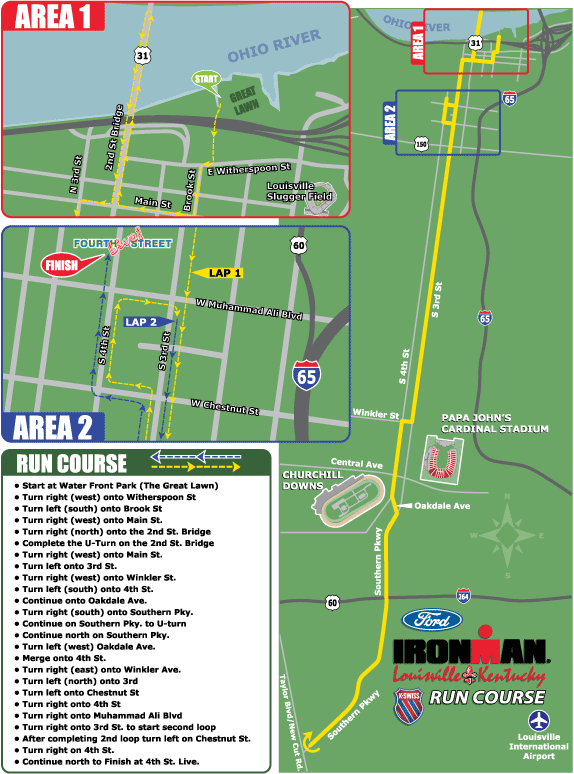 RUN: "Athletes will be required to reach mile 14 on the run course (located on Muhammad Ali Drive just prior to the second loop) by 9:15 p.m. and complete the marathon course by midnight." So there you go – once again, that would mean "Mile 14" would be a good mile to sponsor on fundraising as it's a "get chipped" mile.
I know that you can't actually read the "turn here, turn here" directions on either the Run or the Bike maps that I'm inserting – but it's more by way of just seeing the course. This will also give you an idea of where you might want to sponsor a Mile! If you'd like more information and specifics about what is at each mile (heck, I'm a Virgo, as a Sponsor I would probably be gettin' it down to "Yeah, the mile with the Exxon station on the corner, SHE will remember THAT"), then click here – it has all the turn-by-turn specifics.
Thanks again, Sponsors! I'm going to make up a list so that I remember each and every one of you, at your specific mile. I'm very excited about that. When I ran the Big Sur Marathon (in 2002 – my last race!), I had folks in my office make me up little "envelopes" of Accelerade/Endurox powder, and decorate the envelopes. That way when I pulled one out of my pack to pour into the water, it had decorations all over it for me to smile at. (I tore the corner off the bottom and that made a little "funnel" to get the powder into the water.) I also had folks send me little "tokens" to keep me going, also in small envelopes (different color). I asked folks to send them to me, so that I could open them along the run. I had a Canadian coin and story from a fellow marathoner in Canada that I met online; a small feather blessed by a shaman; a tiny portrait from a friend/photographer of an orchid, to bring me "Peace," etc. It was such a wonderful experience. I just remembered it – I might just do that again!