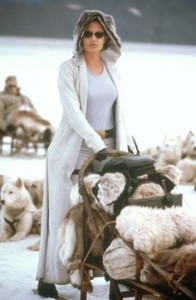 Yesterday we took my Mom and Dad out for their 55th wedding anniversary (I think Mom said she calculated and when I've been married 55 years I'll be 99 – !!!), and when we got home at 7:45 I was so wasted I just went to sleep!
The Friday workout at Crossfit didn't really do H in, but it whacked me but good. It's interesting what whacks him, what whacks me. This one, because it was mostly upper body strength (remember, it was burpees and pull-ups, plus the sprints) not only made me sore the next day, but just "exhausted." I think that's gotta be from my muscles ferociously tearing themselves down and building themselves up for the next onslaught ;-)
Today we're going to (I think) go and test-drive cars again again again (some day we really will get one), and go to my friend Dot's 60th birthday. No gifts, please, but bring something "gluten-free, dairy-free, and soy-free" to share ;-) I got some hummus dips, plus some sweet-potato chips and some blue corn tortilla chips. I know corn isn't "Paleo" but it IS gluten/soy/dairy free. At least, I think it is – ?!? (Corn is a grass…hm. I think gluten is only in wheat, etc. but – yeah, lettin' my ignorance hang right on out here…) We're also supposed to bring our "favorite green smoothie recipe" so I got her a big bunch of purslane and will wrap it up with a bow and give it to her. (They sell it at the Thursday Farmer's Market – and it's a miracle food.)
So I said I'd go and get the questions that are posted on The Amazing Race/Cast list. All the "Cast" answered them. I figured I would answer them here. Then R can do it too. ;-) Right R?
Name: Sandra "Sandy" Shepard
Age: 51
Hometown: San Rafael, CA
Connection to your teammate: We met over 20 years ago when we were interns at LucasFilm. We have kept in touch since, but have only really "seen each other in person" about 6 times. So I think that we'd style ourselves "cyber-BFFs."
Current occupation:  Wife, lawyer, entrepreneur
Describe what you do: I support my husband in as many ways as I can think of (including coffee & breakfast in bed every morning – though he brings me "tea and truffles" (our name for my evening vitamins!) in the evening!); I am a lawyer for software/internet companies; I have a few other businesses that throw off passive income.
3 words to describe you: (1) What's a word for the fact I can see the "funny side" of bad things and laugh at it and make others laugh? There's gotta be a word for that. So that's 1 word. (2) The next word would be a word for having "shiny penny" syndrome – meaning, I'm totally interested in things and dive for them, but I might get sidetracked by something else. I talk this way too. So you gotta keep up. Talking to me is sometimes like looking at a flow chart. I get tracked off in one direction but I can always leap back to the "Y" and go the other way. It's probably exhausting to follow if, oh, you're my husband ;-). (3) Um, the next word would be . . . I have a good attitude – I generally don't let things get me down. But if they do – oh dear. I can get overwhelmed BIG TIME, so whoever I'm with has to know to basically tell me "it will be okay" and throw themselves into saving the situation. It happens so seldom that people don't know that about me…though my husband does because we're together so much, he knows that this can happen. How's about them apples? About 900 words for the 3 words that describe me. Gotta hone that down LOL
Favorite hobbies: Being with my husband; cooking while watching old 80s shows (Magnum PI, Murder She Wrote); laughing (Pinterest; Wait Wait Don't Tell Me; my husband's jokes)
What is the accomplishment you are most proud of? Probably my going from couch potato to Ironman in a year. I have a lot of things in my life that I should be super proud of, but that one is really one of the most amazing, still, to me.
What famous person reminds you of yourself? Lisa Kudrow. A LOT of people have told me I look like her – and her character "Phoebe" on Friends reminds me of me (I promise not to break out into a rendition of "Smelly Cat"). You'd never guess that "Phoebe" has a degree in Biology from Vassar, is Jewish, speaks French fluently, is an amazing director…."Smelly Cat….Smelly Cat….What are they feeding you?….Smelly Cat…Smelly Cat…It's not your fault…" (Whoops, it just slipped out…)
What famous person reminds you of your teammate? Wow that's a very good question. Right now – maybe because of the Star Wars connection – it would be C-3P0. He'd get others into a situation and then worry or "Eeyore." Not meant in a bad way – just what comes to mind right now. He was smart, capable, but often would have things "happen to" him and then let them overwhelm him. Whereas R2D2 was sort of the "mighty might."
What scares you most about traveling? Getting sick. R finding out I snore like a tractor-trailer ;-)
What excites you most about traveling? I love seeing new things – whether man-made or nature-made. I also look forward to finding out what makes people in other cultures laugh (and know that a lot of it will be something that ~I~ do that they find hilarious because I don't know how to do something "so simple" to them)
Biggest challenge you and your teammate will face on The Race together: We have NO idea how we will work together. We have never done that. I think that's why we will be an intriguing choice – because our friendship is basically based on liking one another "from afar." Even when we were at Lucasfilm, R worked down at Kerner and I worked at The Ranch. I think we "bonded" because we were at least 10 years older than any of the other interns – then we just kept up the friendship.
Pet peeve about your teammate: Right this second, just that she got me excited about doing this about 5 years ago or so (I'd never seen TAR before she emailed me and said "We should TOTALLY do this!") – and I am really really hoping that this 365-day thing will get her on the track of us really being able to feel confident enough to put in a video/application if not for the next season, then for the one after. (I think they do 2 a year, so the next one is going to be fairly soon – probably TOO soon – but the next after that should work.) We REALLY aren't getting any younger – we're already far and away older than the "average" racers. So NOW IS THE TIME – I feel that very, very strongly. And I don't want to do this with another teammate, because we have a compelling "relationship story" that I really think could get us picked.
What country and place would you most like to visit and why? Country? Hm. I'd like to visit Egypt because H has been there already and doesn't really want to go back. Or Tibet because we both got SO altitude sick up in Colca Canyon in Peru that H won't do anything "high" again. But I would also like to visit Sumatra – because it sounds exotic and that's where my coffee comes from ;-) The one thing I would REALLY REALLY REALLY like to do REALLY (that TAR hasn't done yet) is to dogsled to the Ice Hotel in Sweden and stay there overnight. I'm not sure WHY they haven't done that, but I REALLY want to do that. HERE is a link to a trip doing this, sponsored by National Geographic. It has The Amazing Race written ALL OVER it…HERE is a link about "how to sleep in the Ice Hotel in minus 5 degrees [Celsius]" – my favorite part? "…Be sure to store your luggage in the locker when you go to bed. It and everythinng in it will freeze solid overnight." LOL! This has TAR written ALL OVER it! (Some team doesn't follow directions…goes to get up and…SURPRISE!)
What do you hope to accomplish by running The Race (other than winning one million bucks)? To have some ridiculous stories we can laugh about for years. To embody the motto "We don't want to be first to the mat, we just don't ever want to be last. 2nd-to-last is fine." (That can get us all the way to the finish, of course…) And if, in reality, I suddenly had $ 1/2 million after taxes (so what would that be, about $250,000?), I'd go right back out and take my husband on some super-duper awesome trip to Greece/Turkey/Italy. We've always wanted to do that.
So having done that exercise, I know:
1.  I have to figure out what those three words are.
2.  I have to hear who R thinks she is like. And hope she doesn't kill me at the reference that came to me – I'm perfectly willing to revise. ;-)