"I am intimately familiar with the extreme value and power of Sandy's fEmpowerment Lifestyle Training curricula — I couldn't recommend her programs more highly. If this is the year for you to reach your highest potential, then you owe it to yourself to register for a spot in one of Sandy's programs. And besides, who couldn't want to join the only coach in the business who promises to help her members unleash their inner Bond Girls?!"                     (read full quote here…)
Tim Paulson, internationally-acclaimed coach and author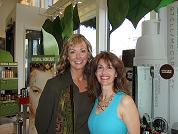 fEmpowerment Lifestyle Training offers 'Bond-ing' experiences, where you can explore new concepts and ideas in a safe environment, supported by like-minded women from around the globe.
In each bi-monthly Life Mastery and Mastermind teleconference, you will be presented with a world-class, proprietary Curriculum that successful women have used to reach the next level – women who are looking to embody their optimal Lifestyle in a fast, fun, and effective way.
Applicants are hand-chosen for each group; new groups begin as soon as like-minded applicants have been selected. If this sounds interesting, please email registration[at]beabondgirl[dot]com to be part of the next free telesession.
To understand the value of Lifestyle Training immediately, click here to experience Lifestyle Training first-hand, or subscribe to our V.I.P. Podcasts.  To listen to an interview of Sandy Shepard by Cindi Dawson, who is currently on the Curriculum, click on the red button directly below.