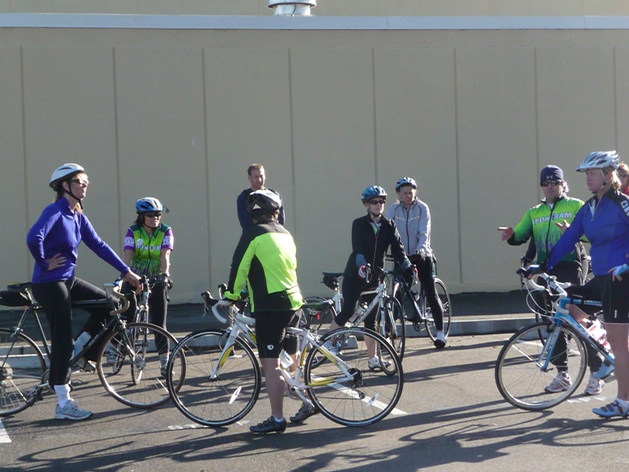 Today was another coached workout – we did bike drills, a LOT of swimming, and then learned more about the bike. It was at Redwood High, where I went to high school. W-O-W, the school is beyond gorgeous now. Landscaping, HUGE pool, the works. W-O-W.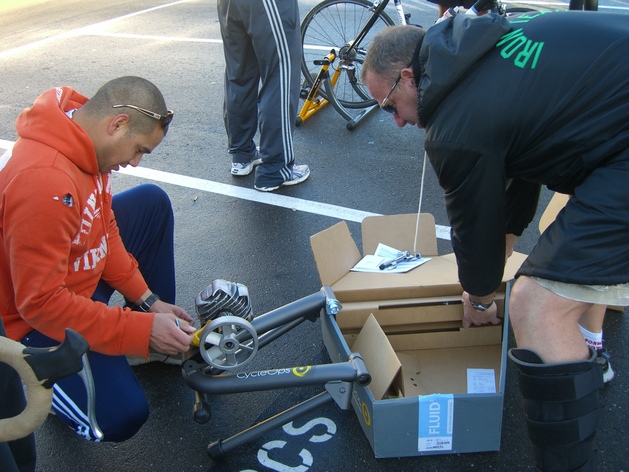 First we did drills on a "trainer." The last time I had a "bike trainer" was 20 years ago – and it was basically a flywheel on a stand. The funniest part is that I only gave that thing to charity about a year ago. I dragged it around all this time – now here I am needing a trainer again! Coach Mike is going to loan me one of the fancy-schmancy ones – the photo on the right is Coach Mike and Coach Tony from LLS putting the trainer together.
In our bike training (that's me, far left in the photo above), we did things like how to pick a dropped chain up while still riding, cornering drills, stopping on a dime, and the like. I did OK with this. I do still have good bike handling drills from the years doing traithlons in the past. OK, and I will totally admit, the new women's bike shorts are AWESOME. Coach Dave was right. You gotta have'em. I purchased a swim parka on eBay, and the guy found out I was TNT and threw in the bike shorts, and even a TNT bike jersey (from '98). Thank you, Henry! You rock!
I had something happen though that I'm going to put in another post. I'm the only person on the team who is not using clipless pedals – they freak me out because I had an accident in them. (You can see my very sexy "tuck pants into sock" combo in the above photo.) The head coach, Dave, told me today that I really had to find another shoe then besides the running shoes I was using – because their sole wasn't really stiff enough. I mentioned to one of the other Coaches, Helen, that I wondered whether my pole dancing shoes would fit the bill as I didn't have anything else but the running shoes, flip flops, loafers, and pole shoes. She thought that'd be perfect.
So I'm going to post those pictures next.
Next, we got changed for our swim workout. When I was at Redwood, there was a "regular" pool, about 5 lanes I think, and then a diving pool. They've converted the entire area, and now it's one big pool with like 20 lanes. It's a SHOCK. It also has bathrooms on the inside of the pool, and some hot showers outside. No more having to run from the locker room out to the pool, in complete view from the parking lot. :-)
I was going to post the swim workout here, but the one on Training Peaks doesn't match what we did. We did a lot of drills; we wound up covering (if at least the mileage in Training Peaks is correct) 2350 yards. The drills included "closed fist" swimming (which I actually rather liked) and the 'counting your strokes' exercise from last week. I'm not sure what I'm doing wrong. Now granted, I'm not kicking, but my strokes were like 25 (counting both left and right hand) for a length of the pool. Other folks are at like 14, 15. I don't get it. Left shoulder still hurts as well – I think it's an overuse injury from pole dancing which just sucks. I haven't really done that much in class for months – and it's still not 100%. We were in the pool for about an hour and a half.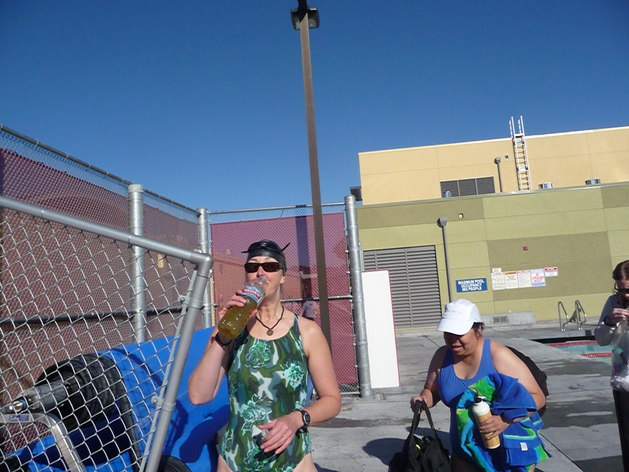 OK yeah, I know, how sexy is this photo – me drinking swamp water (a/k/a InnerLight AlkaBlast, Prime pH and Super Greens combo, suggested by Coach Stu Mittleman) with my sunglasses on and my goggles on the top of my head!
I worked out a little too hard I think – I felt actually sick at the end of the workout (as in throwing up sick). I even tried to keep hydrated during the swim, taking sips between the exercises. I did not actually throw up, but close. I think because I am SO out of shape, I need to really start doing some sort of food replacement, supplement, what-have-you sooner than perhaps other folks. I also need to hydrate more on the bike, "even if you're 'just' on a trainer," as Coach Doug reminded us.
Had fun today! The team is so great. Every one of them. AND I found out I get Coach Margaret from Napa as my Mentor! I am STOKED. I REALLY like her. She's just one of those people that you meet, you know, you instantly like them? That's how it was when I met her at the Kickoff in Berkeley, in fact. She's a little older (not as old as I am though I don't think, but still, not 24), and is a real hard-core athlete in a nice way. She's doing Ironman British Columbia. She's the sort of person that I aspire to be!