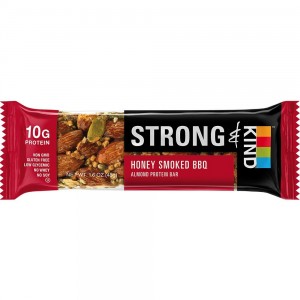 Oh for goodness' sake. This is my favorite salty/sweet snack (du jour)….
Have you tried KIND bar's "Strong and KIND" Honey Smoked BBQ bar?
Nom Nom Nom.
I thought this was going to be the weirdest experience EVER. (They have these at Trader Joe's, so I picked one up in my "forage when I'm starving" grocery mode. Bad me.) It sort of tastes like . . . Heaven (LOL) – no, seriously – it has a sort of "bacon-y" flavor, crunch like almonds, plus sweet.
Nom Nom Nom.
If you have a Trader Joe's near you, hopefully they have them there. If not, I'll put a link below, just in case you're on Amazon or have an Amazon order coming and want to add some.
Kind Bar – Strong and Kind Almond Protein Bar Honey Smoked BBQ – 1.6 oz. (45 g) Supplement Facts Serving Size: 1 Bar (45 g) Servings Per Container: 1 Amount Per Serving % Daily Value* Calories 230 Calories from Fat 140 Total Fat 16 g 25% Saturated Fat 1.5 g 8% Trans Fat 0 g Cholesterol 0 mg 0% Sodium 120 mg 5% Potassium 220 mg 6% Total Carbohydrate 15 g 5% Dietary Fiber 3 g 12% Sugars 6 g Protein 10g
Key Product Features (stole this off Amazon):
10g of soy and whey-free protein and all 9 essential amino acids
ingredients you can see & pronounce
Gluten Free
Non GMO
Low Sodium
No MSG