I go through periods of being great at blogging, then suddenly BLAM and it's a fortnight later and I haven't done a thing. Those who know I really was a podcaster (and haven't podcast since December!) must REALLY be wondering what happened…(Actually, my computer blew up in December and I haven't re-installed all the audio software. Yet. Soon. Swear.)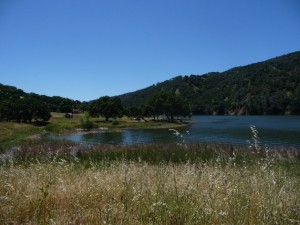 The week involved dealing with the tight hip issue, plus a couple of cocktail-laden evenings (Heaven's Dog with Mr. Martini and H on Wednesday, then mac nut martinis with H on Friday night – even though I knew I had to get up Saturday to go train. Bad.) And MORE RAIN.  Teammate Sara and I posted "Rain Rain Go Away!" simultaneously on Facebook – this is getting some kind of ridiculous!
Saturday the 29th,  the Team convened at Del Valle for an Open Water Swim and a Run. We were to swim as "many times as we could" in an hour, and then run "as far as we could" for 2 hours 15 minutes. (Though there was a bit of an issue there – Coach Mike told us it was only 80 minutes, but when we got to the head of the trail, Coach Simon said that yes, it was 2:15. Ah, communication!)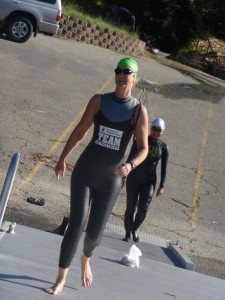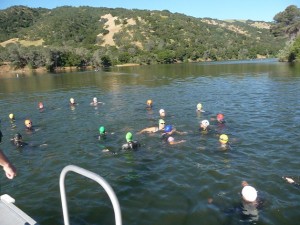 After the usual milling around at the cars, we trooped down to the water. I was already in, when Coach Dave shouted out that "All Louisville participants" (that would be me and Maria) were instead to jump in off the dock. So out of the water I came, and splash off the dock!
The swim was pretty uneventful. Coach Sedonia had talked about drafting, and so during my second "circuit" of the swim, I tucked in off Iron Phil. I was definitely surprised at how much less energy it takes if you draft! I had never quite been able to get the "hang" of it, and this time I did. It was very cool. Little did I know that Melissa was tucked in behind me – we were like a little freight train! (Or a mama whale with calves.) I did two and a half times around the circuit (1.5 miles) in the hour that we were in the water.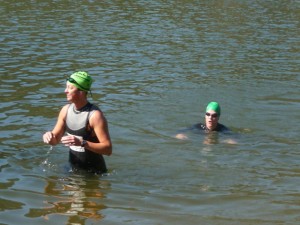 We hopped out and dried off (and some folks were helped out of their wetsuits – don't you love the photograph below, of my teammates?) and then there was a bit of a mix-up, as I mentioned, about how far we were to run. The calendar had said 2 hours and 15 minutes, so I had mixed up 2 bottles plus some extra "powder" assuming that was the case. Then Coach Mike told us that No, it was just 80 minutes. I (silly me) left the extra bottle at the car, just bringing my full bottle and the powder. Well of course once we got back to the dock, it WAS 2:15!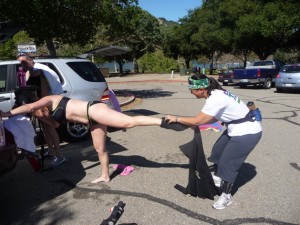 We ran a hilly cross-country course out and back and out and back and out and back and out and…(laugh) for 2:15. I had my "tunes" on the little hand-held boombox which made it more bearable. Iron Mel was still having some issues with her hamstring and I realized she had the keys to the car – on one of the "passes" I asked her if she could give the key to Simon to get my other bottle out of the van. It didn't quite work out as planned, because both Simon and Mel went to the van to get it. (I had wanted to keep Mel from having to stop.) When I finished that circuit, they weren't quite back yet, so I ran out to meet them, traded the bottle to Simon, and got back to it. Simon said that it was the first time he had seen "Marine Sandy" in action – I guess I had my game face on! I felt very good. I did 12ish miles in the 2:15 over the cross-country hills and dales.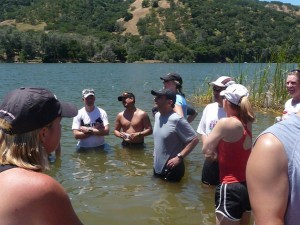 After the run, we came back and had a "Team Soak" in the lake. We each were asked to discuss what we were dealing with – everything from balance, no time, fear of failure, you name it. It was a good, and bonding, experience. We all hit In-and-Out Burger on the way back (and I wonder why I have gained poundage back!), and then Mel and I had our usual "Abs Exercise" of laughter at all sorts of things on the way home!
The next day was a 30 mile bike ride, which H and I did together. Right out the gate, I had a back wheel flat (at the valve, so no chance of patching it), so with H "hovering" and itching to help, I changed it myself. I was so excited! My only issue was my "spatial relations problem" of trying to figure out which side of the chain is "up" when the bike is upside down, to get the wheel back in. I did OK though that is when H was "itching to help" the hardest!
We did the Paradise loop, coming through Ross to Redwood High, up and over the highway and around Paradise, then down to Tiburon. We stopped at the yacht club, and they were having a big barbecue for Memorial Day, which we "indulged" in – including a couple of big fat hot fudge and butterscotch sundaes! Getting back on the bike and doing the "return" 15 miles was not the prettiest. We went back through Mill Valley and up and over past Horse Hill. We both commented that while the climb was nasty, it seemed a teeny tiny bit easier than it had been before (both of us have walked that hill in times past). Coming down off the hill and past Marin Joe's, we cranked it up to 40 miles an hour – the road was newly paved and dead straight, with no traffic.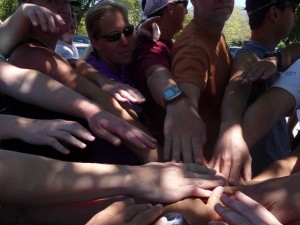 Exhilarating while also being scary!
I practiced my new "trick" – suggested by my friend Sharyn – for the uphills. I have been having a heck of a time unclipping on uphills. I only have one hill speed (slow) and when I "poop out" I'm going so slowly I can't get my foot unclipped before I fall over. (I fell 2x at the Wine Country Century.) Sharyn suggested that, when faced with a hill that looked like it had "unclip potential" (e.g., that I might have to walk to the crest of it), that I unclip that foot at the BOTTOM of the hill. I did this on the Horse Hill hill, and it worked like a charm. I think that folks who have only ridden with clipless pedals in their biking "careers" would find this insane – but as most of my training has been with baskets (where you can't really "pull up" anyway), this was a fantastic way to start to conquer my "falling fear" going uphill. I am still able to pedal "around" with my left foot, and to pedal "down" with my right – which is also ready to be PUT down should I actually need to stop and walk. I was super glad she had suggested it, and hoped that it would work just as well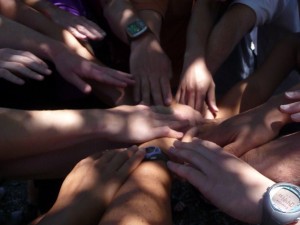 during the upcoming 3/4 Iron the next weekend!