Today, I received an email newsletter from UnderstandingMen.com. Many moons ago, I attended a number of Alison's workshops, and in fact, back in 2008, I was honored to be the first person to interview Alison for a podcast!
I wanted to share a quote found in the newsletter, because it pretty much sums up the Fempowerment model!
"Women underestimate the power of femininity. We've been led to believe that it is fluff and frivolity. When women realize that their femininity has the innate ability to connect, profoundly nurture and inspire the best in others, we might finally embrace the source of our own magic." — Alison Armstrong
Although some parts of the podcast are outdated (no more listener call-in line, for example!), HERE is the link to that "Coffee Chat" with A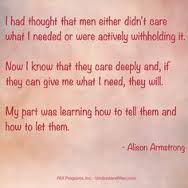 lison. You can also find all my past podcasts on iTunes by searching on the term Bond Girl in the iTunes Store, then scrolling down to the Podcasts section. The podcast is entitled Fempowerment: A Guide To Unleashing Your Inner Bond Girl and has a red background with a standing Bond Girl. On my iTunes (perhaps it's just pandering to my ego…) it comes up first in the Podcast list for that search term.
Oh – and be forewarned, I'm working with BeingJamesBond.com now, and we will be crafting new podcasts that will "cross over" between both of our websites, coming soon!