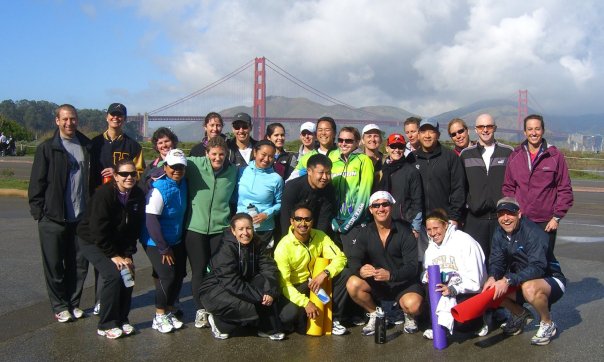 Yesterday was a lot of fun. Iron Mel and I met at the Larkspur Ferry, then drove into the city to meet the Team down at Sports Basement on the water. Our main workout "set" was to do 90 minutes of running at our VDOT paces – or at least "moving on our feet" for 90 minutes.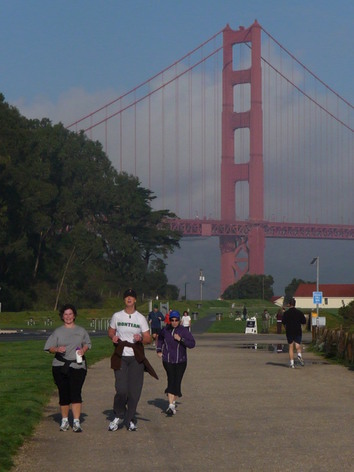 I mainly ran with Mary, which was great. She's thinking about doing an "I will do your taxes for free if you donate to my Team In Training website" dealio – if you're interested, email me or leave a comment and I will let you know the specifics when she does it! She and I particularly talked about starting off too fast and then running out of gas. Coach Sedonia came and ran with us for a while and asked what our "strategy" was. Well, we said we were doing a "run until Mary walks, then walk" strategy. Coach Sedonia reminded us to "walk with purpose" when we walked. Once we'd gotten down to the Fort and were coming back, I got Mary to start doing "Galloways" – e.g., running for 5 minutes, then walking "with purpose" for 2. That's my current "Galloway" set. We would always start off and she'd go too fast and I would say "I can't keep that up for 5 minutes." By the end, we were doing well. I had been talking "about" Galloway running when we were just randomly walking and running – then (duh) I thought: "We should start doing it NOW." It was fun and I felt a lot more "structured." At the end of the 90 minutes, I could have gone for another 30 for sure.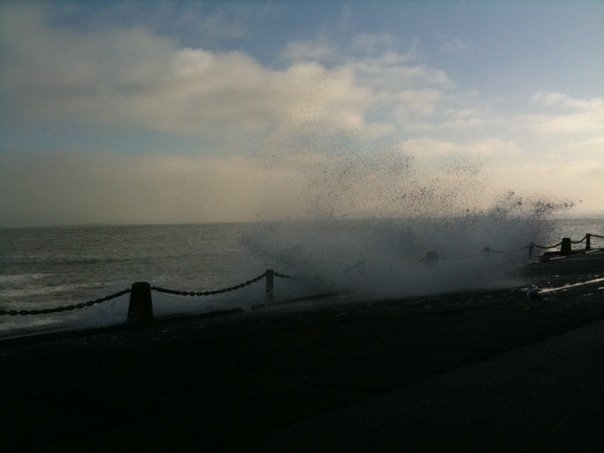 The waves were REALLY crashing up and around and over the path – and the sun actually came out which felt GREAT. I wish I had had my camera (these are off the TNT Ironteam website). There was a gorgeous sailing regatta going on as well, but I don't have a picture of it.
We went into Sports Basement for a lecture on wetsuits after the run. I have never been to Sports Basement. I couldn't talk about anything else to H last night – or this morning! Holy cats. I have never seen so much stuff in my life at such good prices. I was totally overwhelmed.  I remember reading once about a Russian woman who came to the U.S. and walked into a Safeway – after being used to her national grocery stores with goods in all-grey boxes and 1/4-full shelves – who lay down in the middle of the aisles and alternated between hyperventilating and crying. Maybe that's a little dramatic but I'd have to say that Sports Basement is kinda like that. Hoooly Cow.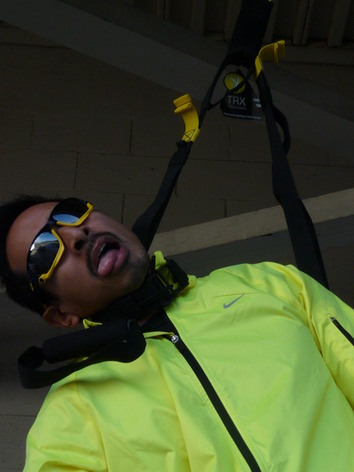 The best part about the wetsuit lecture was NOT watching Coach Doug skinny his way in and out of one. (Well, ok, that was part of the fun. Can you say "human condom"?) No, the best part, after watching Coach Doug take 20 or so minutes to get into the doggone thing and THEN discussing how to "warm up the water in the wetsuit that provides you with insulation" (think about it…) was Coach Simon saying from the back: "Is now the appropriate time to mention that it takes two seconds to get into your running shorts, and no on asks you to pee in them?" BEST PART.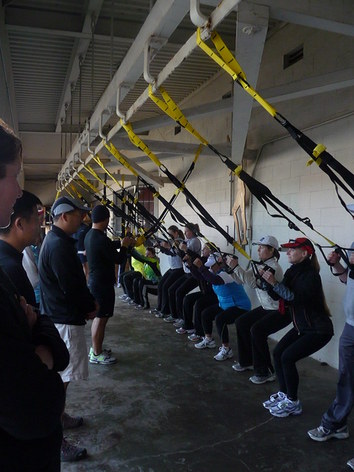 After we had our lecture, we went around back at Sports Basement and took our team photo (above) in the SUNSHINE (Helloooo Vitamin D I love you!) and watched the regatta a bit while Coach Doug set up all the TRX lines. Actually, this was the time for my second favorite line of the day. We had to bring our yoga mats around back, for the TRX portion, and Coach Sedonia was in back of my van when I got mine out. I brought all 4 – because I either arrive with four, or I arrive with none (having totally forgotten them). That way I have 3 to give out, and one to keep.  She looks at the mats, at me, back at the mats, and says "Are those all for you?" HEY, they don't call me the Iron Tiara Princess for nuthin' – here is my pea, for under all the yoga mats, too! (smile).
So anyway, we did some stretching exercises and some strength/core exercises. Apparently the TRX was invented by a Navy Seal who wanted something that could help do all the exercises that he wanted to do to keep in shape, but that he could pack with him. You basically can do everything using your own body weight. I could do all the exercises except the lunge/knee related ones – it was very instructive. Lizzie D has one of these and swears by it – I can see why!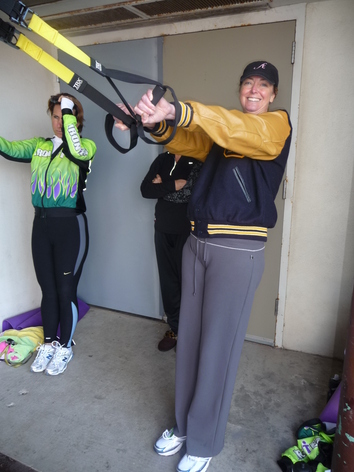 Once we were done with the TRX "torture" we went inside and had Nutrition Lecture #2 with Coach Norma. I had purchased the book "Nutrition Periodization For Endurance Athletes" by Bob Seebohar on the suggestion of a podcast (only $4.00 on half.com!), and she actually had a handout from him. This book is definitely interesting and specific. It explains to a "T" how nutrition 'works' during all phases of exercise – from pre-season through your season, and even post season – with of course specific breakdowns right around race time.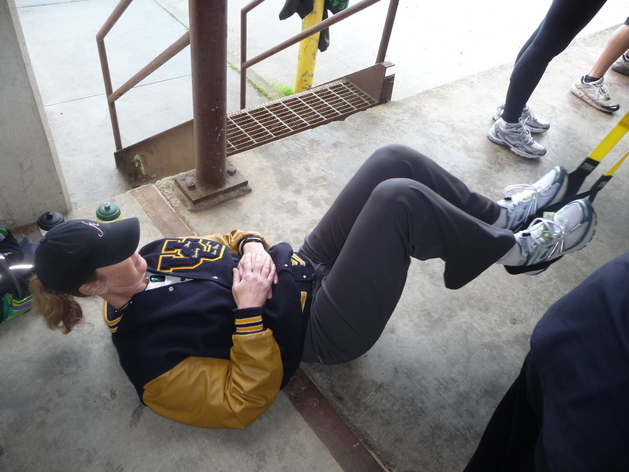 Home after, to find that the new dishwasher was delivered- YAY! – but it was in the middle of the kitchen, and H was nowhere to be found – BOO! I had hoped to catch a ride with IronMel up to her Concert Shindig, as there was no way I could be on the road from Napa after 10:00, but H wasn't home in time for me to catch the MelExpress to Napa at 6:00. That made me sad. But we have a new kitchen sink, disposal, and dishwasher now – Whoot Whoot!
This morning (Sunday) was supposed to be the Bike Marker plus a training ride with the team…but it was Returns To Home Depot and then Berkeley Rep with Mom, Dad, and H Day for Moi instead. Dad had moved all 4 tickets when I did the Louie last weekend so that I could race and he could help volunteer (and of course so that H could go, since I "voluntold" him he would be there!) I hope I can go do the Marker Set myself some day this week. Missed the Swim Marker on Friday because of "Life" as well – oy! Life v. Iron!
Coming up, again, "Life gets in the way" – the Team will be doing a "simulated Open Water Swim" on Saturday, when I have the Treat'Em Right. Hopefully Sedonia does have a line on a wetsuit for me – otherwise it's me and my surfing shortie in Aquatic Park on the 20th when we do the Open Water – brrrr! Next Sunday though, after the Treat'Em Right on Saturday, I'm taking Leann out to "sag wagon" for us in Petaluma on our long ride before taking her back to the airport – mixing Life WITH Iron! Yay!