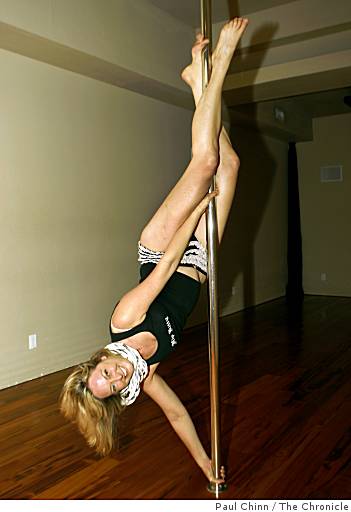 Today was a "short" run (40 minutes). I'm still concerned when I read I was supposed to get about 5.0 miles, and I actually got 2.6. That makes me 1/2 as fast as I should be.
H actually wants to map out the "cut off" (or "chip") times for the Louisville Ironman, so that I really KNOW how much time I have, and what "pace" I need to meet, to get it done before the 17 hour cutoff. I think he said that on the bike, I have to be at 12.4 MPH "on average" to make it, but I'm not totally sure.
After the run today, jumped in the car and headed off to Pole Dancing class. I was wiped – at one point we were supposed to do pushups and I just sort of rolled around. It's dark, but Deb saw me. "How's it going over there, Sandy – how's the training?" I just laughed. And kept rolling around. The best part of the day, though, was when my fellow pole grrl (and fellow "class matron") Susan told me that my butt was looking GOOD. I'm so tired of having a gut in front – which in my whole life I've never had – it's nice to hear that SOMETHING is "getting affected"!
Today's Run Playlist (I actually did my Pole Dance to Prince/Let's Get Crazy – made me laugh):
Let's Get Crazy, Prince
Controversy, Prince
Delirious, Prince
I Would Die For You, Prince
She's Got The Look, Prince
4 Minutes (feat Justin Timberlake and Timbaland), Madonna
Down (feat. Lil Wayne), Jay Sean – this was a new one I downloaded, as it's being used for the "Pink Glove" campaign for Breast Cancer. Like it!
Spill The Wine, War – this is a seriously odd song. (smile)
Sing, Sing, Sing, Benny Goodman & his Orchestra – yeah, call me eclectic
The Lion Sleeps Tonight (Wimoweh), The Tokens – call me REALLY eclectic!